Busy Boxes are a fun way to encourage learning and independence with your homeschool children. These busy boxes, also known as morning tubs, give your kids an opportunity to work on important math and literacy skills while parents are preparing another learning activity, or working with an older child. Busy bins spark curiosity and interest while allowing your kids to choose which bin interests them the most. Homeschooling is the perfect gateway for encouraging such interests and experiences.
Benefits to Busy Boxes
There are many benefits to using Busy Boxes or Morning Tubs.
Exploration – children discover something and learn naturally from it
Inspiration – leaving out various items in select locations can jump start ideas and inspire kids to create
Freedom – kids are free to explore on their own with minimal interference
Meet educational and developmental needs – right brained kids, in particular, are less interested in structured activity so this option is a great way to explore
Multi-age – kids can work, discover, and explore with others without age being a factor
Rotation of toys and objects – rotating the selection encourages different ways to engage
Boredom busters – by strewing select items about, you will find that kids "find things to do" and channel their inner creativity and curiosity
Break – kids can discover material on their own while you tend to other things around the house
Independence – self-directed learning will certainly make more of a lasting impact in the long-term
How Can You Incorporate This Method of Learning?
A relaxed homeschool environment will ultimately foster natural learning. Some ways to get you started with an example of some seashells you found at the beach this summer.
Leave out anything your kids find interesting. For example, display those seashells you found at the beach this year. Perhaps that could lead to creating a tiny beach in a box, a unit on the ocean, fun ocean crafts, or snacks with an ocean theme. Possibilities are endless.
Grab a fun container to store books. Add books, puzzles, and perhaps some videos about the ocean.
Leave some flashcards about ocean animals and see how the kids interact with them.
This kind of discovery doesn't always mean leaving things out and about haphazardly. First, use various containers, boxes, or whatnot for strewing materials. Or, you can also establish a routine that the kids check a morning box, tub, or bucket in which you will have placed materials for the day or week or month. Take note of what they are interested in.
How to Get Started with Busy Boxes
Find some manipulatives that kids love to use. For instance, dry erase markers, magnet letters and numbers, Velcro dots, pom-poms, play-doh, clothespins, pipe-cleaners, buttons, plastic links, mini erasers, dice, dominoes, unifix cubes, base-ten blocks, and small tongs are a great place to start. Have these on hand with some interesting cups, containers, trays, and dollar store finds. All of these items will reinforce fine motor skills, without the kids even knowing it. Ultimately, that will strengthen the hands and fingers for buttons, zippers, tying shoes, and writing.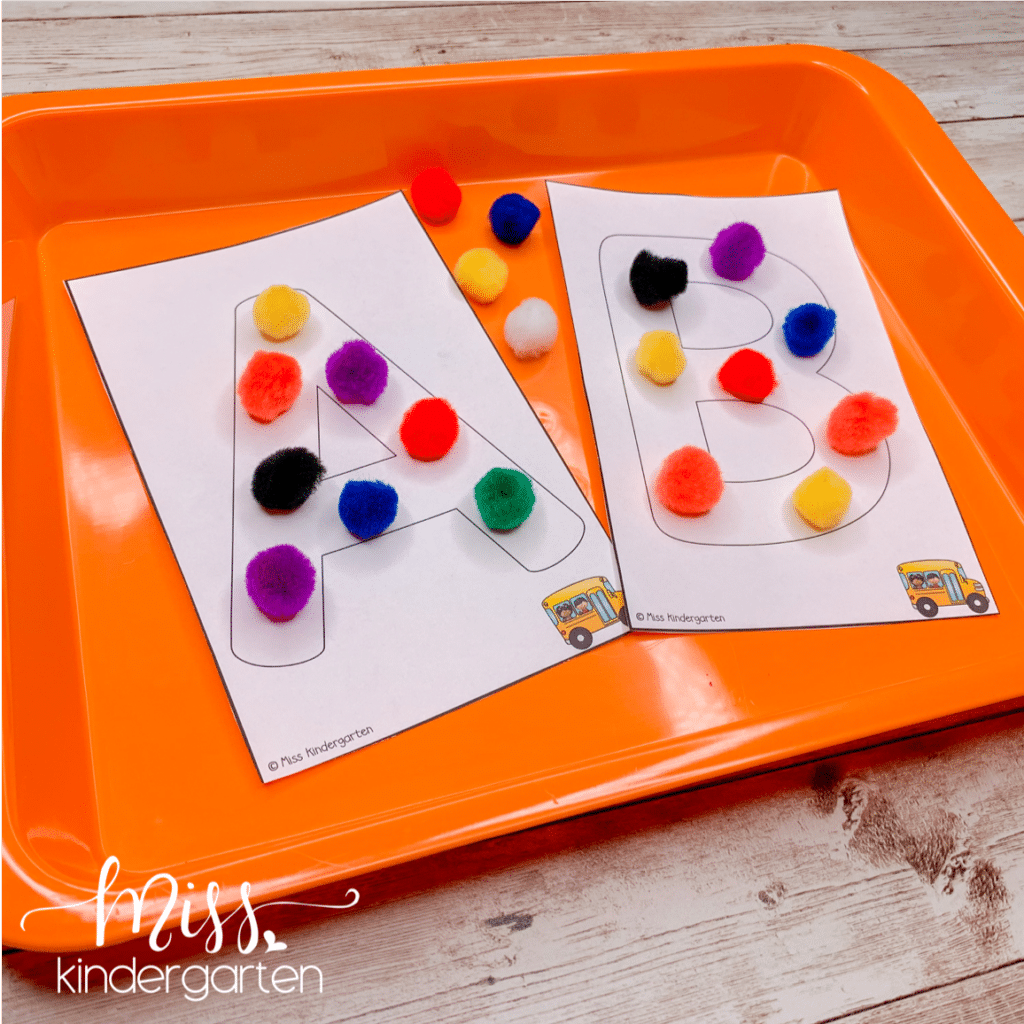 This morning tubs bundle for kindergarten will allow your kids to explore literacy and math. With 32 literacy activities and 30 math activities, kids will have FUN exploring with those materials you have gathered above. Simply place things out in a tray or designated area each day and rotate as needed. This is a more intentional approach that offers ways to explore academic concepts in a fun manner. Learning happens best when children PLAY.
When Do You Use Busy Boxes?
Possibilities are endless! If you use a closed container, you can take tubs with you on the go! Or, you can designate an area in your home. Kids love to bound down the stairs for the day and see what's in their box!
Perhaps you start every day with a morning tub while you prepare breakfast.
You can use them after lunch while you clean up.
Encourage the kids to use busy box materials when you are cooking dinner.
Investigating strewn items before bed will keep kids calm, quiet, and focused.
Road trips are a perfect time to explore with these materials.
These busy boxes are a great quiet diversion when waiting at doctor, dentist, and car appointments.
Why Get Started with Busy Boxes
Fostering learning is the main goal. The way to inspire exploration is to leave out books, materials, and objects for the kids to discover. This sparks their inner curiosity, which will lead to a lifetime love of learning.
It doesn't end at strewing about things in your home, however. When you eat dinner at the Mexican restaurant, find Mexico on Google Earth. Watch a kid-friendly documentary or Disney Nature movie about a subject that sparks interest. These are just a couple of ways to expand the learning adventure in and outside the home. Keep it casual. Keep it fun. And watch them grow.
Busy Box Resources
You can find resources and ideas to get your Busy Boxes going with the morning tub activities in my shop:
Preschool Morning Tubs Beginning of the Year
Morning Tubs Kindergarten Year Long Bundle