Learning how to add is one of the most exciting math milestones in kindergarten! After working hard on number identification, number sense, and counting, it's time for students to put it all together…literally! If you're looking for ideas to help students gain a strong understanding of addition strategies, this post is for you. I'm going to share a variety of effective ways to teach addition in kindergarten. These engaging activity ideas for teaching addition will give your students a strong foundation in this important math concept!
5 Effective Ways to Teach Addition in Kindergarten
Teaching math skills to kindergarten students usually requires a variety of hands-on and engaging activities. Teaching addition in kindergarten is no exception! In order to effectively teach addition, students need to understand what it means to add before they're asked to start completing worksheets and writing number sentences.
Here are some of my favorite ways to teach addition to young learners. You'll find that these highly-engaging activities are also effective for helping students learn how to add.
1. Teach (and Display) a Variety of Addition Strategies
The first step in teaching addition to kindergartners is to show them a variety of strategies. These strategies will help your young learners understand the concept of addition. Your students will be able to find and use the strategies that make the most sense to them!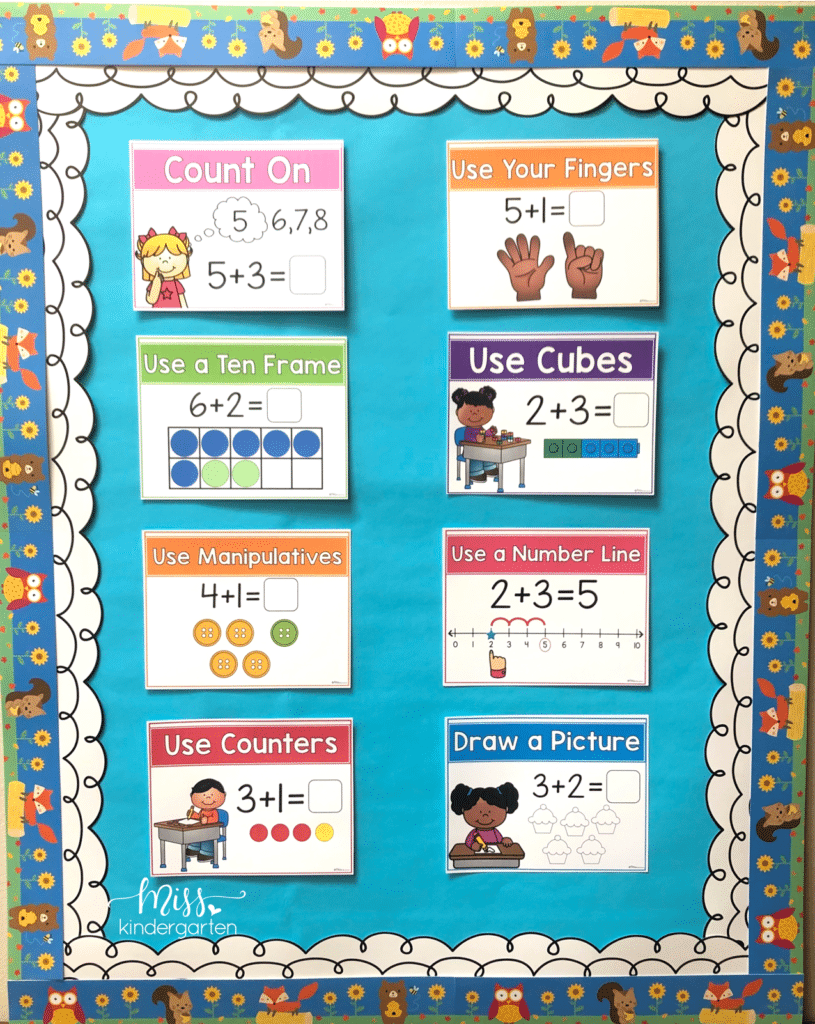 Some of my favorite addition strategies to teach in kindergarten include:
Count on from the number
Use fingers to count
Model addition with a ten frame
Stack cubes together
Using a number line to count
Use manipulatives or counters to model addition
Draw a picture
One of the best ways to teach these addition strategies to your students is with strategy posters. As you introduce each strategy during math instruction, you can hang up a corresponding poster in your classroom. Over time, you will create a useful display of addition strategies. Then students can refer back to the strategies whenever they need to!
A bulletin board full of addition strategies can serve as a helpful anchor chart! These strategies will help your students become more independent as they solve addition equations during independent work time, small groups, or centers.
2. Practice with Addition Task Cards
Once you have taken the time to teach addition strategies, it's time to put them into practice! Addition task cards are a great way to give students plenty of hands-on addition practice. Simple laminate the center cards, hole punch the corners, and add a binder ring. During centers, students can simply grab a group of addition task cards and then get to work!
I like to group the task cards by strategy so that students can practice the different strategies as they solve simple addition problems. I include a cover sheet on each bundle of addition task cards so students can see which strategy they will use.
Once students have had plenty of practice with one strategy, they can erase their work and move on to another set of reusable task cards.
3. Use Addition Songs
Kindergartners love music and singing is a fun way to practice addition!
Fun addition songs give them a chance to get up and move after sitting in their seats all day. Whichever song you decide to use, be sure to encourage them to stand up and move in some way. Here are a few of my favorite addition strategy songs:
There are plenty of others but these are always a hit with students! Jack Hartmann always has my whole class singing and dancing. The songs are easy to memorize, so kids find themselves singing the songs while solving problems.
4. Play Addition Games
Learning how to add takes practice and plenty of repetition. In order to keep your young students engaged in the repetition needed to master addition, try playing some games!
Roll and cover math games are perfect for mastering basic addition skills through repetition. Students love to roll the dice, add the numbers together, and then cover the correct answer on the mat. This simple game is so fun for students that they'll want to play again and again. Since the rules of this game are simple, it's the perfect activity to add to your math center rotations or morning work tubs!
5. Introduce Addition Story Problems
One of the most important parts of teaching addition in kindergarten is to show students how it relates to the world around them. You want to show your students that addition is more than completing a number sentence on a math worksheet. Story problems are a great way to help students recognize math in a relatable situation and then model it with a number sentence.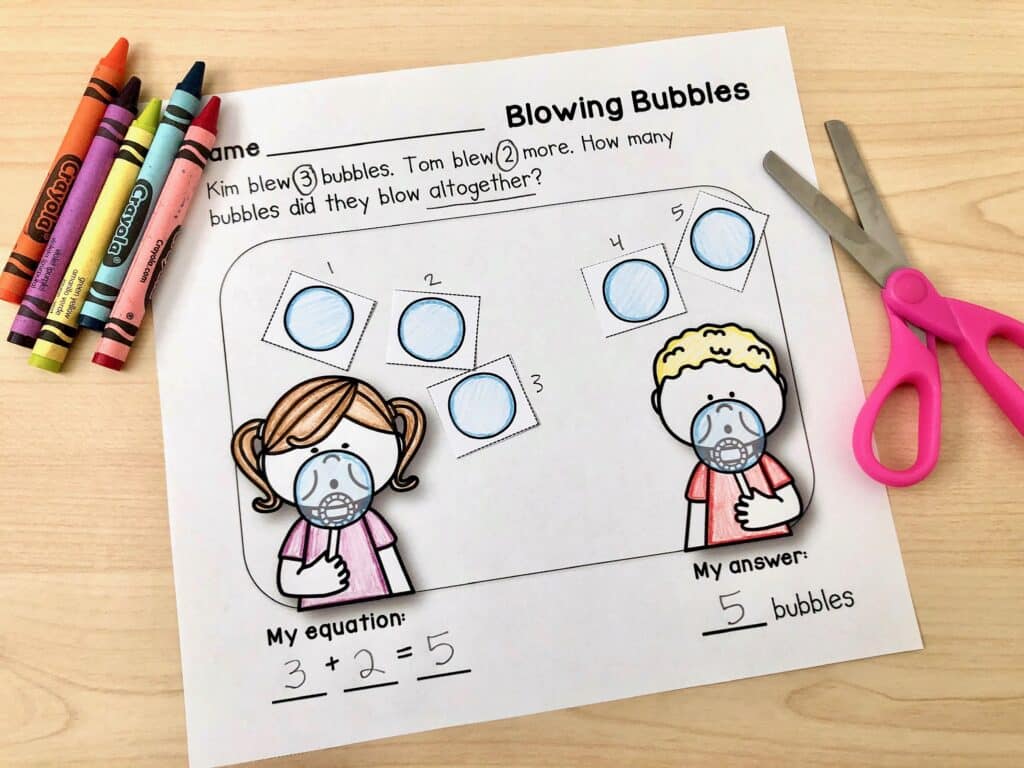 This will make addition more meaningful to your students and they will be more likely to understand and remember the addition strategies they are being taught. Finding relevant information in a story problem is a skill that students will use for years to come.
Engaging Resources for Teaching Addition in Kindergarten
In order to save you some time (and money), I have compiled all of my favorite resources for teaching addition into one helpful bundle. You'll find everything you need to help your students learn and practice a variety of addition strategies.
This resource includes the addition strategy posters, addition task cards, roll and cover mats, story problems, and more! The best part is that this bundle includes the same engaging resources for subtraction as well. Just click below to take a closer look at everything included!
$30.00
This addition and subtraction practice bundle will help you incorporate hands-on fine motor activities, low-prep printables, no-prep worksheets, and even technology! Your students will be engaged and love all of the options available in this bundle. Everything you need to teach addition and subtraction in one download!
Shop Now
Save These Ideas for Teaching Addition
While there are many ways to teach and master addition strategies, I hope this post highlighted some of the best ways to teach addition in kindergarten. I hope you found a few new ideas to use in your classroom, plus some helpful resources to use when it's time to move on to subtraction! Be sure to save the pin below to your favorite teaching board on Pinterest. You'll be able to quickly find these ideas for teaching addition whenever you need them.