One of the best parts of being a kindergarten teacher is helping children learn foundational skills that they will use for years to come. Subtraction is one of these important skills! In this post, I'm sharing some of my favorite tips for teaching subtraction in kindergarten. With these tips, your students will understand what subtraction means and will be able to use a variety of strategies to solve subtraction problems.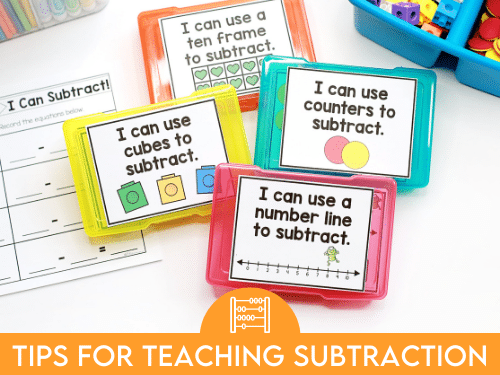 6 Tips for Teaching Subtraction in Kindergarten
By the time we teach students how to subtract, students have already had exposure to addition. However, teaching subtraction isn't as simple as telling students to do the opposite of adding. Keep reading for several ways that you can make the most of your subtraction instruction.
1. Start with Concrete Examples
One of the most important parts of teaching new math concepts, including subtraction, is to start with concrete examples. Our young students need to be able to actually hold and move objects in order to understand the concept of subtraction. Being able to physically remove manipulatives from a group to model "take away" is very important to kindergarten students learning subtraction.
Luckily kindergarten classrooms are full of fun and engaging manipulatives to help model subtraction for young students! Be sure to check out this post if you'd like to see some of my favorite manipulatives to keep on hand in the classroom.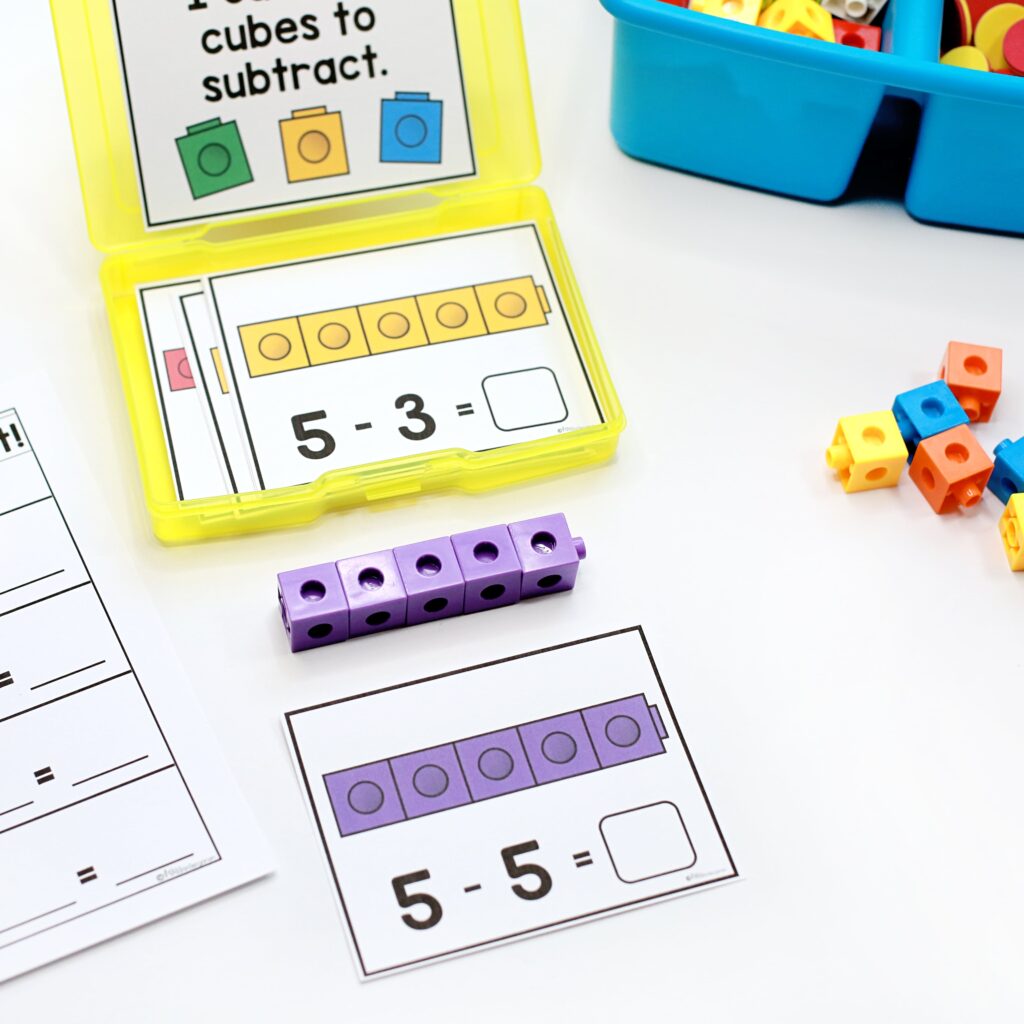 2. Teach Multiple Subtraction Strategies
As students grow more comfortable with concrete examples of subtraction, they are ready for more abstract strategies. One of my favorite parts of teaching subtraction is showing students how many helpful strategies they can use as they problem solve!
Count back
Use your fingers
Cross out
Use a ten frame
Draw a picture
Use a number line
Use mental math
Use cubes
Write an equation
Use a rekenrek
Number bonds
Use manipulatives
Draw dots
Use counters
Chances are that your students are already familiar with many of these strategies from learning addition. In fact, it can help students to see how they use the strategy differently for subtraction than they do for addition. This will give students a foundation of how the two operations are related to each other.
3. Use a Subtraction Anchor Chart
Once you have introduced your students to a variety of subtraction strategies, it's important to remind them of these options!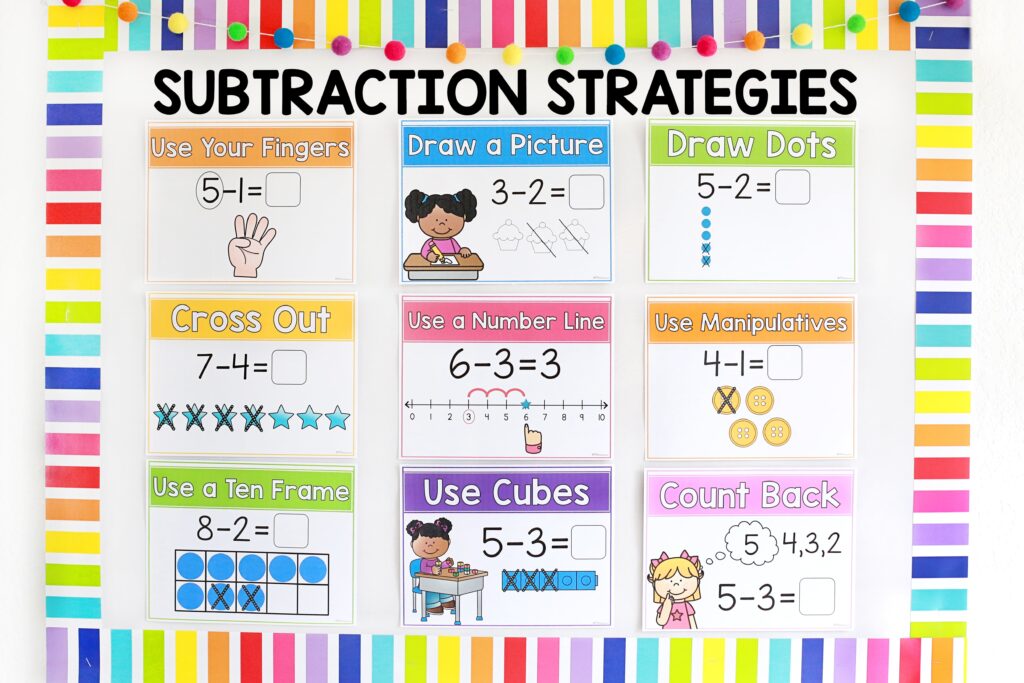 An easy way to keep subtraction strategies available for students is through a subtraction anchor chart or bulletin board.
I have created subtraction strategy posters to display in the classroom. As each strategy is introduced, the poster is hung up on a bulletin board until students have a bank of subtraction strategies. They are able to reference these posters any time they are looking for a strategy to use!
4. Provide Multiple Opportunities for Practice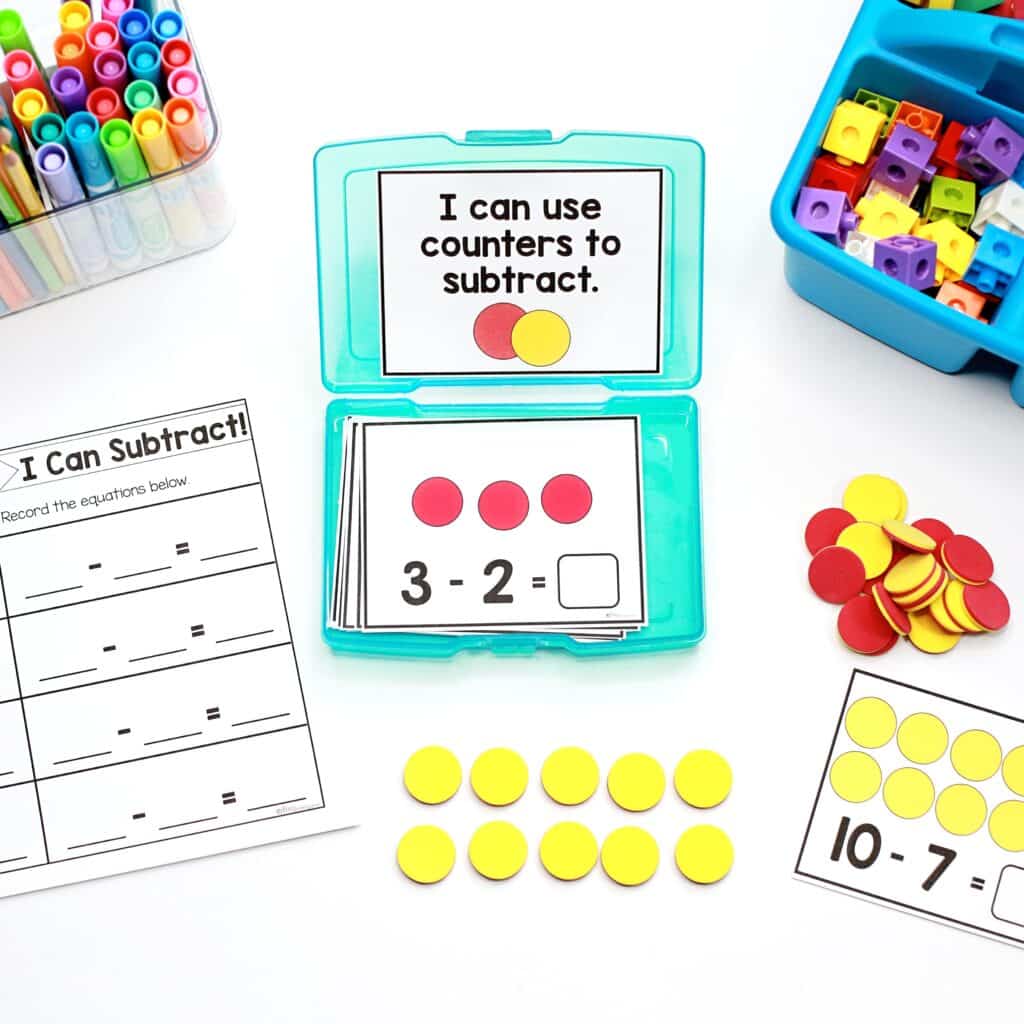 As with any new skill, students need to practice, practice, and practice some more! In order to keep students engaged in practicing subtraction, it's helpful to have a variety of hands-on, engaging activities available. I love to incorporate different subtraction strategies and activities into the classroom during math centers.
Subtraction task cards are perfect for centers! Each set of task cards can be completed independently during math rotations because they use strategies that the students have already been taught. Once the task cards have been laminated for durability, they can be used over and over again. This is a great low-prep option for subtraction practice! If you're interested in trying subtraction task cards, you can find them in my shop.
5. Don't Forget Story Problems
The most important part of teaching any math concept is to make it meaningful for students. One of the best ways to do this is by teaching students how to solve story problems. These real-life examples will encourage students to look for math all around them! Plus, they will be able to use their knowledge of subtraction strategies to help them solve these problems.
My word problem worksheets include their own manipulatives! Students can cut out the objects on each worksheet to help them model the word problem. Not only does this help students visualize addition and subtraction, but it also adds some extra fine motor practice to math time!
6. Make it Fun!
Finally, don't forget to help students have fun as they learn! There are a variety of engaging games and activities that will help students practice subtraction:
Board Games – There are many board games that require students to subtract. Hi-Ho Cherry-O is a fun game that practices both adding and taking away!
Bowling – Set up an indoor bowling set and have students figure out how many pins are left standing after each turn.
Play Dough – Students can roll and smash balls of play dough to model subtraction. This is also a great fine motor activity!
Mini Erasers – Do you have a stash of mini erasers? Swap out your traditional manipulatives to add some seasonal fun to your subtraction practice.
Songs – Students love to learn through music! Songs like Five Little Monkeys can help students practice subtraction in a fun way.
Read Alouds – There are plenty of fun and engaging picture books that model subtraction scenarios. When reading these books aloud to your students, be sure to take the time to point out how subtraction is being used in the story.
Resources for Teaching Subtraction in Kindergarten
I hope that this post served as inspiration as you find fun and engaging ways to teach subtraction in kindergarten. Are you interested in the resources I shared in this post? All of the printables mentioned above can be found in one money-saving bundle.
The Addition and Subtraction Practice Activities Bundle has everything you need to keep your students engaged in addition and subtraction practice: Strategy posters, task cards, story problems, and more! You can find this bundle in my shop.
Save These Subtraction Teaching Tips
Are you short on time but want to come back to these subtraction tips and resources? Just save this post to your favorite math board on Pinterest! You'll be able to quickly find this post when you're ready to download and print these subtraction teaching resources.