We always love to celebrate springtime with cheerful little crafts. There is SO much learning involved when putting together classroom crafts and they always make our classroom look cheerful and happy too!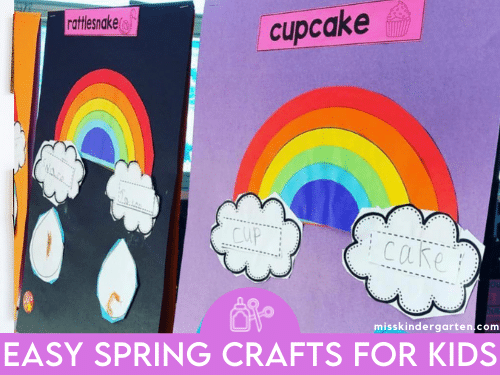 We like to incorporate our writing, reading, and even math practice into our monthly crafts. They help your kids work on their fine motor skills, multi-step direction skills, and creativity. Here's a look at 3 easy spring crafts for kids that you can use this spring!
Easy Spring Bee Craft
This easy to assemble Bee Craft helps students practice identifying and recognizing shapes as they work on this spring craft. How many shapes can you find!?
I also like to include different writing options when we make the craft, depending on what concept or skill we are currently working on.
This craft includes 3 different writing prompts to choose from:
"All About Bees"- you can use this as a nonfiction writing piece when your students are working on researching about bees.
"I Try Hard When…"- we title the bulletin board with "Bee the Best You Can Bee" and write about when we try our very best.
"It Bugs Me When…"- this one is always a hit! A fun narrative writing about something that bugs you and why!
Each writing prompt comes with primary writing lines and handwriting lines. There is plenty of space for students to add their own thoughts and opinions as a second or third sentence as well.
Spring Compound Word Rainbows Craft
We love, love, love to decorate our classroom with beautiful rainbows too! This Compound Word Rainbow Craft is a fun way to teach your students how compound words are composed of two unrelated words that form a new word when put together.
The clouds on the rainbow help them visualize each individual word included in the compound word. The craft includes a list of compound words, or you can have your students come up with them on their own. Some of our favorite compound words are cupcake, rainbow, basketball, and dragonfly.
Knowing how to chunk words is helpful for students as they begin reading and writing longer and more complex words. Being able to break the word apart into smaller words is a great decoding strategy for beginning readers.
FREE Spring Math Flowers Craft
Right around this time of year, most kindergartners are working on memorizing their partners of numbers and all the different ways we can represent numbers. We love to decorate our classroom with these beautiful Math Flowers! Each flower has 6 petals for students to show their math facts.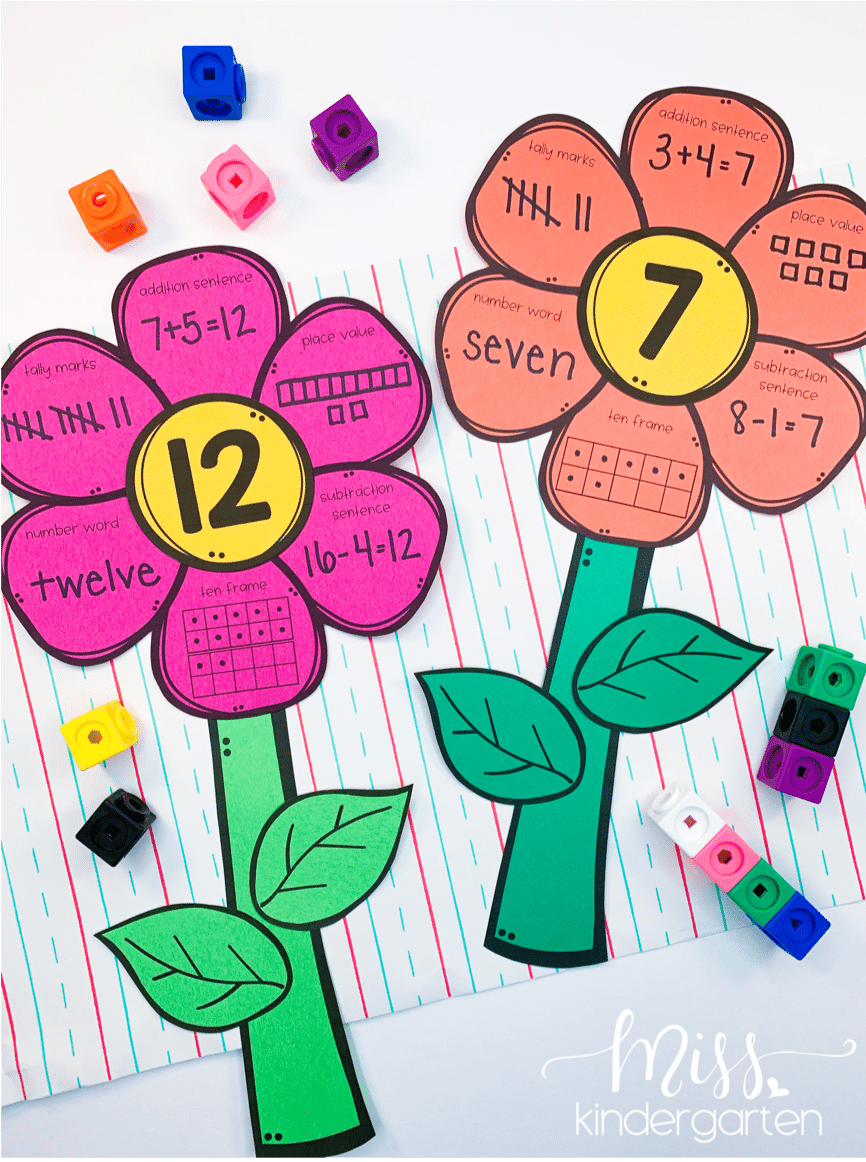 These math flowers help kids show all the ways to make numbers up to 20. They are represented in ten frames, written form, addition and subtraction equations, tally marks, and place value cubes. You can print these adorable flowers on any color of cardstock or you can let students color and decorate the craft themselves.
Grab these FREE math craft below!
Plant some math flowers in your classroom this spring! Your students will have fun representing numbers 1-20 in 6 different ways with this flower craft.
Download Your Freebie!
All of these easy spring crafts are included in my Spring Crafts Bundle! The bundle includes 10 crafts you can incorporate into your math and literacy instruction through the spring months.
These spring crafts help make learning meaningful and fun in kindergarten! They incorporate many skills that help your students work on their writing, coloring, fine-motor & listening skills.
Grab the Bundle!