One of my favorite things about kindergarten is decorating the classroom with fun, bright crafts. Even though I love how adorable these crafts look on our bulletin boards, there's an even bigger reason why I love kindergarten math crafts. They are a visual reminder of all of the learning and hard work that has taken place in our classroom! In this post, I'm going to share my favorite Math Flowers Freebie with you, along with a variety of other fun kindergarten math crafts that you can display in your classroom throughout the year.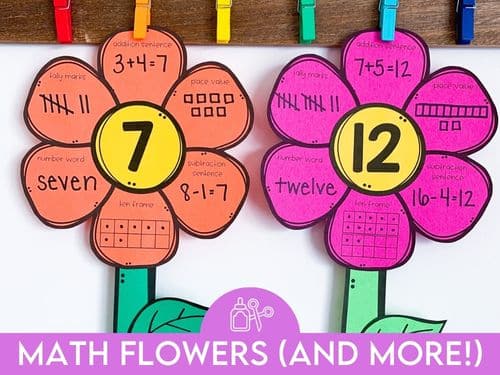 The Importance of Kindergarten Math Crafts
I've shared before how much I love to use crafts in the kindergarten classroom. When it comes to using crafts for math practice, there are even more reasons to bring out the scissors and glue!
Fine Motor Practice: First and foremost, crafts are an excellent way to incorporate fine motor practice into your math routine. Since hand strength and coordination can impact our students in both academic and self-help skills, it's important to add fine motor practice to the classroom whenever possible!
Following Directions: As students progress in math instruction, they will need to follow the steps for problem solving. Crafts are a fun way to help students practice following directions and doing things in sequential order.
Math in Action: Math crafts allow our students to see visual representations of the math concepts they are learning. The petals of a colorful math flower help students improve their number sense. Students can practice counting as they fill an apple basket craft with two different types of apples.
Kindergarten Math Crafts
Now it's time to share with you some of my favorite math crafts that can be used throughout the school year, starting with my free math flowers!
Math Flowers Freebie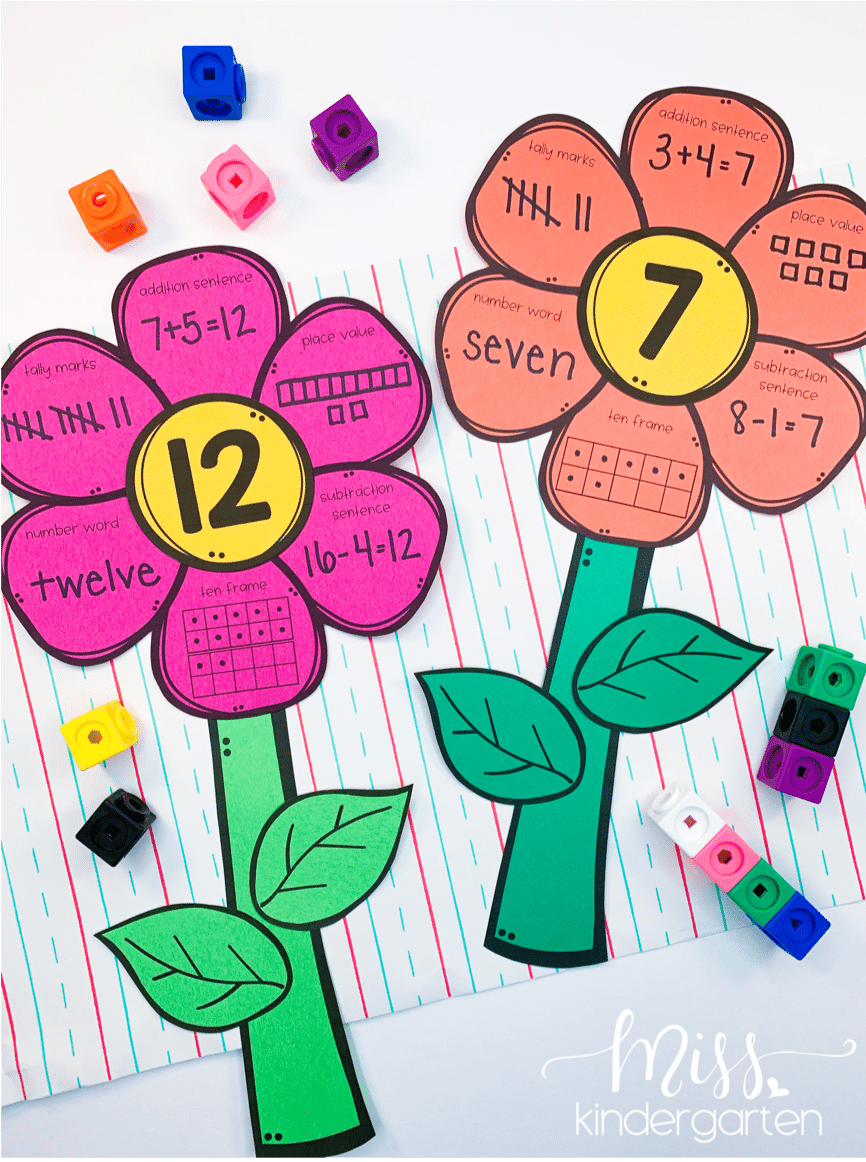 These math flowers are a great way to help your students practice number sense. The different petals allow students to show a number in six different ways! You can choose to have students model a number between 1 and 10 or a number between 11 and 20. As students fill in each petal, they will show the number as a:
number word
ten frame
addition sentence
subtraction sentence
tally marks
and place value!
There are two flower templates included, one for numbers 1-10 and one for numbers 11-20. You can copy them on colored paper or have your students color in the flowers with crayons, colored pencils, or markers. To make the middle circle pop, copy them onto different colored paper and glue them onto the flower.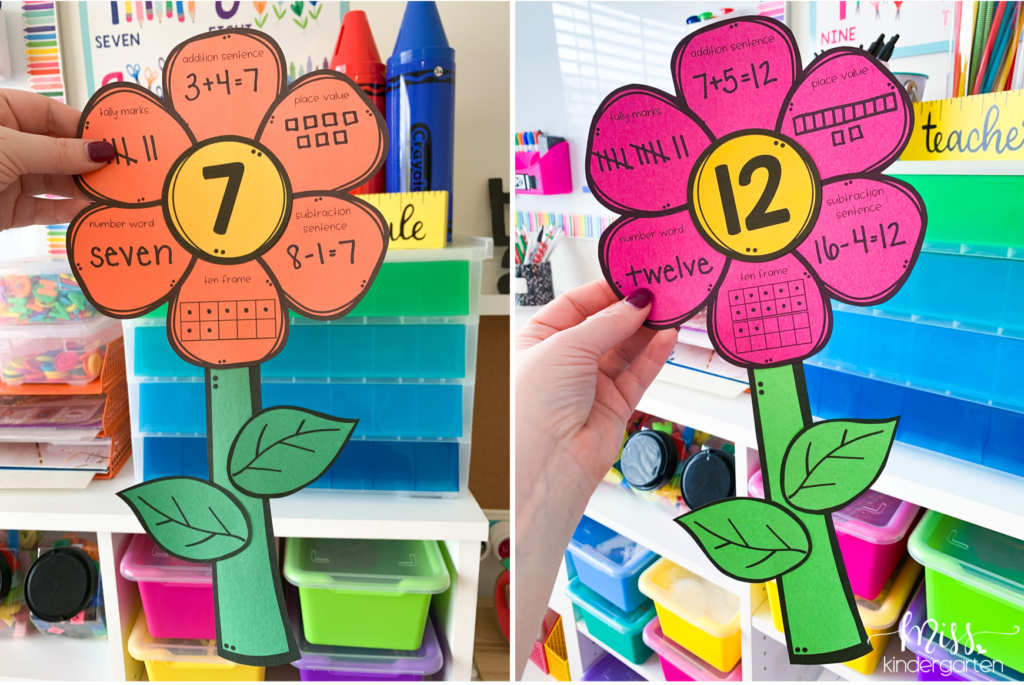 Your students can fill in the flower petals to represent each number, cut them out, and glue down the stem and leaves. This makes a fun spring craft project!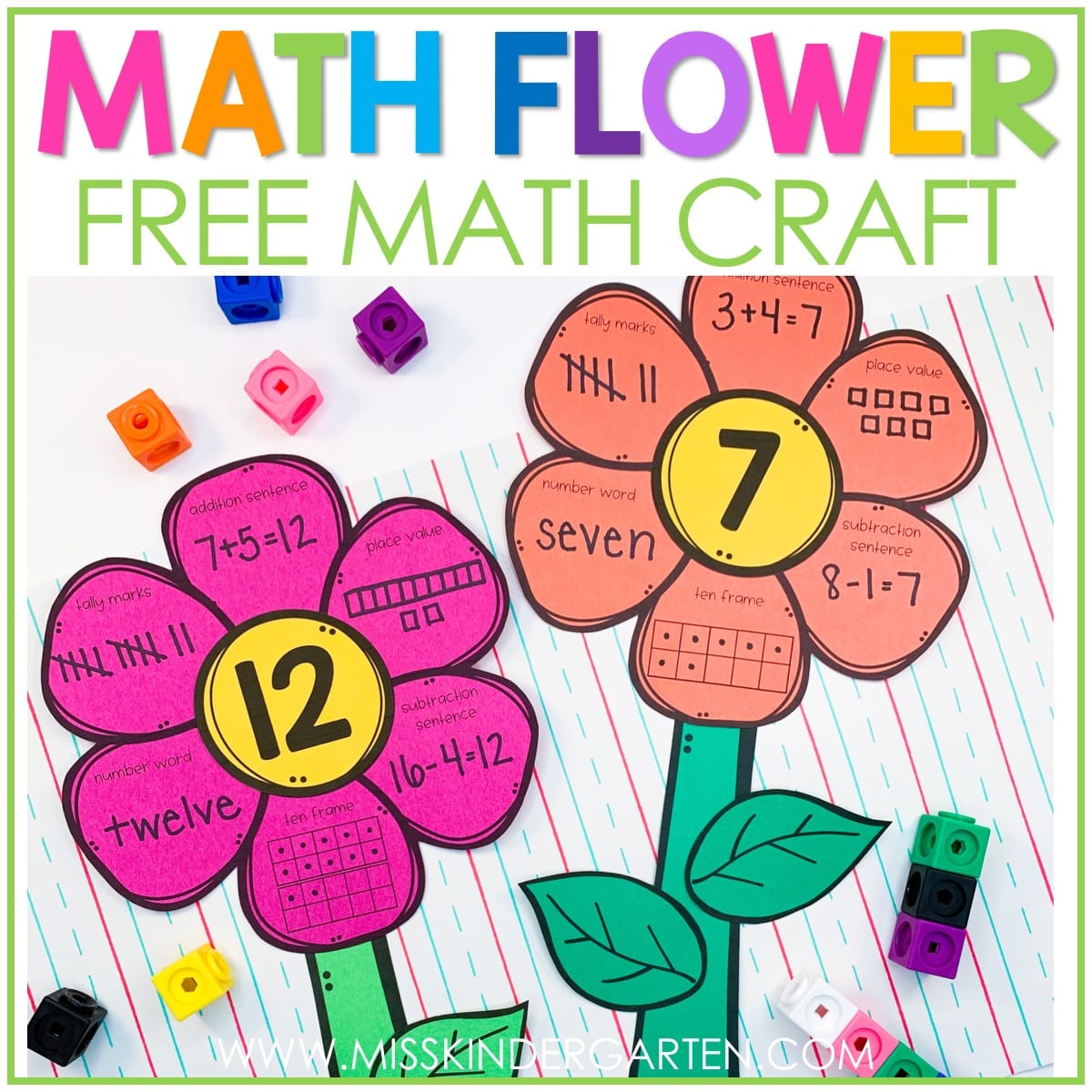 Free Math Flower Craft
Plant some math flowers in your classroom this spring! Your students will have fun representing numbers 1-20 in 6 different ways with this flower craft. Enter your email below to get this freebie sent straight to your inbox!
Kite Math Craft
Another bright and colorful spring math craft for kindergarten is this math facts kite. By the time the spring months roll around, students have grown more comfortable with addition and subtraction. They can use this knowledge to model different ways to make a number using addition and subtraction.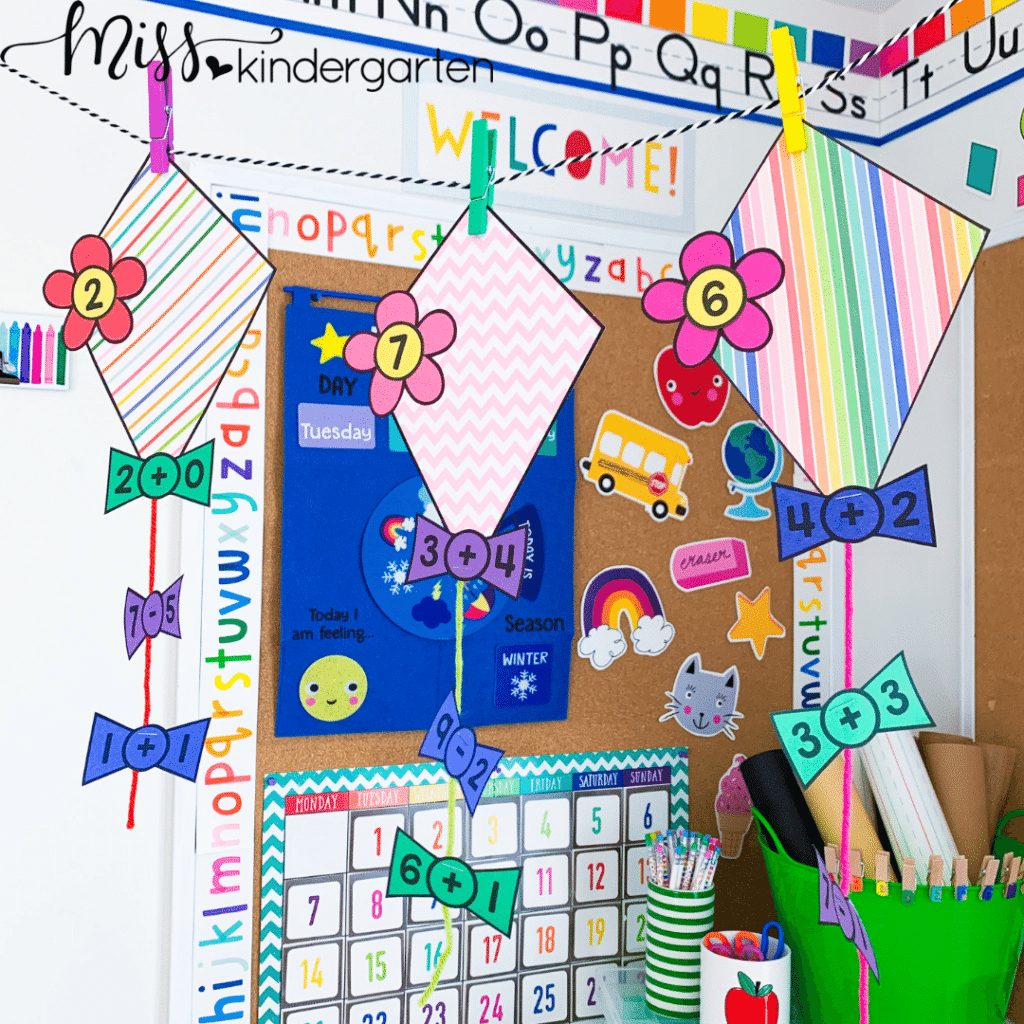 Each student will choose a number to glue onto their kite. Then, they will create a colorful tail using string (or yarn) and paper bows. On each bow, students will write an addition or subtraction equation that results in their chosen number. The final result of this fun craft looks adorable on a bulletin board! You can either have the ties hang down or mount the kite and string on construction paper.
Apple Basket Math Craft
At the beginning of the school year, your students will be working on counting, number identification, number formation, and one-to-one-correspondence. This apple basket craft helps students practice all of those important math skills!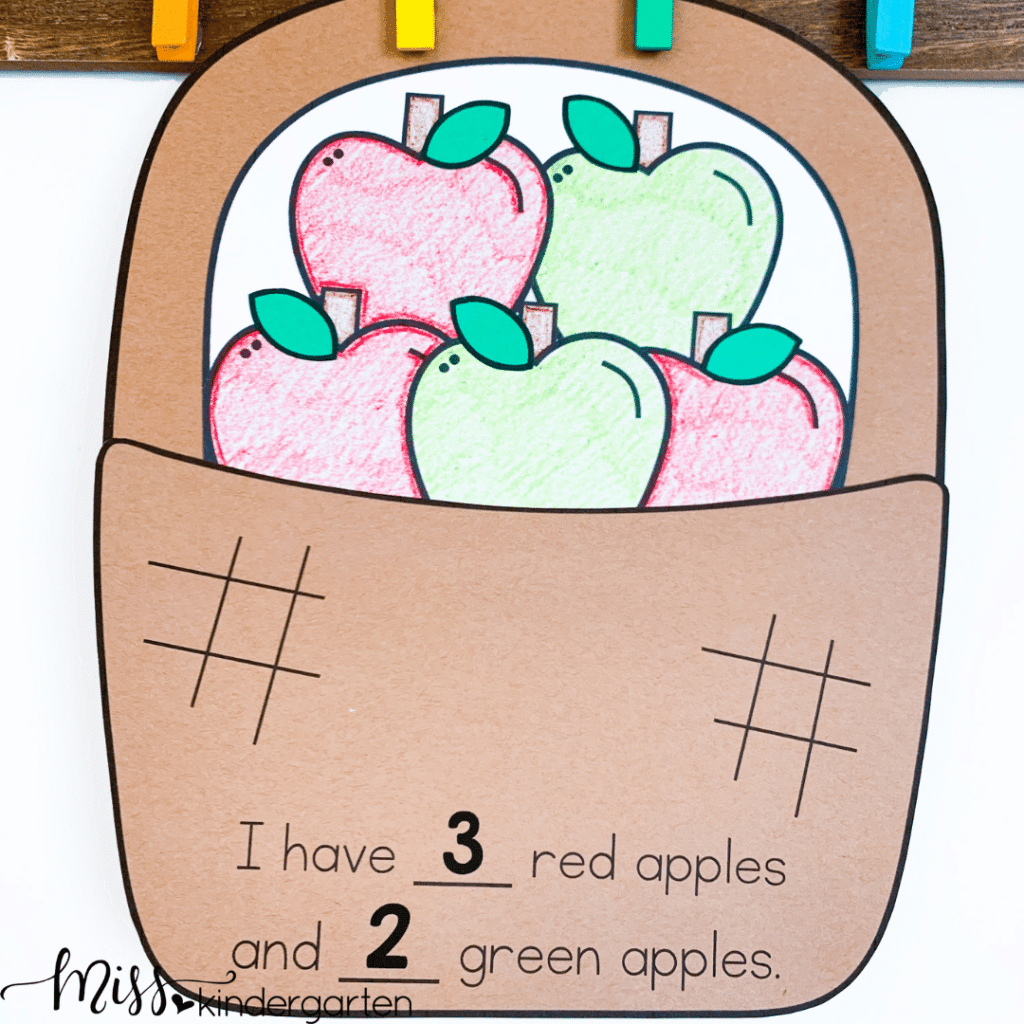 Simply give your students some blank apple templates and have them color some of them red and the rest green. After cutting out the apples, they can add them to their apple basket craft. Students will count how many red apples and how many green apples are in the basket, then write the numbers on the corresponding lines. This fun fall craft is a great option for a simple back-to-school bulletin board!
Fall Patterns Craft
Another engaging math craft that students love is this fall patterns activity! Students can either color each type of leaf a different color, or they can be copied onto colorful paper. Then, students will create a pattern with their leaves and glue them onto this craft.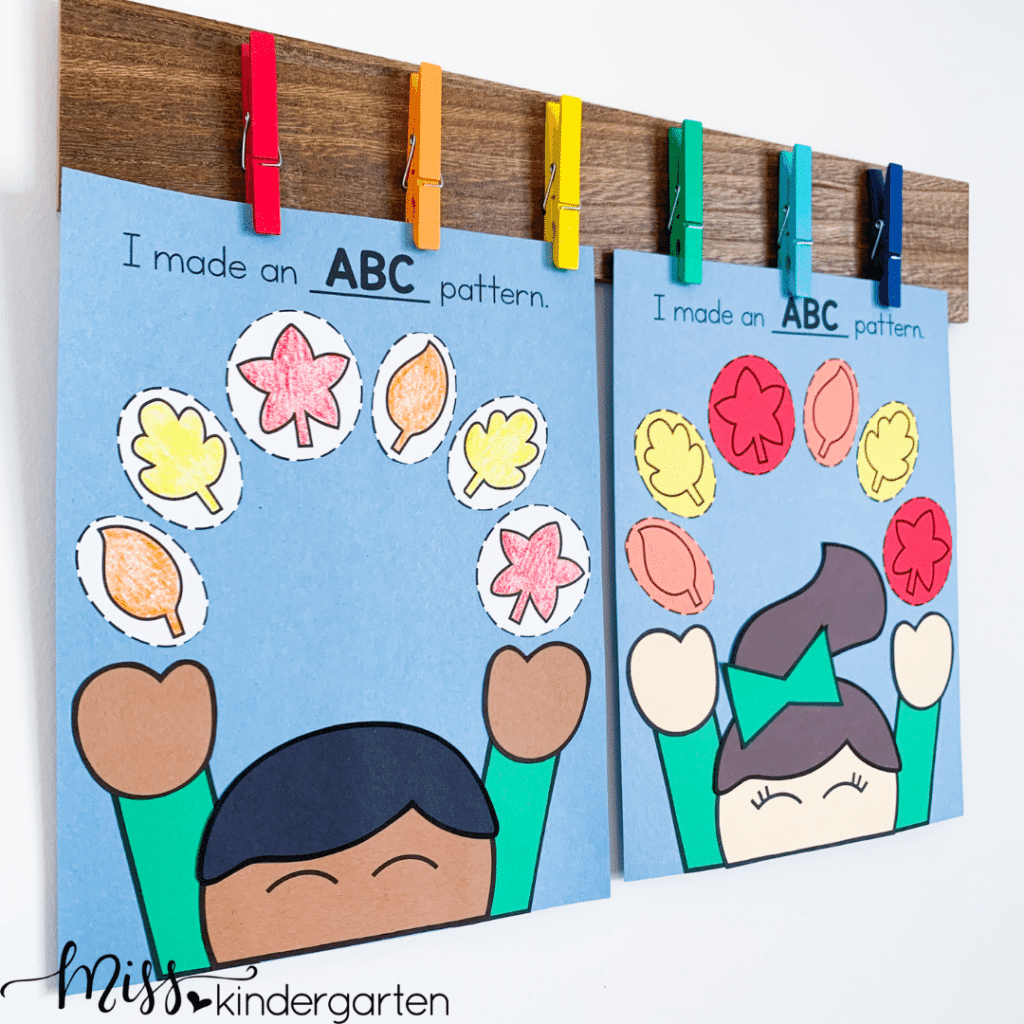 Students can then identify the type of pattern that they created: AB, ABC, and so on. It's always fun to see the different patterns that students create with this fall math craft!
Christmas Tree
As winter rolls around, students grow more excited about the approaching holiday break. Help them channel some of this excitement into a fun holiday math craft!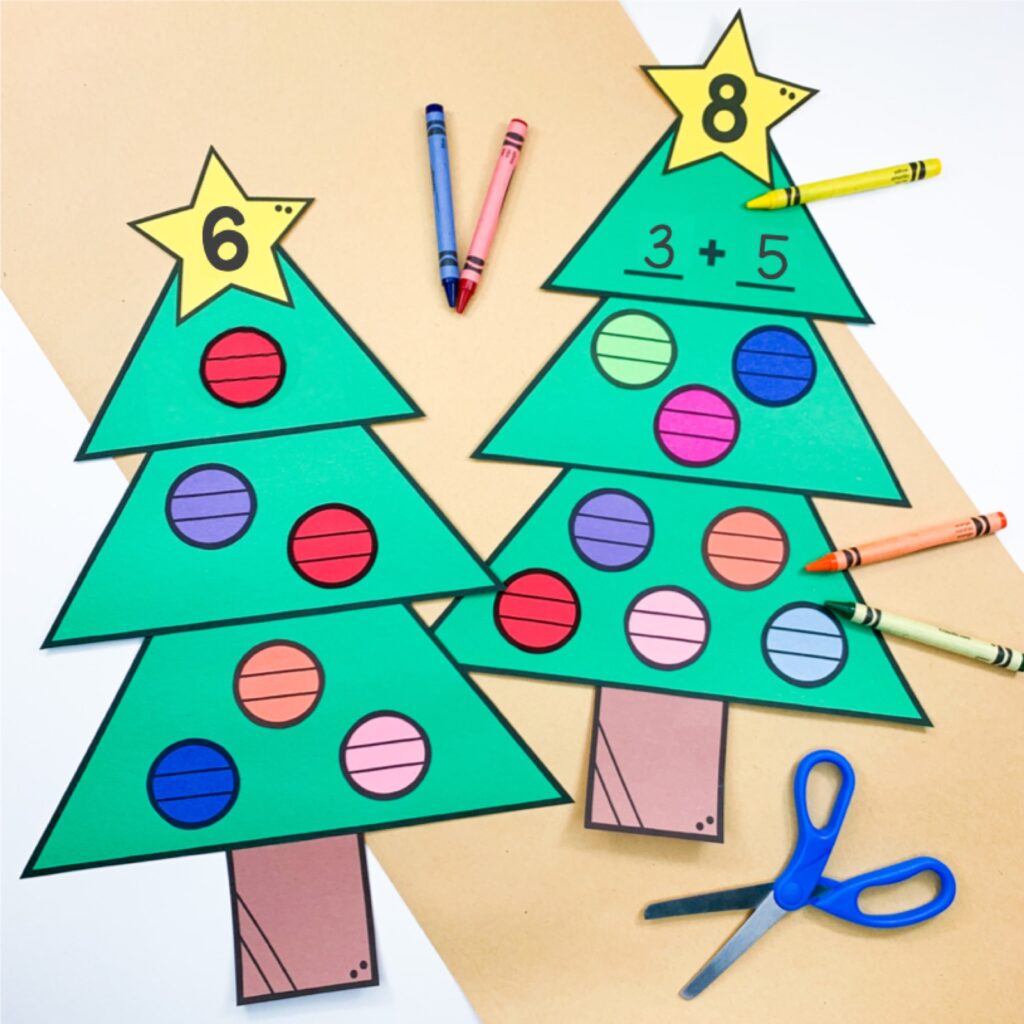 Students will practice one-to-one correspondence and addition to ten as they add ornaments to a tree to match the number at the top of the tree. Based on the needs of your class, you could also have your students write an addition equation to go along with their tree math craft.
Kindergarten Crafts for the Whole Year
The benefits of doing crafts in your classroom aren't isolated to math practice! There are so many different ways that you can incorporate crafts throughout all of the kindergarten content areas. To save you time, I have put together a Kindergarten Crafts Mega Bundle that has hands-on learning activities that you can use all year long. In addition to the math crafts shown above, this bundle includes math, literacy, science, and holiday crafts that will keep your students excited about learning!
If you'd like to take a closer look at this resource, you can click below to find it in my shop.
$78.00
This MEGA bundle includes all of the crafts we use in our classroom. They brighten up our room and are fun to make. Get access to 41 of my favorite crafts so you can pick and choose which ones you want to use year after year!

All crafts include easy-to-use templates, step-by-step picture directions, as well as writing templates to incorporate writing into each lesson.
Shop Now
Save These Math Flowers (and More!)
Be sure to save this post if you'd like to find it later! Just add the pin below to your favorite teaching board on Pinterest. You'll be able to quickly find this post when you're looking for a fun kindergarten math craft for your students.