As kindergarten teachers, we know how important it is that young learners have a strong foundation in number sense. This is why we add so many number sense practice activities into the daily routine, especially at the beginning of the year. If you're looking for ways to incorporate more number sense activities into your daily routine, your math stations are a great place to start. In this post, I'm sharing my favorite Number Sense Centers for Kindergarten that students LOVE!
Benefits of Using Centers for Number Sense Practice
There are several reasons why I think centers can be the perfect place for number sense practice in kindergarten.
Hands-On: Children learn by doing! Number sense centers provide many different opportunities for hands-on practice with numbers and counting.
Engaging Repetition: In addition to learning through hands-on activities, students need plenty of repetition in order to master number identification, counting, and number formation. Centers allow you to keep this repetition fresh and engaging!
Differentiation: A kindergarten classroom has a wide range when it comes to number sense skills. Centers activities allow you to differentiate based on student needs.
Low Prep: Task card centers are an easy way to incorporate more number sense practice into your school day. Everything stores easily in your favorite task card storage boxes. They are easy to grab and go when it's time to set up centers.
Flexible: Finally, number sense centers can be incorporated into other parts of your daily routine. You can use these task cards for morning work tubs, fast finisher activities, math intervention, or other small group math instruction.
Fun Ideas for Number Sense Centers
Now that we know how helpful centers can be for number sense practice, let's look at some fun activity ideas!
Number Recognition
One of the first steps in number sense is that students are able to recognize numerals and identify them by name.
This spin-and-cover activity is a great way for students to practice visual discrimination skills and number identification. After the spinner lands on a number, the student will say the number and then look for the matching number on the mat. Once they've found the number, they will cover it with a small manipulative. Students will keep spinning until they have covered all of their numbers.
Another way for students to recognize numbers is with this say and show activity. Students will say the name of the number on each card and then create a group of objects that represents that number. This is great counting practice, as well!
Number Formation
Number formation can be challenging for little hands, especially when they're still learning how to hold a pencil correctly. These number sense activities allow students to practice number formation in a variety of ways that support their developing fine motor skills.
Students love to use toy cars to follow the road of each numeral! After practicing the correct formation several times, they can use a dry-erase marker to practice forming the number as well.
Students can also choose to trace or build each number on tracing cards. Each card has multiple chances to trace each number, providing necessary repetition. These cards are easy to wipe clean before moving on to the next number. Plus, these activities are easily reset before students switch math stations.
Counting
One way to make counting practice more engaging is to combine it with other number sense activities.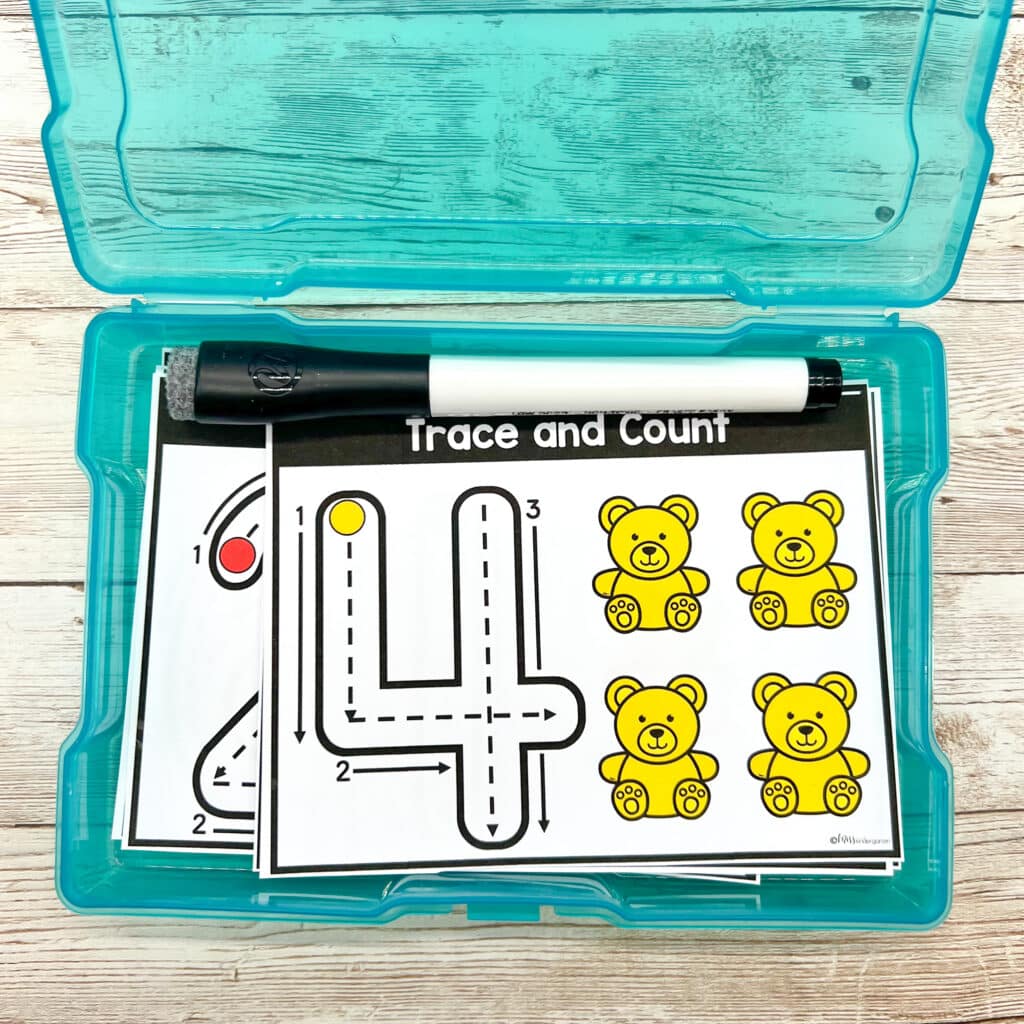 For example, this count and trace activity gives students the opportunity to count a group of objects before tracing the corresponding number.
The number sense task cards that use teen numbers show the objects in one group of ten and then the remaining ones in another group.  This is can help students visualize tens and ones for future place value activities.
Ten Frame
Since your students will use ten frames to help them understand other math concepts throughout the year, it's important for them to use them early on in the year.  This number sense center has students fill in a ten frame with manipulatives to model the number on the card. 
Try adding some seasonal mini erasers for students to place on each ten frame. This is always a hit with students! You can also use any other math manipulatives that you have on hand, or have students add dots with a dry-erase marker.
Fine Motor Practice
Finally, you can incorporate additional fine motor practice to your number sense centers. Students will have so much fun with these activities that they'll forget they're hard at work!
A count and clip activity is a fun way for students to practice counting, with a fine motor twist! After counting the number of objects on a card, students will add a clothespin to the corresponding number. You can make this a self-checking activity by adding a sticker to the task card behind the correct number. After adding the clip to the card, students can turn the card over to see if their clip is on the sticker.
Finally, students can practice pincer grasp as they build numbers! They can use tweezers to pick up beads or other small objects and place them in each circle on the number card. Students can then clear the card and repeat as many times as they'd like! There is also space at the bottom of the card for students to trace the number word with a dry-erase marker.
Task Cards for Number Sense Centers
I have created a set of low-prep number sense task cards that you can use to put together engaging activities for your students.  All of the activities pictured above (and more!) can be found in one time-saving download.  Your students will love all of the engaging activities in these number sense centers!  To take a closer look at everything included in this resource, just click below to head over to my shop.
Save These Number Sense Centers
Be sure to save this post if you'd like to come back to it later. Just add the pin below to your favorite teaching board on Pinterest. You'll be able to quickly find this post when you're looking for low-prep number sense centers for your classroom!