STEM challenges are an excellent way to encourage young learners to use problem-solving and critical-thinking skills.  However, there are even more benefits to including these engaging activities in your classroom.  In this post, I'm going to share some of my favorite Spring STEM Activities for Kindergarten.  Plus, I'll share with you the many reasons why these hands-on activities are an important addition to your spring lesson plans.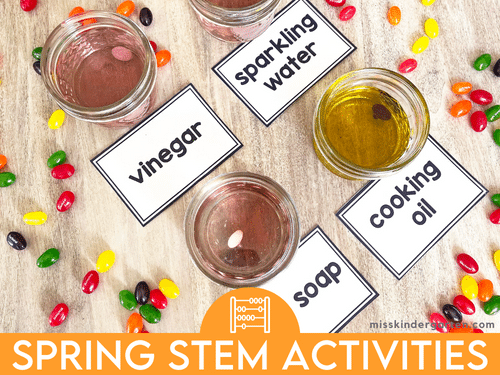 Benefits of Spring STEM Challenges
Incorporating STEM challenges into your busy schedule might seem like just one more thing to think about. In reality, there are many reasons to incorporate these activities into your lesson plans this spring.
Reinforce Life Skills
Kindergarten STEM activities require students to use skills that will benefit them in the real world long after they leave the school years behind.  Students will be challenged in creativity, communication, problem-solving, and collaboration skills, just to name a few!
Content Area Practice
STEM challenges are more than just spring science experiments!  They are an opportunity for students to practice various essential kindergarten skills.  Students can practice skills like counting, color identification, writing, and more as they explore STEM challenges.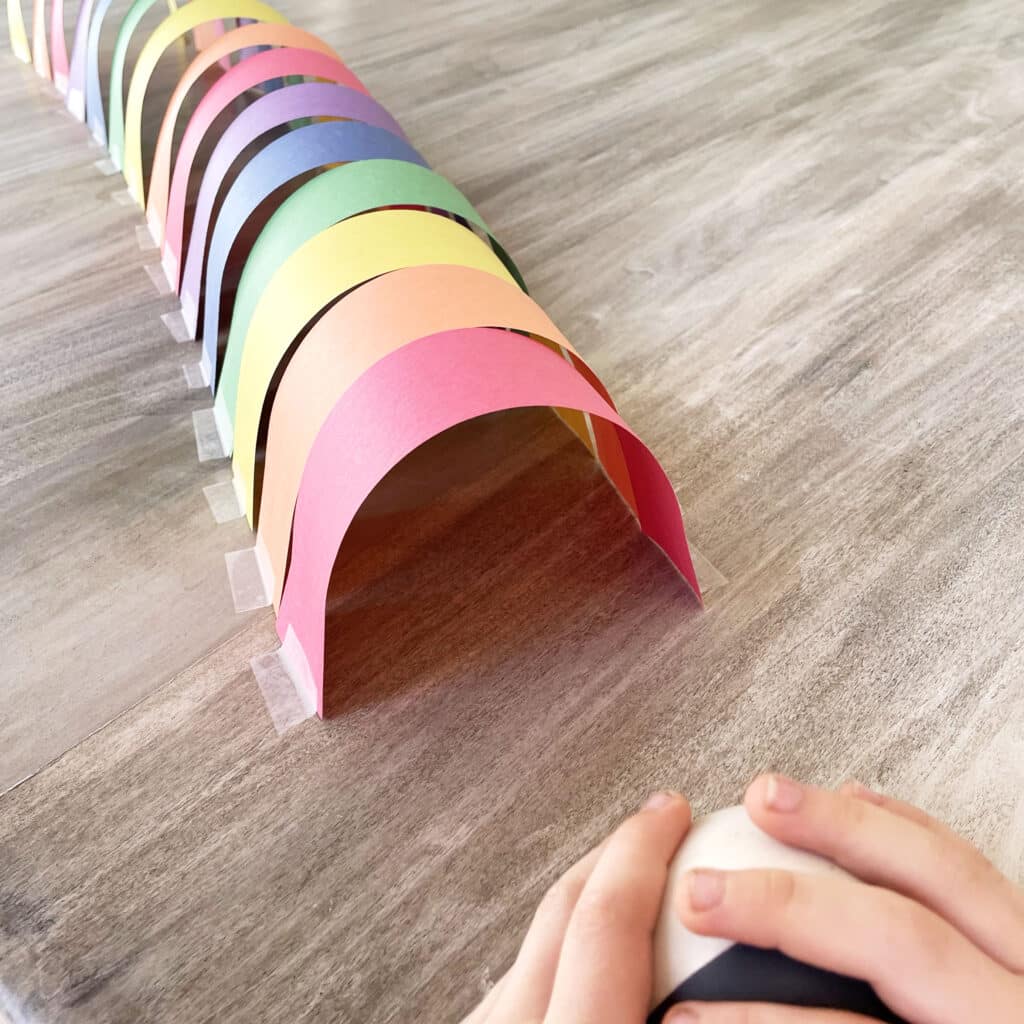 Hands-On Engagement
At times it can be difficult to keep our young learners engaged in learning, especially once spring fever hits! This is when it can be helpful to have a few easy STEM activities in your toolbox. By their very nature, these activities are designed to be hands-on learning experiences for students. They are a great way to channel that extra energy into a constructive learning experience.
Improve Fine Motor Skills
As students complete hands-on STEM challenges, they will be using important fine motor skills. As kindergarten teachers, we know how important it is for students to have plenty of hand-strengthening activities throughout the day!
Spring STEM Activities for Kindergarten
The following STEM challenges can bring all of the benefits mentioned above to your classroom this spring! Each of the hands-on activities below can help students practice a variety of important skills. These simple science experiments and STEM activities are just right for young learners!
STEM Challenge #1: Chemical Reactions
The first spring science experiment gives students the chance to create and observe a chemical reaction.  First, students can learn that a chemical reaction occurs when two different materials are mixed together to form a new material.
To add a fun spring twist to this STEM challenge, you can use watermelon! Students can prepare a vessel for their chemical reaction by hollowing out half of a small watermelon. (This is a great way to improve fine motor skills and build hand strength!) Once the watermelon is hollowed out, students will add baking soda and vinegar to the watermelon. They can then draw what they observe on a recording sheet.
STEM Challenge #2: Dissolving Candy
Springtime is the jellybean's time to shine, so it's only natural to include them in a STEM challenge!  In this fun activity, students will practice making a hypothesis.  After being shown a variety of clear liquids, students will guess which liquid will make the candy coating dissolve the fastest.  After recording their hypothesis, children will place one candy in each liquid.
You can have students check for changes in the candy after one hour, two hours, before the end of the school day, and the following day. Some liquids will cause the candy to dissolve almost immediately, while other liquids will have very little change after two days. Students can then reflect on their hypothesis.
STEM Challenge #3: Capillary Action Carnations
Your class will love creating a rainbow of colorful carnations with this fun science experiment!  First, they will be able to explore primary and secondary colors as they use different amounts of food coloring to create colored water for the carnations to drink.  
Next, students will learn about capillary action with a hands-on demonstration.  They can slowly suck air through a straw to better understand that capillary action is when liquid moves through a tube or other material. This is a very helpful way for students to understand what will happen to the flowers in this experiment.
Finally, students will place a white carnation (or any other white flower) in the colored water. Over the next few days, your class can record what happens to the flower. This is a great opportunity for students to practice recording data by drawing what the flower looks like each day. As the colored water travels up the stem through capillary action, students will see the flower gradually change color.
STEM Challenge #4: Rainbow Tunnel
In this activity, students will help a ball travel from a starting line to the finish line about two feet away.  They will do this by using colorful paper strips to design a tunnel for the ball to travel through. Your students can learn about the brainstorming process as they design their tunnels on paper.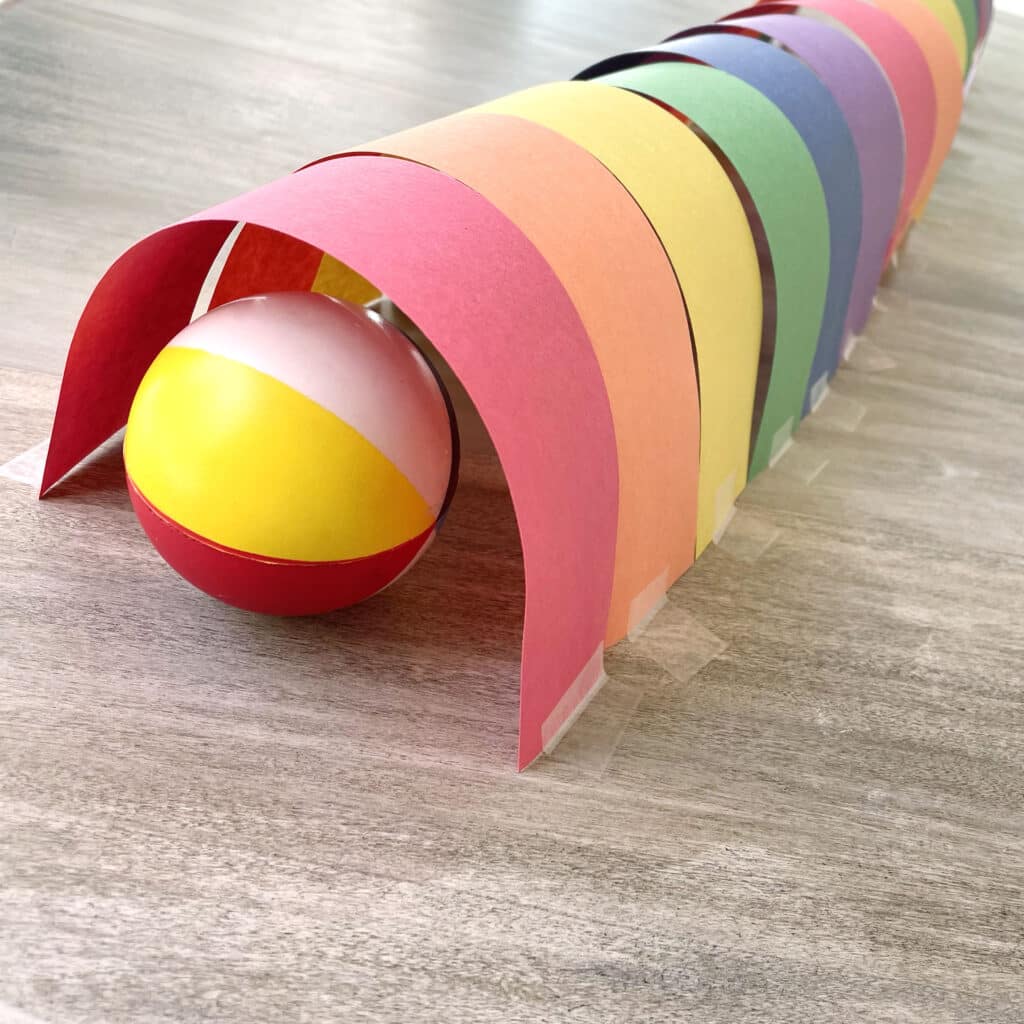 As students bring their designs to life through trial and error, they will need to figure out how far apart the strips should be taped in order to leave enough room for the ball. They can also demonstrate creativity as they create patterns with the colorful paper strips. Creating rainbow tunnels can be a great addition to your St. Patrick's Day lesson plans or any time you could use a touch of spring fun in the classroom.
Kindergarten STEM Challenges for Spring
Are you ready to plan a fun STEM challenge for your class this spring?  You can find the four spring STEM activities pictured above in one time-saving download!  It includes all of the instructions and reflection sheets you will need to complete these engaging activities with your students.  It even has an editable letter that you can use request supply donations for your STEM challenges. If you'd like to take a closer look at this resource, you can find it in my shop.
Save These Spring STEM Activities
Be sure to save this post so you can easily find it later! Just add the pin below to your favorite teaching board on Pinterest. You can quickly find this post the next time you're looking for fun STEM activities for spring!