Kindergarten teachers know that learning how to count is more than just reciting numbers in order. Students need to understand the meaning behind the numbers they are saying! This helps our young learners build a foundation for future math skills such as addition and subtraction. My favorite way to help students practice one-to-one correspondence is with hands-on counting activities. Keep reading for ten of my favorites!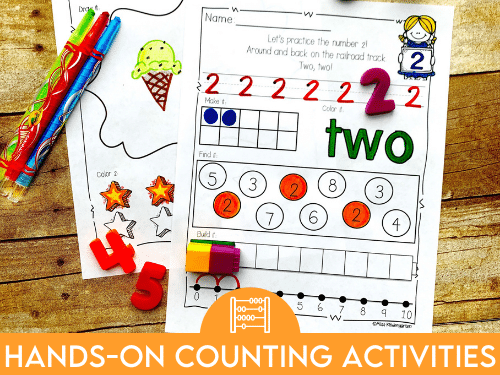 10 Hands-On Counting Activities for Kindergarten
1. Ten Frame
One of the best ways to help students with one-to-one correspondence is to use a ten frame. This helps students keep track of the items as they count as they put one item in each box of the frame. (My students love using mini erasers and stickers!) Plus, introducing students to ten frames will help them prepare for future math concepts and investigations.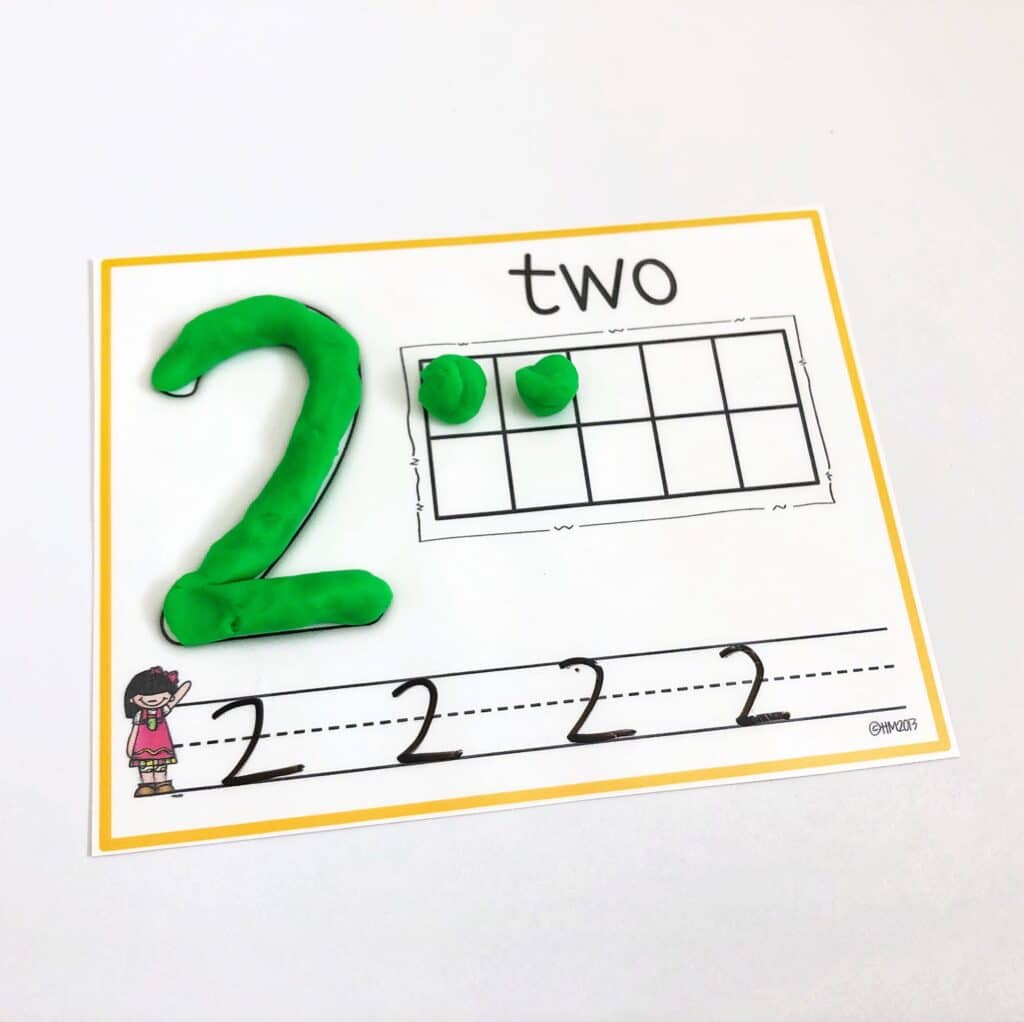 2. Play Dough
I love to use play dough during math lessons because it's a great way to incorporate some engaging fine motor practice. To use play dough as a hands-on counting activity, you can have students pinch and roll small balls and place them in a row or on a ten frame (I like to use these play dough mats). Students can then squash each ball of play dough as they count them. This is a fun way to help students practice accurate counting and one-to-one correspondence!
3. Bingo Daubers
Bingo daubers are always a hit in the kindergarten classroom, so they're a great option for counting practice! Students can use daubers to represent a particular number on a piece of paper. For example, they will create eight dots on their paper for the number eight. My personal favorite, though, are count and dab activities! Students count a number of objects and then dab the correct answer on the worksheet. Count and dab activities are perfect for math centers!
4. Number Lines
It's important for our young learners to get familiar with number lines for future math skills, so I always like to use number lines as a hands-on activity. Counting on a number line is another helpful way for students to visualize the quantities of a given number. Students can practice showing the number of "jumps" it takes to get to each number.
5. Task Cards
There are countless ways that you can use task cards to help students practice one-to-one correspondence and counting. These simple, hands-on activities can be incorporated into the classroom at various points of the school day, such as centers, small group instruction, interventions, or even morning work! You can also use them to incorporate counting into other areas of the math curriculum, such as counting the vertices and sides of 2D shapes! If you'd like to read more about how I use math task cards in the classroom, check out this post.
6. Counting Games
A fun way to practice counting and one-to-one correspondence is with board games! Students are able to practice navigating the board as they count the correct number of spaces. However, you can also turn task cards into fun and engaging counting games! For example, this monster counting freebie can be used as a counting game if you turn the task cards face-down on the table and have students take turns selecting a monster. After choosing a card, they place the correct number of googly eyes on their monster as they count. Something as simple as having students choose their task cards from a face-down pile can bring a lot of engagement to math practice!
7. Count and Reveal
In addition to task cards, count and reveal activities are another hands-on math center idea. This self-correcting activity is perfect for students to practice one-to-one correspondence and counting. After counting the number of objects shown on the cards, students say the number and then lift the flap to see if they are correct. The addition of the clothes pins to this activity means that students are strengthening their fine motor skills, as well!
8. Roll and Cover
Roll and cover activities are a fun way for students to practice counting. After rolling dice, students can count the number of dots on the dice and then cover the corresponding number on their roll and cover mats. The game continues until they have covered each number. This is a very effective way to fit in a lot of counting repetition because students love to play this game over and over!
9. Printable Number Books
One of the best reasons to use printable books in kindergarten is that students love to share their creations with friends and family. Encouraging our students to talk about what they work on in school is a great way to solidify what they've been learning. After practicing the number concepts as they create these little number books, students will often talk about these same concepts when they take the books home to family. This is a great way to encourage students to continue to count and talk about numbers!
10. Morning Work Tubs
If you use morning work tubs in your classroom, be sure to add hands-on counting activities to your morning routine! Students will be able to get more practice with one-to-one correspondence as they ease into a day of learning. Counting tasks are perfect for morning work because students are usually able to complete these tasks independently. Check out this post for my favorite math ideas for morning work tubs!
Number Practice for Kindergarten
To save you some time and money, I have created a bundle of numbers centers and numbers printables that will help you add variety to your counting practice! This bundle is full of hands-on fine motor activities, low-prep printables, no-prep worksheets, and even technology. You can find this bundle in my shop if you'd like to see everything that's included!
Save These Hands-On Counting Activities
Short on time? Be sure to save this post to your favorite math board on Pinterest. You'll be able to refer back to this post any time you're looking for some fun counting activities for kindergarten!