As elementary teachers, we know that the first few minutes after arrival can set the tone for the entire school day. This is why a morning routine is so important! One of my favorite elements of an effective first grade morning routine is using seatwork. I love how it can create an environment of learning from the moment that students walk through the door. Keep reading for some of my favorite tips and resources for first grade morning work!
Benefits of Morning Work
There are many reasons why it's helpful to begin the school day with seatwork. While every teacher ultimately has unique reasons for choosing a morning work routine, here are a few of my favorites.
Classroom Management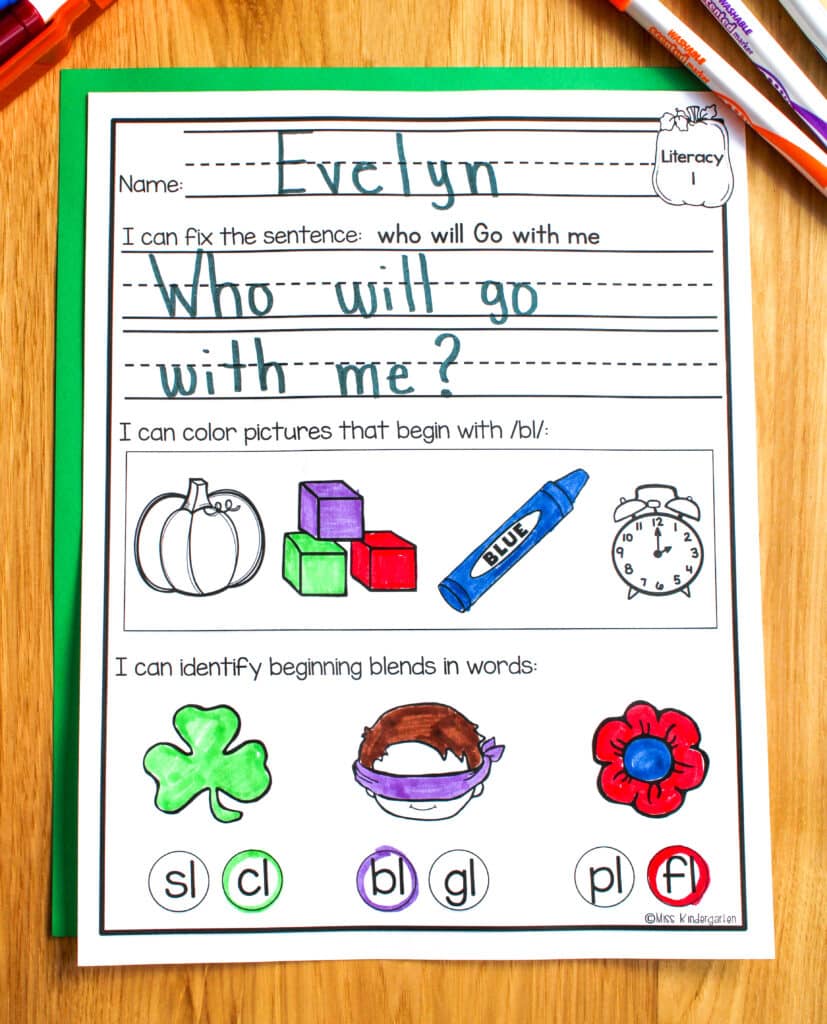 Arrival procedures vary from school to school, but I think most teachers can agree that there is a flurry of things that need our attention as soon as students walk in the door. Providing a routine task that students can work on as they arrive is a great classroom management tool. It will give you the time you need to check in with individual students, read parent notes, take attendance, and attend to all of the other things that pop up first thing in the morning.
Set the Tone
Morning work is a wonderful way to set the tone for learning and help young learners ease into the school day. Students can independently work at their own pace as they review grade level concepts. This is also a great time to play some calming music or use a noise level visual reminder to help center students for a day of learning.
Ongoing Assessment
Since morning work is usually done independently, it can serve as an additional informal assessment tool. A quick scan of student papers during morning work time can provide a snapshot of how the class understands and retains grade level concepts.
Tips for Choosing Morning Work Activities
If you're new to morning work or looking to switch up your morning work routine, I wanted to share some tips for choosing the right seatwork for your class. Here are some questions you can ask yourself when deciding on a morning work activity for your students.
Is This Meaningful?
An important thing to think about when adding any learning activity to your routine, including morning work, is whether or not it is meaningful. Provide activities that allow students to practice concepts that they have recently been learning or review skills that they need to keep sharp!
By choosing meaningful learning activities, the morning work routine can be a wonderful way to add skills review to the school day.
Can This Be Completed Independently?
An important part of any first grade morning work routine is that students can independently begin their work while you are welcoming students and taking care of loose ends.
One way to encourage independence in the morning routine is to keep the overall morning work format the same all year. When students are familiar with the format of the activity, you will be less likely to hear a chorus of "How do I do this?" ringing through the classroom each morning.
Will This Keep My Students Engaged?
In order to keep the students engaged and avoid routine fatigue, it's helpful to keep the content fresh! In my first grade morning work bundle, I have a complete set of seasonal morning work for every month of the school year. This provides students with a familiar task to complete independently each morning, but with fresh content to go along with each season of the school year.
Is This Low Prep?
The morning work activities that you choose for your class should be low prep! This way, it's easy to have everything ready when the students walk through the door each morning.
One thing to consider is whether you want to create monthly (or weekly) morning work packets or if you'd rather print and store pages to distribute daily.
Some teachers like to print and distribute packets to save on prep time and handing out papers. On the other hand, some teachers like using single pages so they don't have to worry about misplaced packets. Choose the method that makes the most sense for your situation!
Is This the Right Length?
There is a "sweet spot" when it comes to finding the right assignment length for morning work. There will always be some students who finish quickly and others who don't quite complete the activity before it's time to move on. However, every teacher finds that perfect length that minimizes the number of early finishers, gives most students enough time to finish, and doesn't take up a large chunk of the morning. This is different for each class and the needs of the students.
Since the purpose of morning work is to keep students independently engaged in meaningful tasks, it's also helpful to identify some routine early finisher activities. This way, students can independently transition from morning work to the next activity.
Morning Worksheets for First Grade
Are you on the hunt for meaningful and engaging morning work that your students can complete independently? You'll definitely want to check out my bundle of First Grade Morning Work for the whole school year!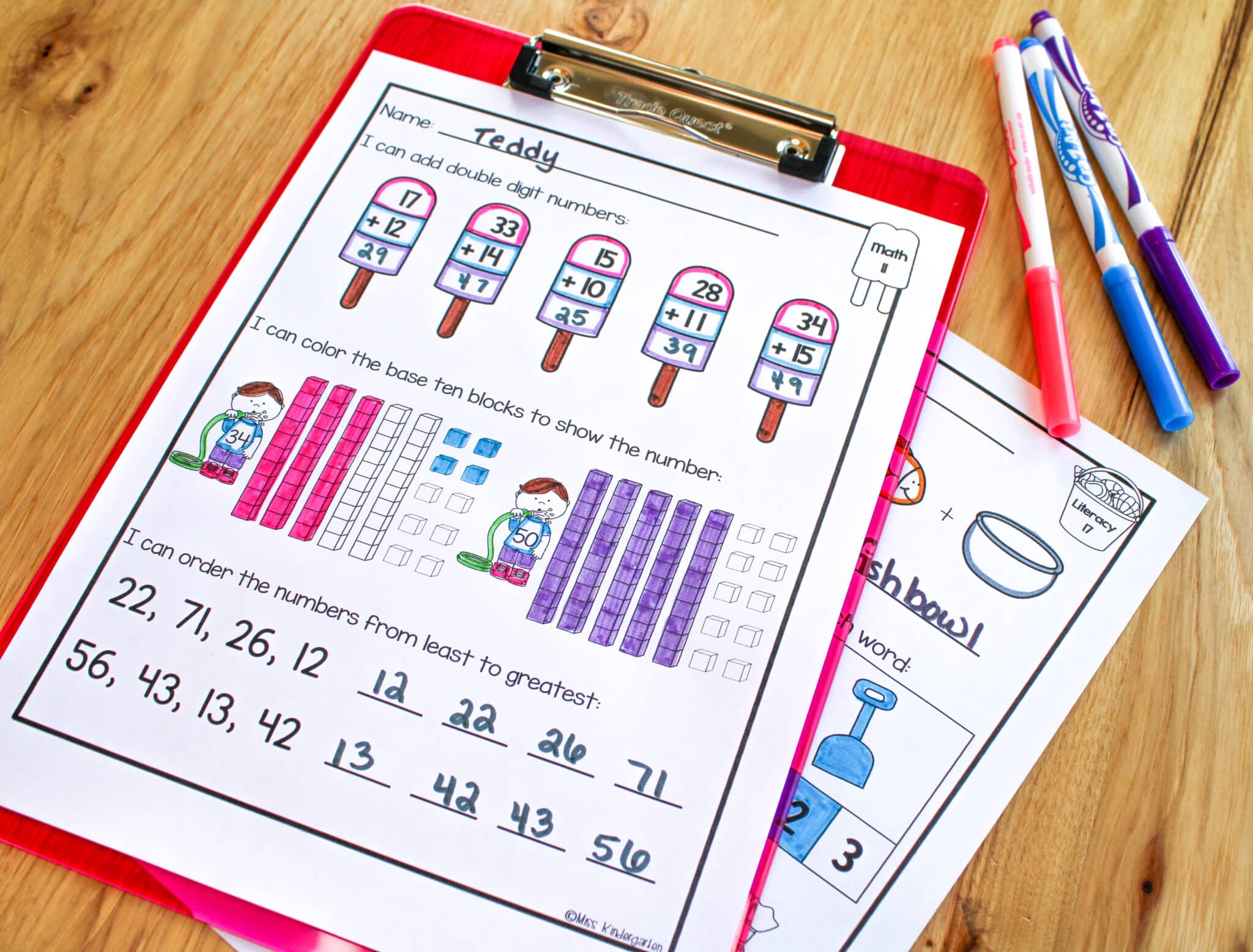 This one resource will provide you with low-prep, monthly seatwork that follows the typical progression of first grade content standards. It also provides a spiral review that will help your students keep their skills sharp for second grade. Plus, your students will love the themed morning work activities that bring some seasonal fun to the morning routine!
These first grade morning work printables are available in my shop. If you are a kindergarten teacher who found this post, I also have morning work resources for you! Check out this post for more details.
Save These First Grade Morning Work Tips
If you're short on time but want to come back to this post, you can save it for later! Just add this pin to your favorite teaching board on Pinterest to quickly find these morning work tips and resources whenever you need them!