For young kindergarten students, repetition is key when it comes to learning about numbers.  They need plenty of practice with number identification, counting, and writing numbers before they can master these skills.  In order to keep students engaged in number practice, we need plenty of activities in our teacher toolboxes!  That's why I wanted to share some free number sense activities that your students will love!
Free Number Sense Activities for Kindergarten
These number sense freebies can be used in many different ways, which is helpful for differentiation and engagement. You can use these free printable activities for math centers, morning work, small group practice, or even for fast finishers! No matter how you decide to use these activities, your students will benefit from the extra practice with number identification, counting, and more!
Number Spin and Write
If you're looking for a hands-on way to help students recognize and write numbers, check out this Spin and Write freebie! All you need to do for this low-prep activity is print off the worksheet and add a spinner! If you don't have a clear spinner overlay on hand, your students can use a paperclip and pencil to spin.  
After each spin, students will say the number that they landed on, then write the number in one of the corresponding boxes. They continue this activity until they have filled in all of the boxes for one of the numbers. It's always so fun for them to see which number will "win."
If you are using this activity for centers or morning work time, you can make this activity open-ended! Just put the worksheet in a sheet protector and have students write with a dry-erase marker.  They'll be able to play this game again and again until it's time to move on to the next center activity.
$0.00
Grab these fun and engaging spin & write printables for your math or literacy centers! This is the perfect low prep activity to help your kindergarten students practice identifying and writing uppercase and lowercase letters, as well as numbers through 20.
Shop Now
Count and Reveal
This Count and Reveal number sense activity is perfect for centers because it is self-correcting!  Students will take a clipped card and count the number of objects pictured.  After deciding how many objects they see and saying the number out loud, they will remove the clip to check the number underneath the flap.
One challenge that young students have when they practice one-to-one correspondence is forgetting which objects they have already counted.  You can add some small manipulatives to this center to help with this!  Students can add a manipulative to each picture as they count.  If they prefer, they could place the counters on the pictures and then remove them as they count. Either method will help students keep track of the objects as they practice counting with one-to-one correspondence!
Halloween Number Sense Activities
Another way to bring some extra engagement to number sense practice is to add a fun seasonal twist!  These free Halloween Number Sense activities will be a hit with your students this fall!
First, students can use a themed spinner or ghost number cards to choose a number between one and ten.  They can then use seasonal manipulatives to model that number on a ten frame.  You could use candy corn, mini erasers, plastic spiders, or any other small counters that would get your students in the Halloween spirit!  (Keep your eyes peeled for ice cube trays with ten spaces!  I was able to use these fun eyeball ping pong balls with a pumpkin ice cube tray for this activity.)
You can repurpose the ghost number cards in several ways.  First, they can be used as flashcards for number identification practice. Students can either choose a card from a pile or have a partner show them the cards one at a time as they identify the number on the ghost. Students could also practice ordering numbers by putting cards in numerical order.  Another activity idea would be to have students choose a card and then count on from that number. There are so many engaging activities that you can do with this one set of free printables!
Monster Counting
This Monster Counting Freebie is also fun for number sense practice around Halloween time. (Although these colorful monsters can be used at any time of the school year.) For this activity, students will choose a monster card, identify the number in the corner, and then add the correct number of eyeballs to the monster.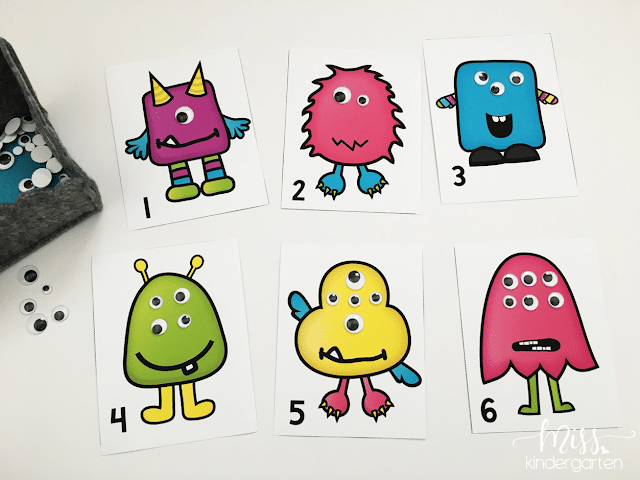 Your students can practice their pincer grasp as they pick up each googly eye.  You can also adjust the difficulty of this task based on the size of the manipulatives you use.  The small googly eyes are definitely more challenging for little fingers and it really exercises those hand muscles!  If your students need something less challenging, you can use larger eyes or even eyeball mini-erasers.
Winter Counting Center
The final freebie that I want to share is perfect for number sense practice in the winter.  This is another activity that can be adjusted based on the needs of your students when winter rolls around. This Snowflake Counting Activity comes with snowflake number cards for numbers one through ten, plus a counting mat.  After choosing a snowflake card, students can use tweezers to place the corresponding number of cotton balls or white pom poms on the mat. 
If your students need more practice with number formation, you could turn this into a number writing practice activity! After drawing a card, students can use the space on the laminated counting mat to practice writing the number with a dry eraser marker.
This activity can also be used for students who are ready to practice addition!  They can choose two cards, model each number with manipulatives, and then count the total number of objects.  This is another free number sense activity that can be modified to best meet the needs of the students in your classroom!
Save These Kindergarten Number Sense Freebies
I hope that this post has given you some helpful resources to use for number sense practice! Be sure to save this post so you can come back to it later. Just add the pin below to your favorite teaching board so you can quickly grab these freebies whenever you're looking for some number sense activities to use in your classroom.