Kindergarten students learn and grow so much that the year can sometimes pass in a blur!  A great way to capture a snapshot of this growth is by putting together a Kindergarten Writing Portfolio.  In this post, I'm going to share some tips and printables to help you create a simple but effective writing portfolio that will document an entire school year of growth!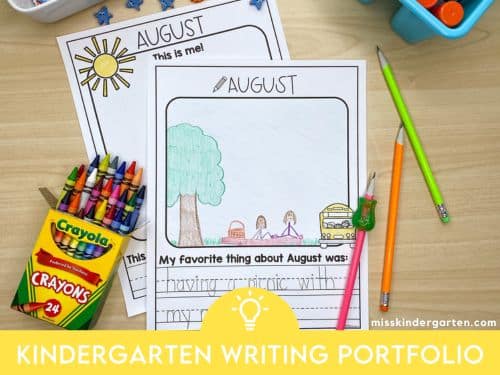 What is a Writing Portfolio?
A kindergarten writing portfolio is a collection of writing samples that students complete throughout the school year.  It's an opportunity to save a few pieces of writing from different milestones in the school year.  However, a writing portfolio can be more than just saving a few different writing assignments in a file folder!  You can choose specific writing prompts that help your students tell the story of their school year.
Benefits of a Kindergarten Writing Portfolio
When you have students create writing specifically for a portfolio, you'll find that there are many benefits.
Create a Writing Routine: I like to use the same format for each month's writing sample in the portfolio. This helps to create a monthly writing routine that students can easily follow.  
Monitor Progress: Another benefit of using the same format each month is that it helps you monitor student progress. You can quickly see, at a glance, the improvements students make in handwriting, spelling, drawing, and writing their names. This can be helpful information for parent conferences, intervention planning, and more!
Increase Student Motivation: When students can see their own progress so clearly, it is highly motivating for them! After several months of this writing routine, you could let your students browse the writing in their portfolios to see how far they have come. This can be really helpful in the middle of the school year when motivation can be a bit hard to find for some students.
Document Kindergarten Memories: A writing portfolio makes a fantastic keepsake! Instead of scrambling for memory book ideas during the busiest time of the school year, you can just continue your monthly writing routine. At the end of the year, each student will have a special keepsake to take home.
What to Include in a Kindergarten Portfolio for Writing
It can be hard to decide what to include in a kindergarten writing portfolio. Here are some of my favorite pages that showcase student learning and growth.
1. Cover Page
A cover page will help you turn the portfolio into a kindergarten memory book. You can either include a photograph of your student or have them draw a self-portrait. Either option will result in a great cover page for the portfolio!
2. All About Me Page
Since your writing portfolio can serve as a memory book, it's fun to include an All About Me page! You can have your students fill out this page at the beginning or end of the school year, depending on what works best for your class. 
Students can complete sentence frames that talk about their favorite things, like their favorite color or their favorite animal. This page can also include details about the student, like their birthday and the people in their family. An All About Me page is something your students will love to look back on to remember what they were like in kindergarten.
3. Monthly Photo or Self-Portrait
Include a picture of your student as part of each month's writing sample. You could take a photo of each student during the month that you can glue to the page. This is a great way to document how much your students have grown and changed during the year!
If you'd rather have students use this as a chance to show their progress in drawing, they can complete a self-portrait each month. It's so fun to see how students gradually add more details to their drawings over the course of the year.
4. Name Writing Samples
Name writing is one of the areas that students grow the most during kindergarten!  Many students enter kindergarten with no prior experience of writing their names. Some students represent their names with just the first letter. Other students write their names in all capital letters. No matter where students start at the beginning of the year, one thing is certain: They will improve this skill by leaps and bounds over the course of the school year. 
By including a space for a name-writing sample each month, you can easily document this growth.  The apples-to-apples comparison of a name-writing sample is one of the most motivating for young students to see!  
5. Monthly Memory and Illustration
The writing prompt that I like to use for the kindergarten portfolio is to have students write about their favorite thing that they did during the month. This is what really helps this writing portfolio double as a kindergarten memory book! Students can then illustrate their memory to show the growth in their drawing and fine motor skills.
6. Handprints
One final addition to your kindergarten portfolio could be a handprint keepsake.  Students can fill in their age on the line of the poem.  You can have students create their handprints with tempera paint or ink pads. Another option would be to have students trace their hands on the paper. They could even fill them in using their favorite colors!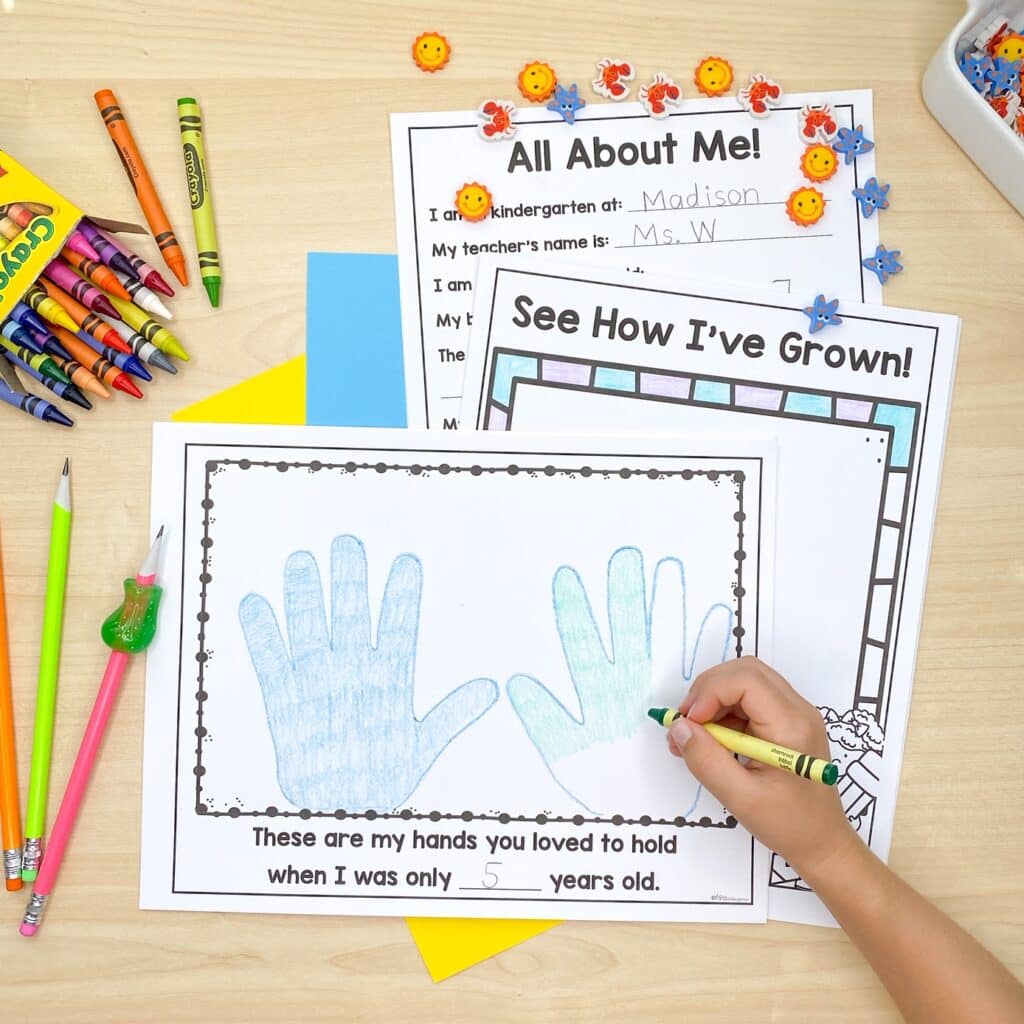 Printable Writing Portfolio for Kindergarten
To save you time, I have created a Kindergarten Writing Portfolio printable resource with all of the page suggestions mentioned above!  You'll find everything you need to put together a year-long writing portfolio for each of your students. 
The monthly writing prompts will showcase your students' growth while also documenting special kindergarten memories.  The final product will be an informative writing portfolio that doubles as a memory book! Just click below to take a closer look at everything included in this easy-to-use resource.
Save These Writing Portfolio Tips
If you want to come back to these tips and ideas later, be sure to save this post!  Just add the pin below to your favorite teaching board on Pinterest.  You'll be able to quickly find these resources when you're planning your monthly writing activities for the school year.