Each new class of kindergarteners is full of a wide range of prior knowledge, especially when it comes to the alphabet!  Some students may not yet recognize the letters in their name, while others may know all of the letters and sounds. It can take a lot of activities to keep all of these students engaged in alphabet practice.  That's why I wanted to share some fun alphabet freebies that you can add to your teacher toolbox.  Keep reading for four free alphabet activities for kindergarten!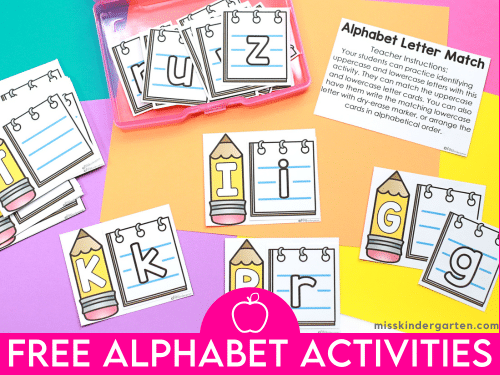 4 Free Alphabet Activities for Kindergarten
The alphabet freebies that I'm sharing in this post can be used in many different ways. Whether it's repurposing the materials or adding the activities to different parts of your daily routine, you'll find these activities to be very versatile. Variety is always great for student engagement! You can use these free alphabet printables to keep your students engaged in practicing letters and sounds throughout the day!
1. Alphabet Letter Match
First is this free Alphabet Letter Match activity that you can use in many different ways! Your students can practice letter recognition and visual discrimination as they match letter tiles or magnets to the letters on the mat.  You can also add this alphabet freebie to a cookie sheet to add more letter identification practice to your centers activities.  As students use letter magnets for various tasks during literacy centers, they can return them to the correct place on the tray. An added bonus is that this helps students keep their workspace tidy!
You could also use this printable letter mat to put together a fun sensory activity!  Students can squeeze and move the magnetic letters in a bag of gel until they line up with the matching letter on the mat below. This resource includes both uppercase and lowercase letters, so you can use it with any alphabet magnets or tiles that you have on hand. 
2. Alphabet Chant and Game
Songs, rhymes, and chants are a simple way to keep students engaged in alphabet practice!  This fun Alphabet Letters and Sounds freebie is an easy addition to calendar time, small group lessons, or even as a phonics warm-up during whole-group instruction. This free alphabet game comes with apple letter cards and pumpkin letter cards in both uppercase and lowercase options.  The apple and pumpkin themes each have two poems to choose from for the activity.  
To play the game, you will display all of the letter cards in a pocket chart along with the poem of your choice.  If you're playing with a small group, you could even spread out the cards on the table. You can then recite the alphabet poem together, have a student pick a letter, and then work together to identify the letter name and sound. 
The letter cards in this activity can easily be repurposed for even more alphabet practice! For example, you could hide a star or some other fun surprise behind one of the letter cards in the pocket chart.  Your students can then try to find the hidden object by naming different letters to look behind.
3. Spin and Write Activity
If you're looking for a low-prep way to get more writing practice into the day, be sure to grab this Spin and Write Activity!  All you need for this engaging letter-writing activity is something to use as a spinner.  If you don't have any clear spinners on hand, your students can create a spinner with a paper clip and a pencil.
Each mat has both uppercase and lowercase versions of the focus letter on the spinner.  Each time students spin, they will identify the letter by name and whether it's uppercase or lowercase.  Then they will trace or write the letter in one of the corresponding boxes.  This continues until one of the ten frames is completely filled. The students are always so excited to see whether the uppercase or lowercase letter will win!  
$0.00
Grab these fun and engaging spin & write printables for your math or literacy centers! This is the perfect low prep activity to help your kindergarten students practice identifying and writing uppercase and lowercase letters, as well as numbers through 20.
Shop Now
4. Letter Match Alphabet Center
The final alphabet freebie is the perfect addition to your literacy centers. This fun Alphabet Letter Match Center is easy to prep and add to your rotations. Just print, cut, laminate for durability, and then add them to your favorite centers storage.  (This activity is the perfect size for the photo storage boxes.) Once you have it prepped and ready to go, this one activity can be used to practice different skills! Your students can use this resource to practice letter recognition, matching, letter formation, and even alphabetical order!
Each pencil task card has an uppercase letter with a blank notepad. Students can choose from the lowercase letter cards to find the correct match for each task card. To add an element of letter-writing practice, students can trace the uppercase letter and then write it on the task card. They could also write the matching lowercase letter on the task card.
The cards for this center can also be used for other alphabet practice activities, like putting them in alphabetical order or doing flashcard quizzing with a partner. This freebie also includes a letter formation worksheet that you can use as an extension for the center or as a stand-alone activity. With so many ways to differentiate and extend this free center, it will definitely keep your students engaged until it's time to move on to the next station. 
More Alphabet Practice Ideas for Kindergarten
If you would like even more fun ideas for practicing the alphabet in kindergarten, check out some of my other blog posts! In one post, I have shared some of my favorite ways to make alphabet practice fun.  
You also might like my blog post with even more engaging alphabet activities that young students love.  In this post, you'll find even more ways that you can use some of the free alphabet printables that I mentioned above.
Save These Free Alphabet Printables for Kindergarten
Be sure to save this post so you can find these alphabet freebies whenever you need them!  Just add the pin below to your favorite board on Pinterest!