One thing that I love about spring in kindergarten is seeing just how far students have come with their math skills.  Many students are still learning how to count by rote when they enter kindergarten but are solving addition and subtraction equations by spring! The key to this progress is using engaging activities that keep students motivated to practice math skills.  In this post, I'm sharing my favorite hands-on addition and subtraction activities for kindergarten.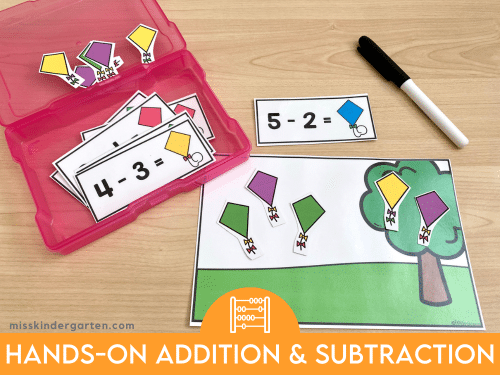 Hands-On Addition and Subtraction Activities for Kindergarten
These hands-on and engaging activities will help you bring some variety to your math practice this spring.  By using a variety of activities, you'll be supporting all of the different learning styles in your classroom. Here are some of my favorite ways to incorporate hands-on math practice in kindergarten.
Morning Work Tubs
Morning work time can be a great time to add some additional hands-on math practice to your school day.  Students can ease into a day of learning with fun and engaging activities in morning work tubs.  The best part is that these low-prep activities are easy to set up each morning. Just add the needed supplies and manipulatives to a tote and you're ready to go! You can set the totes out each morning and students can easily clean them up when it's time to move on with the daily routine.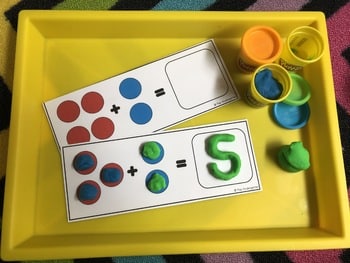 Playdough is always a popular option for hands-on addition and subtraction practice during morning work time. Students can roll out small balls of play dough to model different equations. They can build and count a total number of play dough balls for addition. Students can also roll out a total number of play dough balls and then squash a given number to model subtraction. You can also find engaging seasonal manipulatives to help students model addition and subtraction problems during morning work time.
Low-Prep Centers
One of my favorite ways to bring some seasonal engagement to math practice is with low-prep centers.  There are so many fun, hands-on activities that you can incorporate during your math rotations!  Plus, you can use seasonal task cards and manipulatives for some additional engagement. The seasonal activities also help students make real-life connections that can make math more meaningful to them.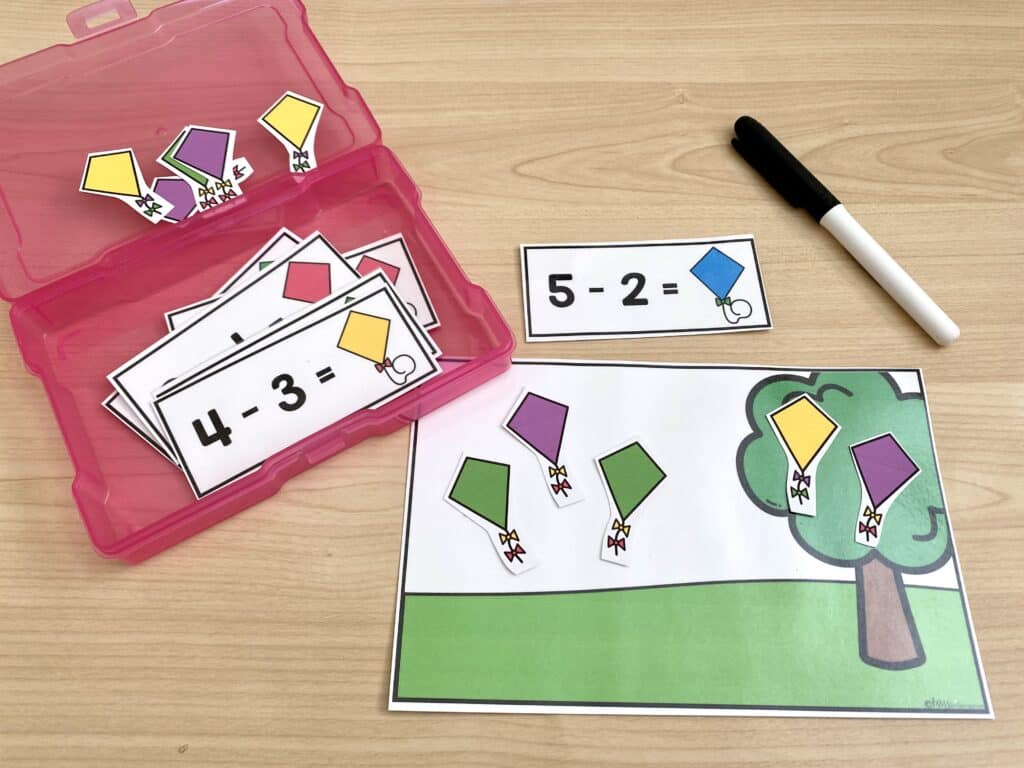 For example, your students will love modeling subtraction problems with this fun kite-themed math center! Students will use small kite manipulatives to model the total number of kites that start flying. The next step (their favorite part!) is showing how many kites get stuck in the tree. Then they will count how many kites are left flying in the sky to find the answer to the subtraction problem.
Roll and Cover Games
If you're looking for an open-ended activity that students can play again and again, you'll definitely want to try Roll, Add, and Cover!  This fun game has simple rules, so it's easy for young learners to play independently.  Students roll two dice and add the values together to find the sum.  Then they find that number on the mat and cover it with a manipulative.  They continue to play until they have covered all of the numbers on the mat.  Once they're finished, they can clear the board and start again.
Even though this game is simple, students love to play it again and again!  This makes it the perfect addition to math centers or morning work time.  You could also include it as an option for your early finishers.  You can keep it fresh and engaging by rotating through seasonal game boards and manipulatives.  Check out my post about roll and cover games to grab a set of free seasonal game mats!
Math Crafts
It's no secret that I love to use crafts for any content area in kindergarten.  There are so many benefits of using crafts in the classroom, even during math time! Students can strengthen their fine motor skills at the same time they're practicing addition and subtraction.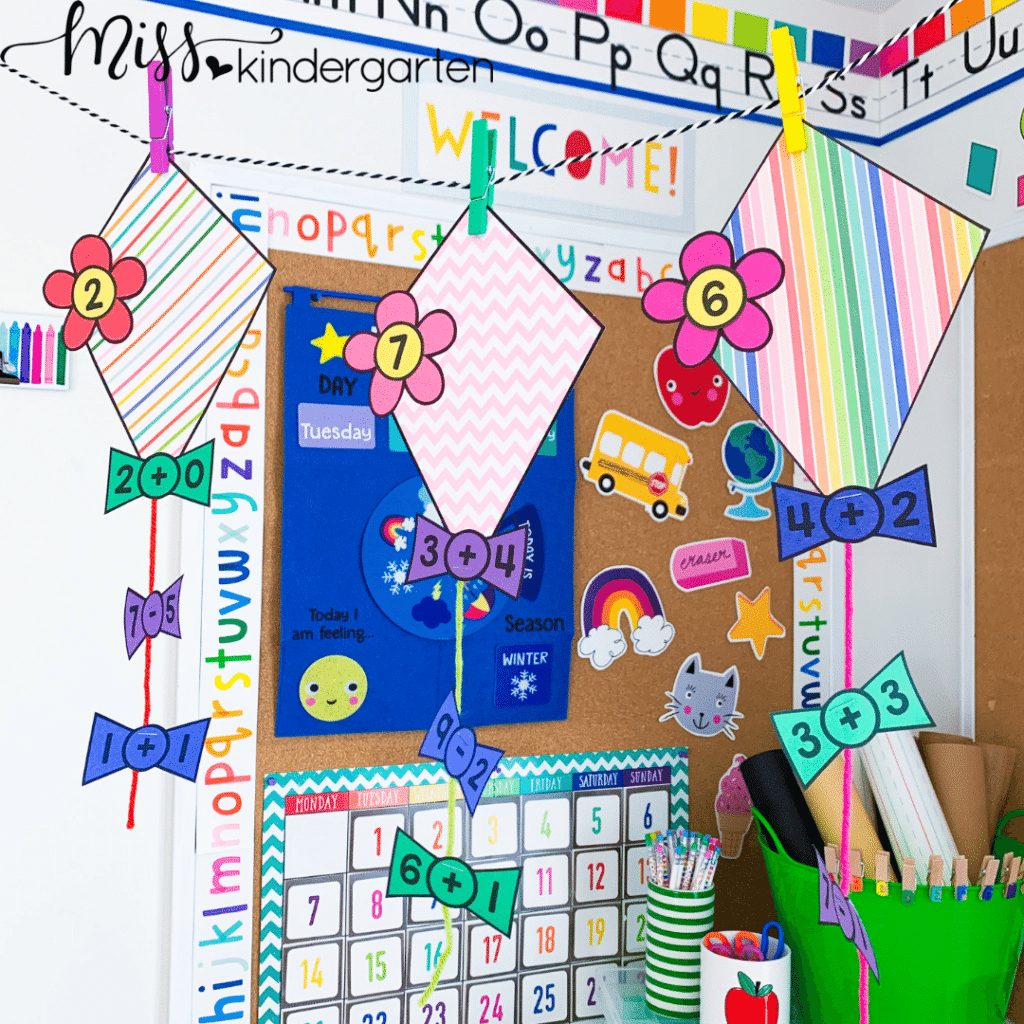 These colorful kites are a fun math craft to make with students as they practice addition and subtraction in the spring.  After adding a number to their kite, students can create a tail for the kite using string and bows.  Each bow has an addition or subtraction equation that matches the number on the kite.  
Addition and Subtraction Strategies
Teaching students a variety of addition and subtraction strategies is another way to add more hands-on math practice to your classroom.  There are so many different math strategies that use tactile and hands-on methods for solving addition and subtraction equations.  Here are a few of my favorites:
Act out the problem with manipulatives and counters
Use a rekenrek
Build with snap cubes
Draw pictures, dots, or tally marks
Use base 10 blocks
It's helpful to teach your students a variety of different ways to solve addition and subtraction problems.  Since all children learn differently, you never know which strategy will be the one that clicks for each student!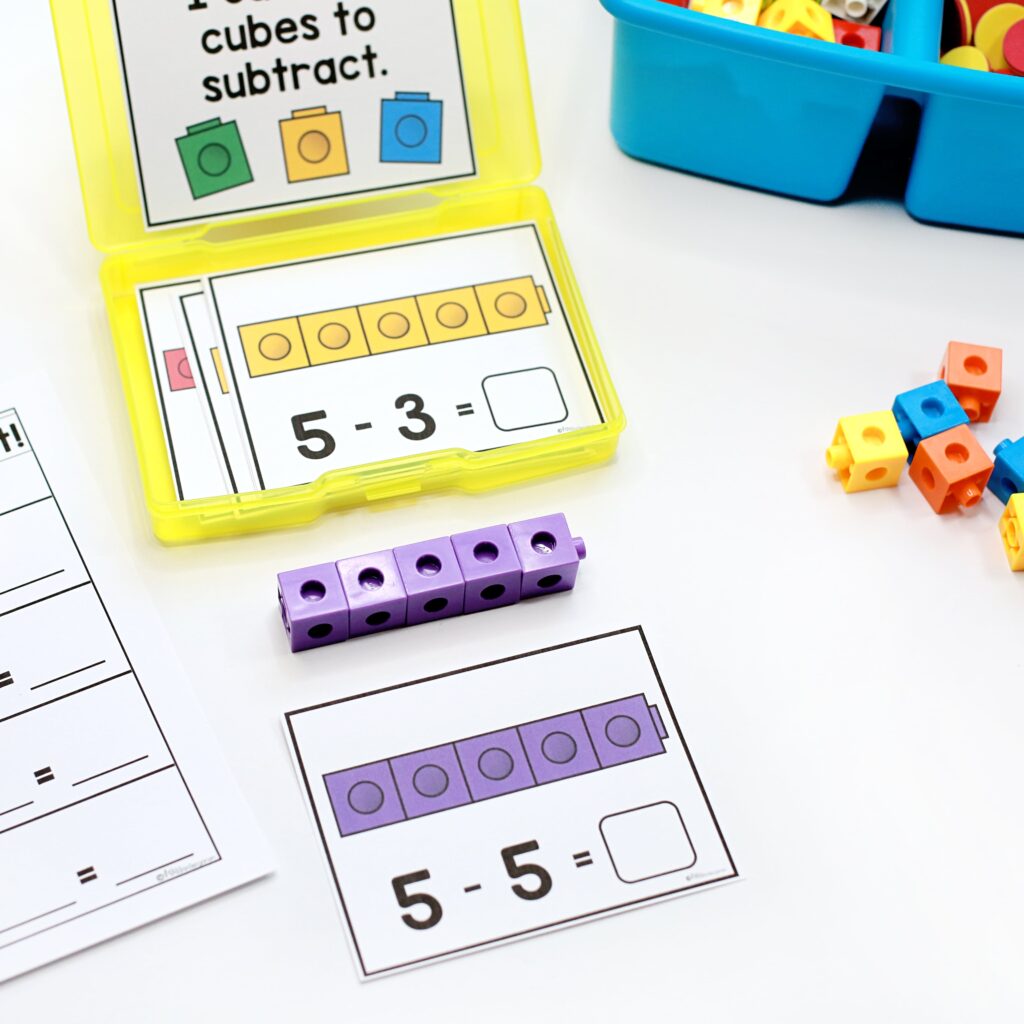 You can even use a set of task cards that focus on a particular strategy.  This gives students plenty of opportunities to practice each strategy before moving on to the next one!
Printable Addition and Subtraction Posters
As you introduce each of these hands-on addition and subtraction strategies to your class, you can post them on a bulletin board for students to reference.  I have created a set of addition and subtraction strategy posters to make it easy for you to do this!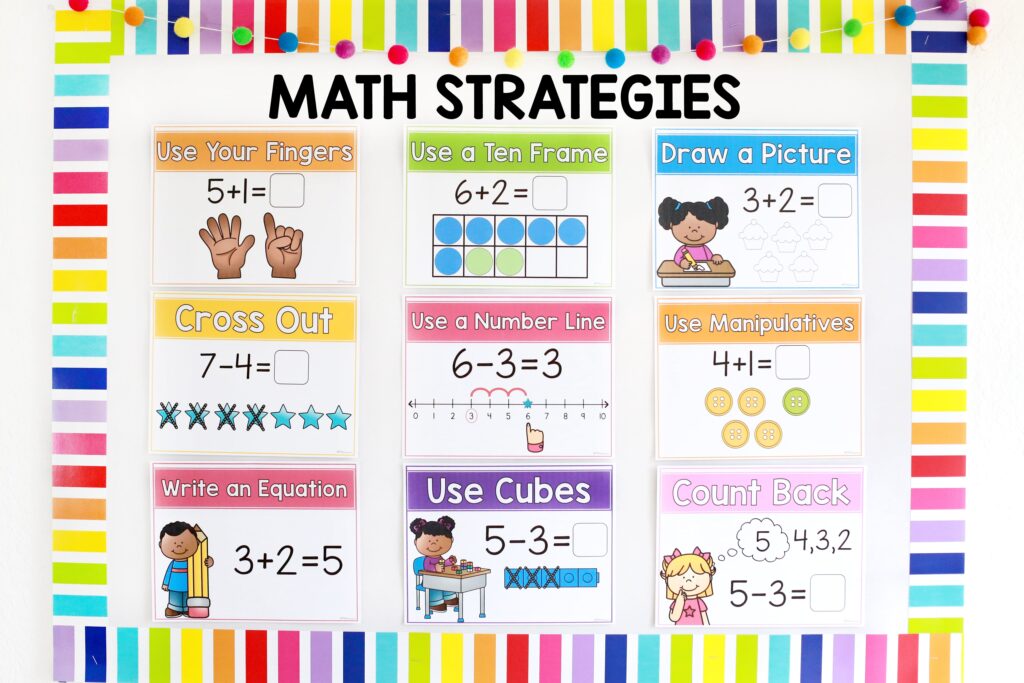 Students can use this resource to build their confidence as they solve addition and subtraction problems using various strategies.  You can also print off the posters in a smaller size to create reference cards for your students. If you'd like to take a closer look at the strategies included in this resource, you can click below to find it in my shop.
Save These Hands-On Addition and Subtraction Activities
I hope that this post has given you some inspiration for hands-on addition and subtraction activities!  If you'd like to come back to this post later, just add the pin below to your favorite teaching board on Pinterest.  You'll be able to easily find these ideas and resources whenever you need them!