The last few weeks of school are especially exciting in kindergarten!  It's a time to celebrate everything that students have learned and accomplished.  It's also a time when young learners need the consistency of routine more than ever!  I'm going to share some End of the Year Activities for Kindergarten that will help you bring a little touch of summer to your learning routine. 
End of the Year Kindergarten Activities
These fun seasonal activities for May and June will help you keep your students engaged in meaningful activities through the end of the school year. You might even spot a few resources that you already have in your toolbox!
Morning Work
A consistent morning routine is even more important during the last few weeks of the school year. It provides an opportunity for you to check in with students and tie up any loose ends before starting the school day.  Since your students are already familiar with the routine of morning work, it's an easy way to maintain consistency in your classroom. This is vital during this point of the school year when the schedule is frequently shifting and changing to accommodate special activities, assessments, and more!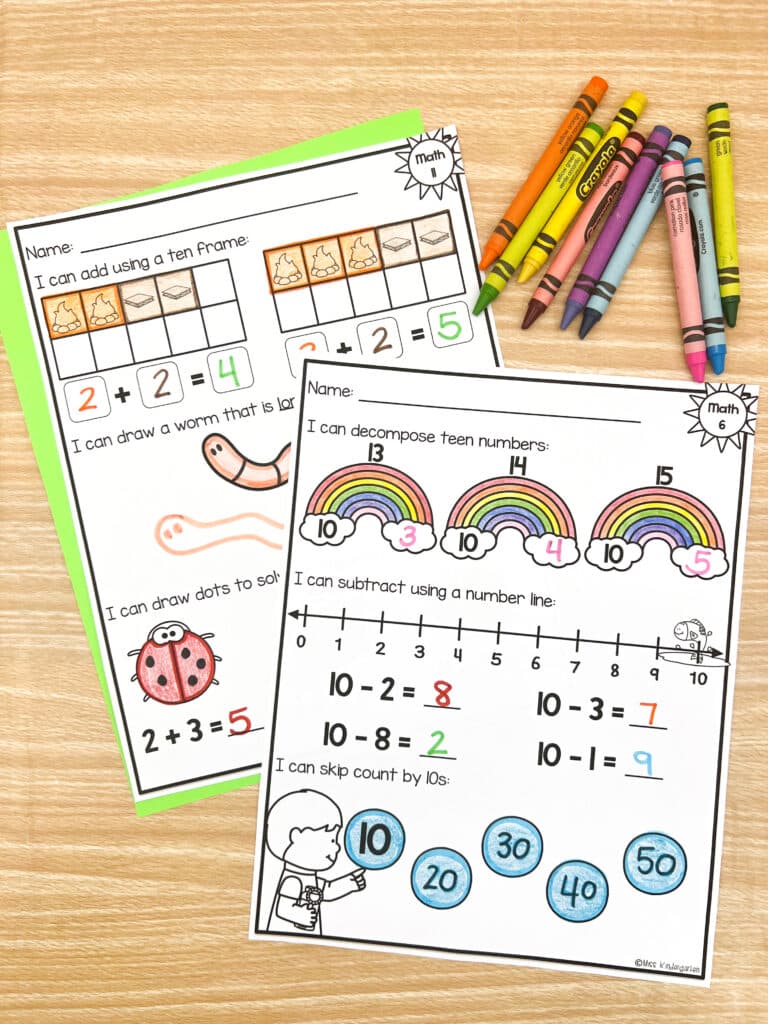 By adding themed morning work printables, you can also help students channel a bit of their excitement about upcoming summer fun. The seasonal graphics will grab their attention as they sit down at their tables each morning. Your students will be excited to color these pictures after they complete the literacy and math tasks! You can use these morning work printables as individual pages, staple them into packets, or even bind them into morning work booklets!
Literacy Centers
You can also lean on your center rotations to keep students engaged in meaningful activities during the end of the year.  The addition of popsicle sticks to this garden-themed center is a hit with students.  They love to poke the popsicle sticks through the slit in each card so it looks like they're actually putting the carrots in each wheelbarrow.  This is a fun, seasonal way to review consonant blends! Each carrot has a picture and students need to add the carrot to the wheelbarrow with the correct blend.
The spring months are also a great time for students to become more fluent and confident in their reading skills!  The clip card center pictured above helps students practice reading simple sentences.  You can make it a self-correcting activity by adding a sticker behind the word that completes the sentence.  After adding the clip, students can flip over the card to see if they chose the correct word. The fine motor practice of adding clips to each card is a bonus of this low-prep literacy center!
Math Centers
Math stations are an easy way to add a touch of the season to skill practice.  You can easily add some fun mini-erasers or other manipulatives that coordinate with the activity.  Centers can also be a good way to differentiate math practice.  For example, this flower-themed addition activity can serve as counting practice for students who need more opportunities to review one-to-one correspondence and number formation. They can focus on counting the flowers and then writing the numbers on the watering can.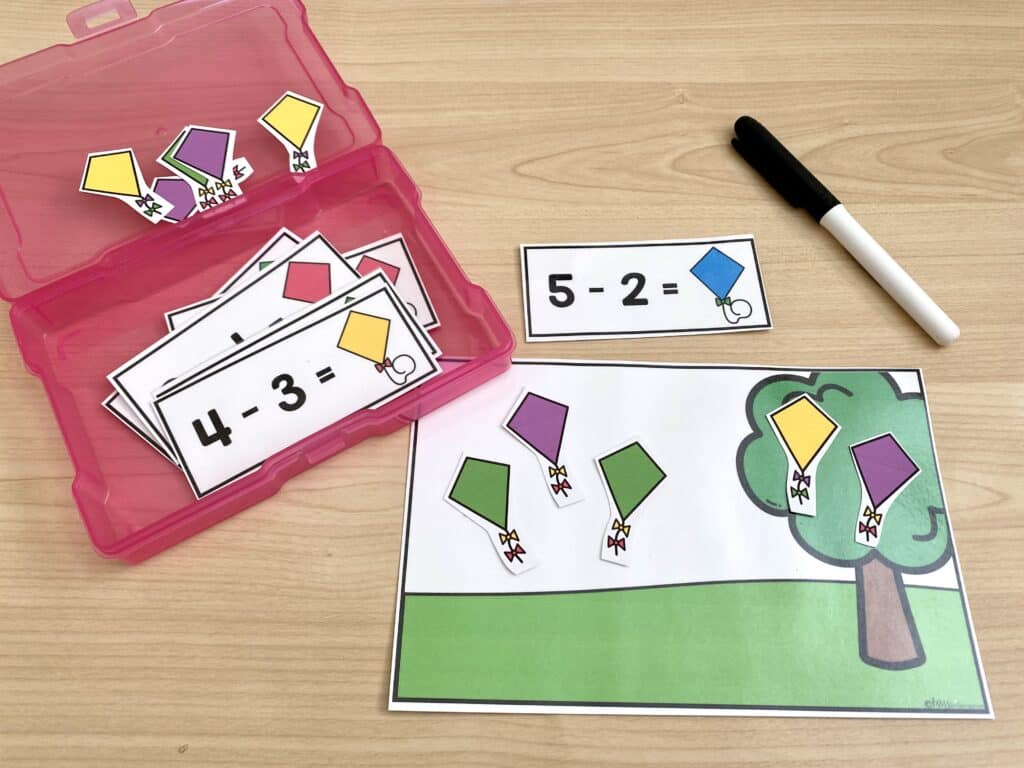 This kite-themed subtraction mat is always a hit with students! After counting the correct starting number of kites, they will put a given number of kites in the tree. They always think it's so funny to pretend the kites are stuck! Then, they will count the remaining number of kites in the sky and write the solution on the task card. This real-life scenario makes subtraction practice more meaningful for young learners!
Kite Math Craft
The kite fun can continue with this adorable math craft!  I love to use crafts throughout the kindergarten curriculum, and math time is no exception! This hands-on activity for spring will keep your students engaged in math practice as they also practice following directions.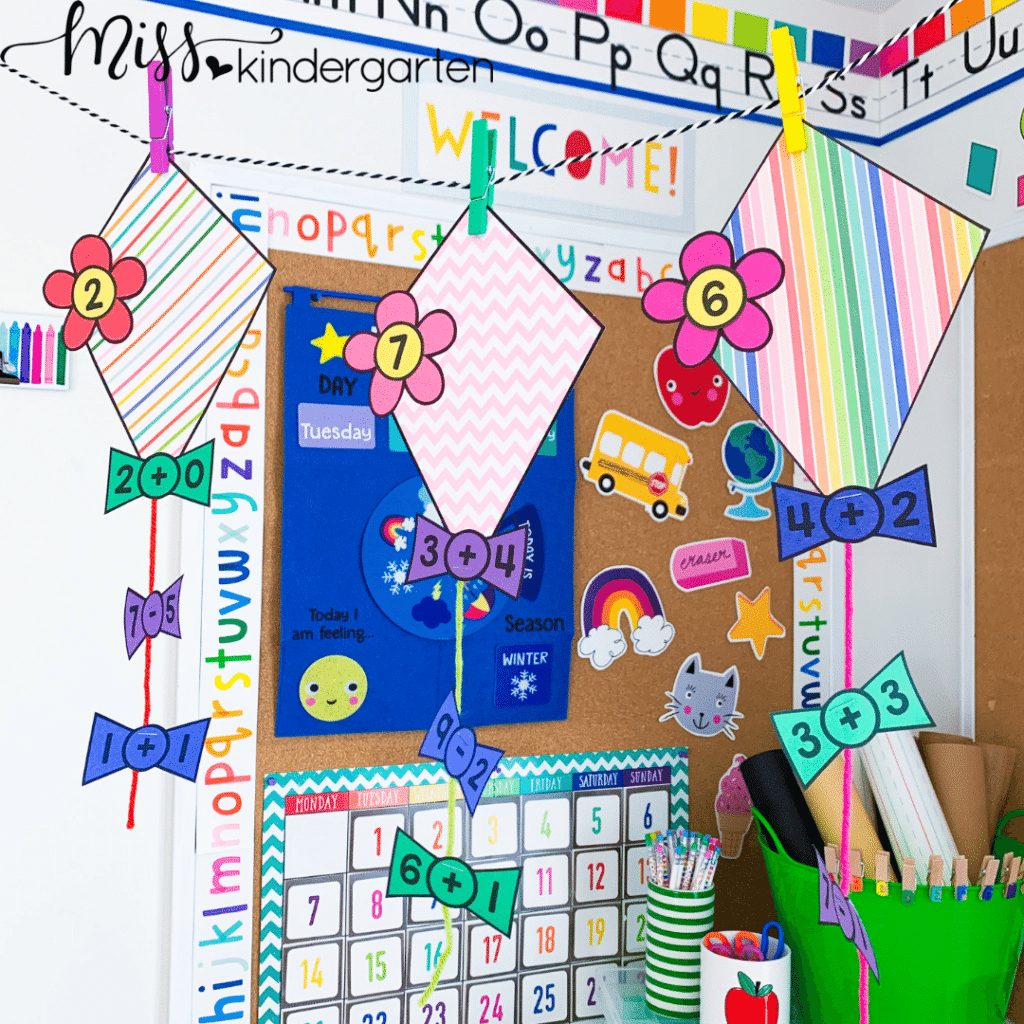 To make this craft, students will each choose a number to add to their colorful kites. They will then add a tail using paper bows and string (or yarn). Each bow will have an addition or subtraction equation that matches the number on the kite. This is a great way to wrap up your addition and subtraction instruction at the end of the year. Plus, these kites look adorable on a spring bulletin board!
Print and Go Printables
With everything else going on in May and June, it's always nice to have some no-prep activities ready to go.  These seasonal activities are perfect to have on hand for those extra pockets of time or last-minute schedule changes.  What makes them even more helpful is that they can be used in many different ways! These activities are perfect for small group skill review, fast finisher activities, homework, or to supplement your instruction with a bit of seasonal fun. 
Your students will be able to keep their math and literacy skills sharp as they prepare for summer vacation! You could even create packets or booklets with these printables for students to keep in their cubbies or desks. This will ensure that you always have engaging activities on hand when you need them.
End of the Year Activity Bundle for Kindergarten
Everything pictured above (and more!) can be found in one time-saving End of the Year Activity Bundle!  This low-prep resource includes morning work, literacy and math centers, digital task cards, no-prep printable activities, and a fun math craft!  You can end the school year with engaging seasonal activities while maintaining the consistent routine that your students need! 
Would you like to take a closer look at everything included in this end of the year activity bundle? Just click below to find it in my shop.
Save These Kindergarten End of the Year Activities
Be sure to save this post so you can easily find it later!  Just add the pin below to your favorite teaching board on Pinterest.  You'll be able to quickly find and download this resource when you're mapping out the end of your school year.