We all know that kindergarten students thrive when they can learn through hands-on activities. Crafts are an easy way to incorporate this engaging skill practice into your classroom! In this post, I'm sharing some free crafts for kindergarten that you can add to your lesson plans throughout the school year.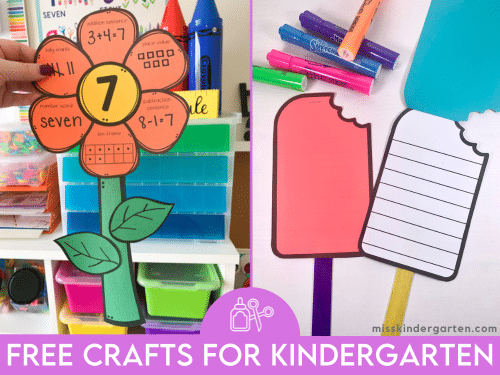 Benefits of Kindergarten Crafts
There are so many reasons why crafts are a must in kindergarten! Here are just a few of my favorites:
Fine Motor Practice: Students are able to improve their hand strength and coordination with crafts. They have so much fun preparing and assembling their crafts, they don't even realize they're hard at work!
Follow Directions: Since most crafts need to be assembled in a certain order, this helps students practice following sequential directions. There is built-in visual support for them as they exercise their listening skills!
Review Academic Concepts: Crafts can be incorporated into any content area. This means that students can review math, literacy, and even science concepts as they create fun craft projects.
4 Free Crafts for Kindergarten
Would you like to use more crafts in your kindergarten classroom this year? There's no need to spend hours of prep time cruising Pinterest for inspiration and gathering materials. I have created downloadable crafts that you can use in your classroom all year long. Each download includes all of the templates and instructions you need to create adorable seasonal crafts. Here are four free crafts to get you started!
1. Spider Craft for Kindergarten
By the time the back-to-school excitement is over, the leaves are changing and fall is in full swing. Many of your students will be anxiously waiting for Halloween to arrive. You can help them channel some of that excitement into a fun craft and writing activity! This spider craft has a Halloween feel without being holiday-specific, which makes it a great activity for October or the perfect addition to a spider thematic unit.
After reading "Aaaarrgghh! Spider!" by Lydia Monks, you can discuss as a class why a spider would (or would not) make a great pet. This free resource includes a graphing activity and graphic organizer to use during this discussion. Once students have had a chance to think about their own opinion about pet spiders, it's time for them to write about it! Students can then use a sentence frame to write a sentence about what type of pet a spider would be and why. Then they can create their own adorable spider to go with their writing. This makes a fun bulletin board display for fall!
2. Penguin Writing Craftivity
If you study penguins during the winter months, you'll definitely want to grab this free penguin craftivity! This is the perfect way for students to summarize what they have learned during a penguin unit. As you read several non-fiction picture books about penguins with your class, you can document what you learn on a "Can, Have, Are" chart.
Students can then refer to this chart as they decide on their favorite penguin facts. They can then use sentence frames to turn those facts into illustrated pages for their own an All About Penguins book.
Once their penguin book pages are complete, students can create this cute penguin craft to go with their writing. Then they can staple the writing to the belly of the penguin. This is such a fun and engaging way for students to share what they have learned about penguins. They'll be eager to take their penguins home to show their families!
3. Free Math Flower Craft
It always feels like the pace of the school year speeds up as the warmer spring weather arrives. It's at this point of the year when a multi-purpose activity, like this math flower craft, can be a welcome addition to your lesson plans! The time your students spend completing this fun activity will be time well spent. They will be able to review important number sense concepts as they strengthen their fine motor skills and practice following directions.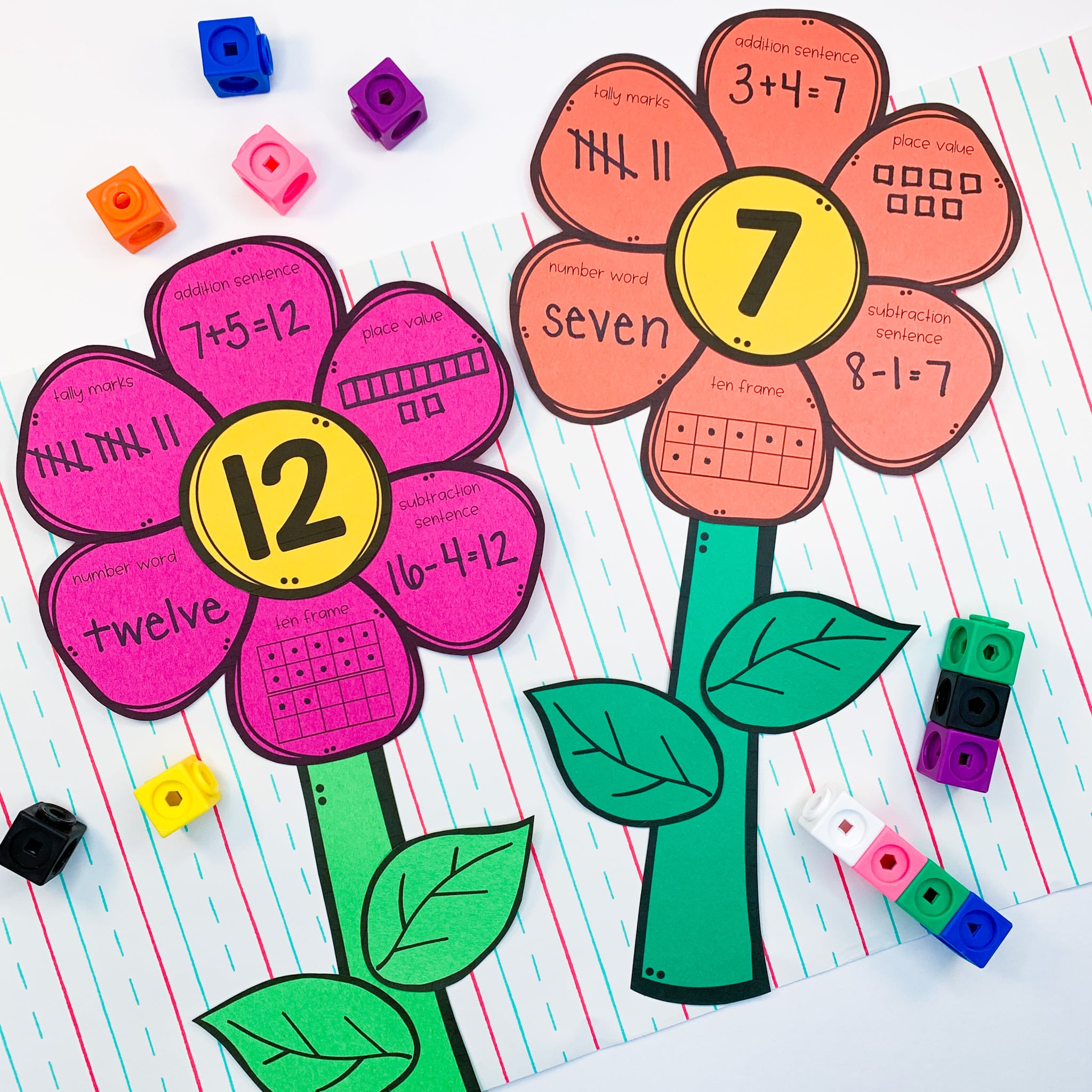 This number sense craft gives students a chance to represent a number using a number word, ten frame, addition sentence, subtraction sentence, tally marks, and place value! Students will model the number in a different way for each petal of the flower. These colorful math crafts will become a bright and cheerful reminder of everything students have learned about number sense during the year. This craft also makes an easy spring bulletin board, which is a nice perk during the busy spring months!
4. Summer Popsicle Writing Craftivity
As the school year winds down and excitement for summer ramps up, crafts can be a helpful addition to your learning routine! This summer popsicle writing craftvity is a fun way to help students create an end of the year kindergarten memento.
Students start by writing about what they want to do over the summer. (You could also use any other writing prompt that you'd like.) Then, they can use a popsicle template to create a colorful cover for their writing. The final step is to attach a popsicle stick and an optional ribbon. The end result is an adorable lift-the-flap craft that students will be excited to take home!
This popsicle craft can also double as an informal writing sample for your end of the year data collection. Invite students to use their best-guess spelling to see how far they have come in their phonics knowledge during the school year!
Save These Free Kindergarten Crafts
I hope that these freebies will be helpful to you this school year. If you'd like to check out even more of my seasonal craft ideas, head over to my post with over forty kindergarten crafts that span the entire school year.
Be sure to save this post so you can come back to it later! Just add the pin below to your favorite board on Pinterest. You'll be able to quickly find these free crafts for kindergarten whenever you're looking for a hands-on activity to use in your classroom!