Now that your students are mastering CVC words and sounding out short vowel words, it's time to increase their reading fluency. One of the simplest ways to do this is to incorporate short vowel blends into their daily reading and writing activities. Introducing blends helps your students to learn to read more words, while already knowing how to decode one chunk of the word. These engaging reading passages help students build their confidence and increase their stamina with reading short vowel blends.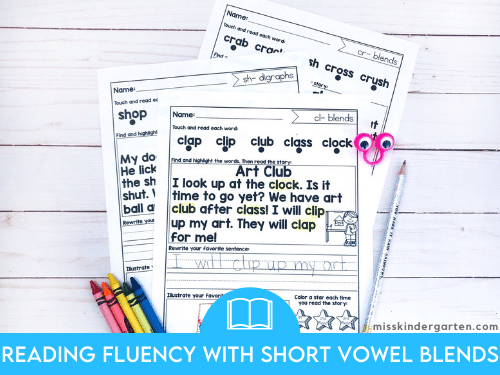 How Can Short Vowel Blends Help My Students?
Fluency practice is an important way to help emerging readers become strong readers. Teaching your students to read with a focus on a specific phonics skill is a great way to increase their reading fluency. These passages focus on reading short vowel words with blends and digraphs.
Each reading passage helps students master many skills. The passages give students an opportunity to:
read each word in isolation
locate the words in the passage and highlight them
read the words in the passages for fluency practice
After reading the story, they answer a comprehension question or rewrite their favorite sentence. Finally, there's a chance to draw a picture for comprehension. This really helps to see if they are understanding what they are reading which is important for fluency.
We usually complete these passages together during small group or guided reading time. This way, I can help my students when they come across words they are having trouble decoding. We work on decoding the words together and read through the passage as slowly as necessary. This is helpful to students that need extra assistance.
Which Short Vowel Blends Are Included?
There are many different consonant blends that students learn in early elementary education. Some of the most common are listed below and are included in the short vowel reading passages. In kindergarten, these seem to be the easiest blends for students to understand and they recognize plenty of words that use them. Once students master CVC words, I like to add the blends below as a challenge.
L blends
bl
cl
fl
gl
pl
sl
mixed l blends & assessment
R blends
br
cr
dr
fr
gr
tr
pr
mixed r blends & assessment
S blends
sk
sm
sn
sp
st
sw
mixed s blends & assessment
Digraphs
sh beginning
th beginning
ch beginning
wh beginning
sh ending
th ending
ch ending
mixed digraphs & assessment
How Do I Know If My Students Are Ready for Short Vowel Blends?
You will find that some students are ready for this type of reading intervention, while others still need to focus on short vowel CVC words for a little longer. To determine which students are ready, use the assessment tool as a pre-test. You can create small groups based on reading levels, which will help you see which students could benefit from a challenge. The four assessments can be used as a pre-test, post-test, or as a review after you complete the phonics unit.
You can also try these Reading Fluency Passages for FREE! Sign up below and I will send you 9 reading passages straight to your inbox!
Free Decodable Passages
Help your students make the leap from decoding words to reading with fluency! These fluency passages are designed to give kids successful reading practice to help students become strong readers!