Can you feel the spring in the air? I am so excited to welcome the warmer weather as March rolls along! We love to celebrate spring in our classroom with fun activities! Here's a look at some of my favorite St. Patrick's Day ideas including math and literacy centers, an adorable pot of gold craft, and a really fun sight word FREEBIE!
St. Patrick's Day Math Centers
One of my favorite ways to incorporate our monthly themes is through our math and literacy centers. It makes learning important kindergarten skills really engaging and fun!
In March, we start to work on composing and decomposing numbers up to 10. We also call these break apart partners. This helps the students visualize the two partners of a total number, and finding the missing partner in the equation.
These colorful math task cards are the perfect addition to math centers. The top of the rainbow shows the total number and each pot of gold shows the partners. One pot as some gold coins and the other doesn't. My students use tiny erasers to count how many more "coins" are need to show the total. You can use any tiny manipulative with this center: shape blocks, counters, cubes, or to keep things on theme, GOLD COINS!
The math centers for March also include subtraction practice, ten frames, non-standard measurement, and addition with dice. You can check out the March Math and Literacy Centers to see them all!
St. Patrick's Day Literacy Centers
This month, we also continue to master reading and writing short vowel CVC words. With these task cards, the students can work on saying or writing the sounds in each word. They can spell the word with magnetic letters or manipulatives you have in the classroom, or you can laminate the cards and students can write the letters with dry erase marker!
To go along with CVC words, we also work on reading word family words. This hands-on center is incredibly fun and can be played independently or with a partner.
Students spin the word family spinner (these transparent spinners from Amazon are amazing!), then find and cover a word that belongs in that word family. You can use any manipulative you have to cover the spaces, but for plastic gold coins add an adorable element of fun!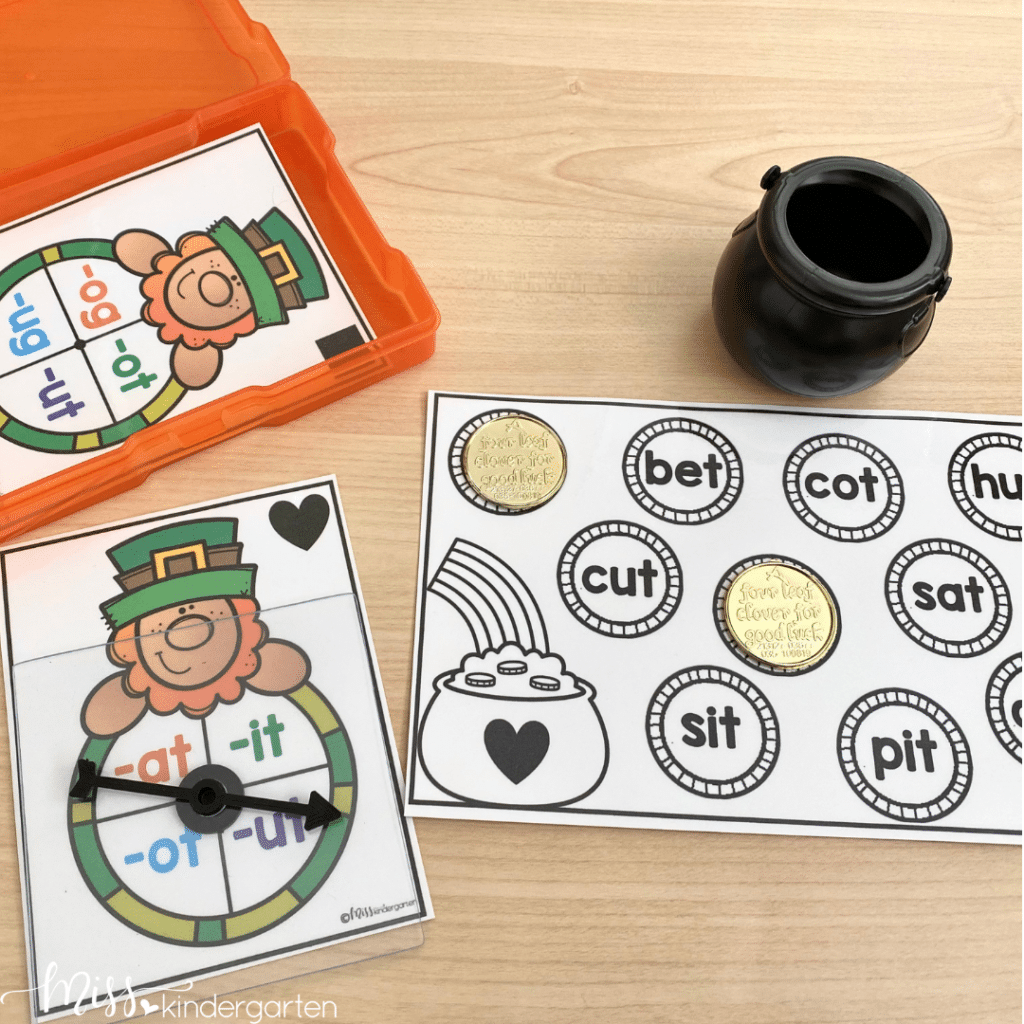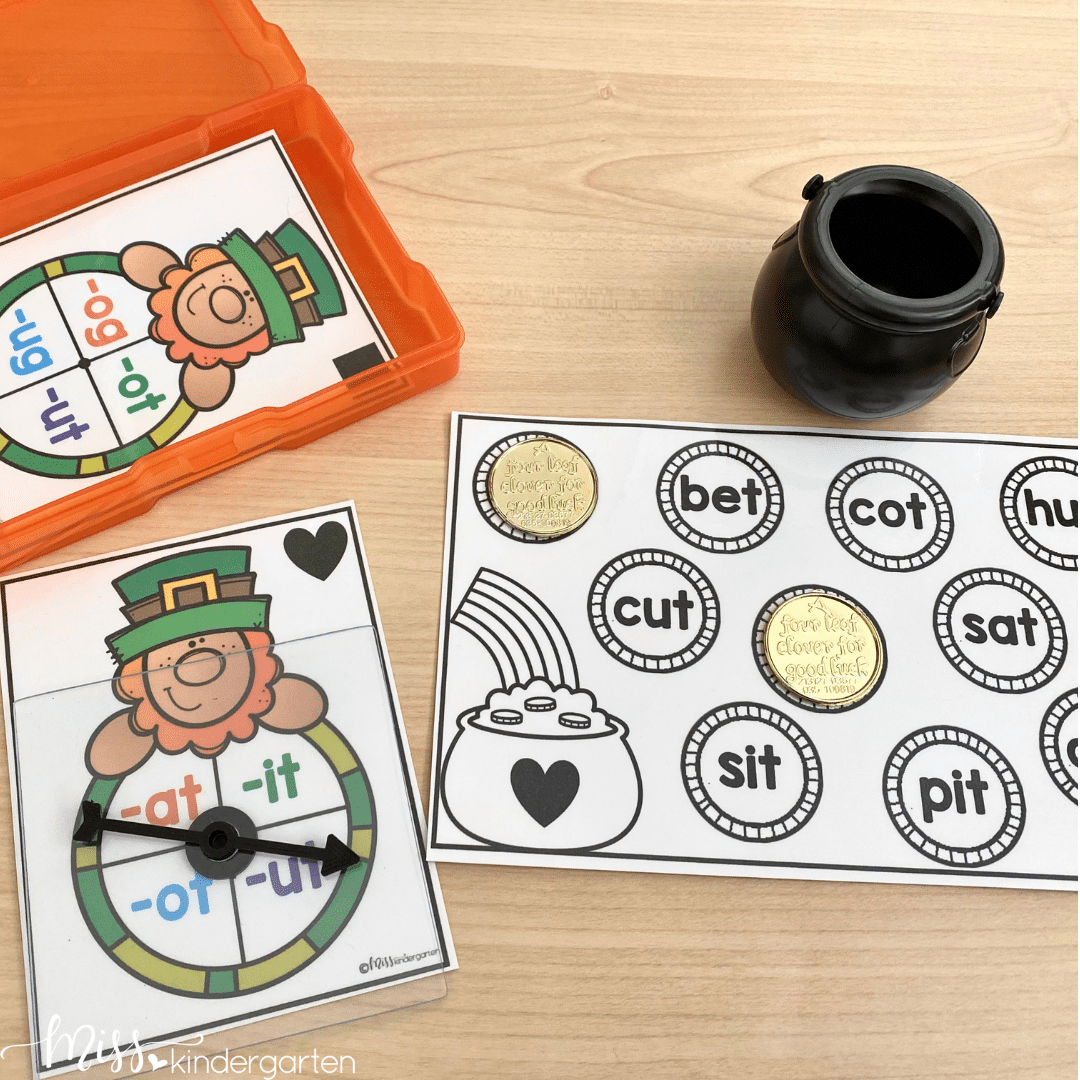 If you have used my centers before, you know that they can all fit into the small photo bins you can find at your local Walmart or Michaels. They make grab and go centers really easy to use in the classroom and keep the stations organized.
The March Math and Literacy Centers include plenty of CVC words, sight words, and reading fluency practice so be sure to check them out!
St. Patrick's Day Craft and Writing Activity
What makes you feel lucky? We love to write about the things that make us feel lucky in March! This writing and craft activity makes a great addition to your St. Patrick's Day lesson. Your students can cut or color pieces for the rainbow and pot of gold, then write about something that makes them feel lucky.
This writing piece is adorable because students come up with some really sweet reasons for feeling lucky! Teachers and students love reading them in the hallway to brighten their day.
FREE Sight Word Stamping Booklet
One final thing I want to share with you is my FREE March Sight Word Stamping Booklets. Invite your students to practice reading sight words and simple sentences with these St. Patrick's Day stamping booklets.
Just add them to your literacy centers with letter stamps for another engaging way to practice the word "for".
We love to use these activities to celebrate St Patrick's Day in our classroom. I hope they are just as much fun for you to supplement your students' learning this March!
This St. Patrick's Day stamping booklet is a great way to help your students practice spelling and reading sight words in a fun way.
Download Your Freebie!
This bundle of March activities is full of engaging activities your students will love! Give yourself the confidence of knowing you are providing your students with meaningful resources that will help them work on important kindergarten skills.
$20.00