Shape identification is one of my favorite concepts to teach preschoolers because are so many hands-on and engaging activities! No matter the age of your young learners, there are multiple ways that they can explore and learn about basic shapes. Read on for some of my favorite hands-on shape activities for preschool!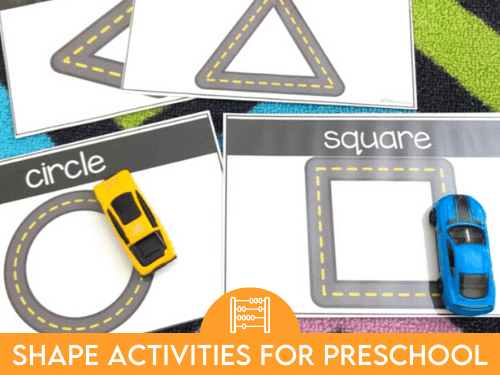 Shape Matching Activities for Preschool
One of the first steps that I like to take in shape recognition is having students use their visual discrimination skills to match shapes. It's helpful for students to explore the differences and similarities in shapes as they identify matches. Here are some of my favorite ways to help students match shapes and explore shape orientation.
Task Cards: For example, students can match the shaped wheels to the correct bus
Shape Boards and Puzzles: Explore shape matching and orientation by completing puzzles
Pattern Blocks: Students can match pattern block shapes based on pattern block cards
Concentration: Play a shape matching game, adjusting difficulty by adding or removing cards
Partner Up: Give each student a shape card, then have them find the classmate with a matching shape
Shape Building Activities for Preschoolers
Exploring shapes by building them is another great opportunity for preschoolers to learn about shapes. A class of preschoolers often displays a wide variety of fine motor skills. This is why shape building activities are perfect for preschool! They provide additional fine motor practice before moving on to tracing and writing shapes.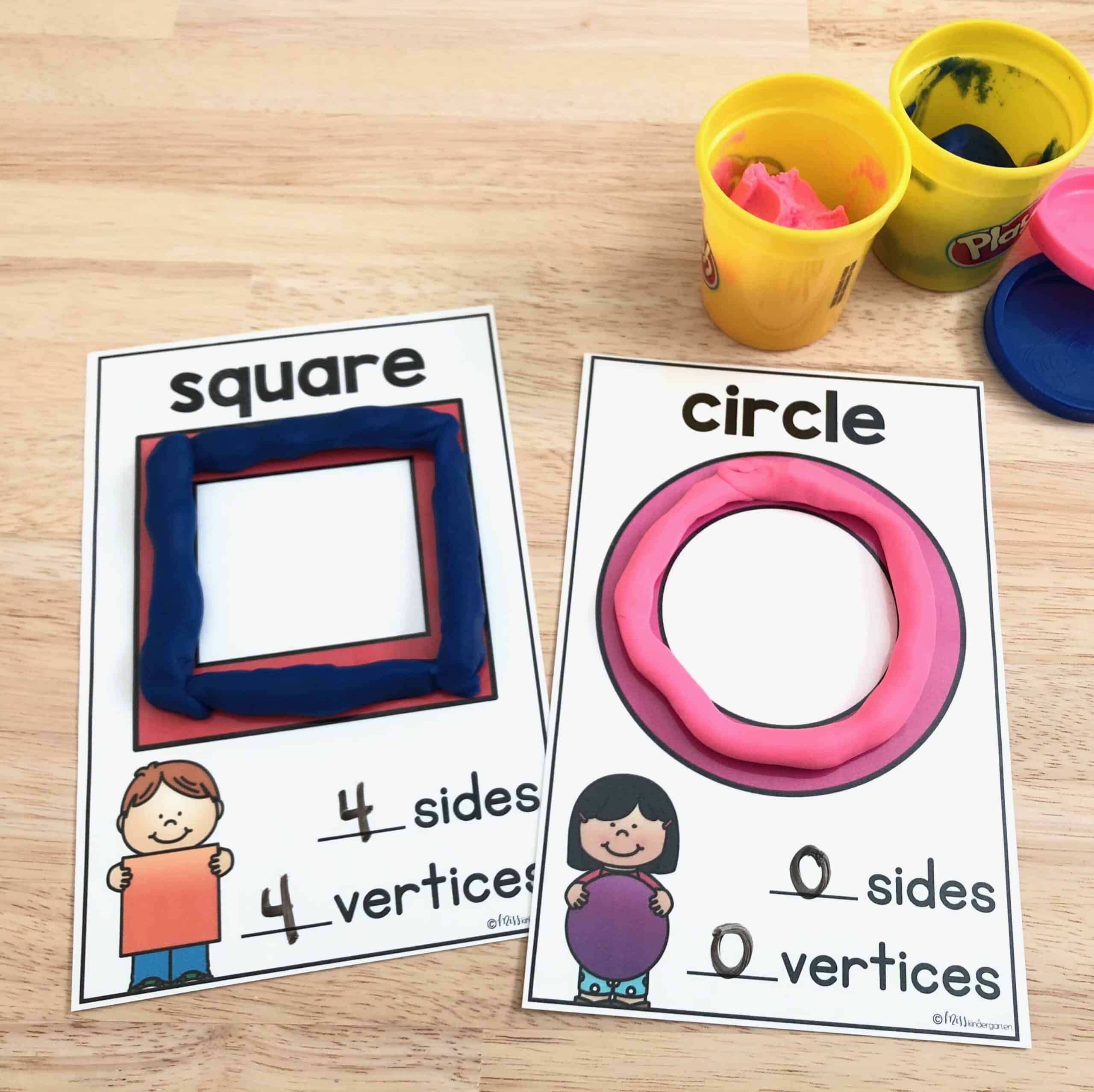 Stick Shapes: Use popsicle sticks or toothpicks to build shapes
Play Dough Mats: Roll out play dough to create a variety of shapes with these free mats
Pattern Blocks: Build a larger shape using pattern blocks
Shape Building Mats: Use any manipulative you have on hand to create shapes on these mats
Geoboards: Explore shapes using rubberbands and geoboards
Flexible Shapes: Build shapes with flexible materials like pipe cleaners or Wiki Sticks
Activities to Identify Real-Life Shapes
As students become more familiar with shapes, it's important for them to see that there are shapes all around them! Here are some fun activities for students to see shapes in real-life objects.
Shape Matching Cards: Match a picture of a real-life object with the corresponding shape
Play "I Spy": Have students take turns thinking of a shaped object in the room while everyone else guesses
Show and Tell: Have a shape of the week to encourage students to see shapes in the world around them
Shape Hunt: Go on a shape hunt in nature or around the school grounds
Sensory Table Sort: Add buttons or other shaped objects to a sensory table for sorting
Shape Tracing and Writing Activities
We often think of paper and pencil when it comes to tracing and writing. However, there are many other activities that will help our young students practice proper shape formation before they ever need to pick up a pencil! These activities are especially helpful for young students who are still developing their pencil grasp.
Shape Roads: Shape road task cards help students explore the concept of tracing along a path. No cards? Use painter's tape to create shape roads on the ground.
Water Painting: Draw shapes with sidewalk chalk, then have students water paint over them
Sensory Bag: Draw a shape on the outside of a sensory bag, then have students trace the shape with their finger
Paint and Outline: Stamp paint using shaped blocks or sponges, then have students outline with a marker once dry
Dry Erase Task Cards: Laminate shape task cards for tracing with a dry erase marker
Highlighting Shapes: Trace shapes with a highlighter
Cookie Cutters: Use cookie cutters as stencils or as a stamp and trace activity
Activities to Practice Shape Names and Attributes
As students explore shapes, they are naturally introduced to the shape names and will start to have a basic understanding of the shape attributes. Depending on the age and needs of your students, they might be ready for more explicit instruction about shape names and attributes. These fun activities will help them be kindergarten ready!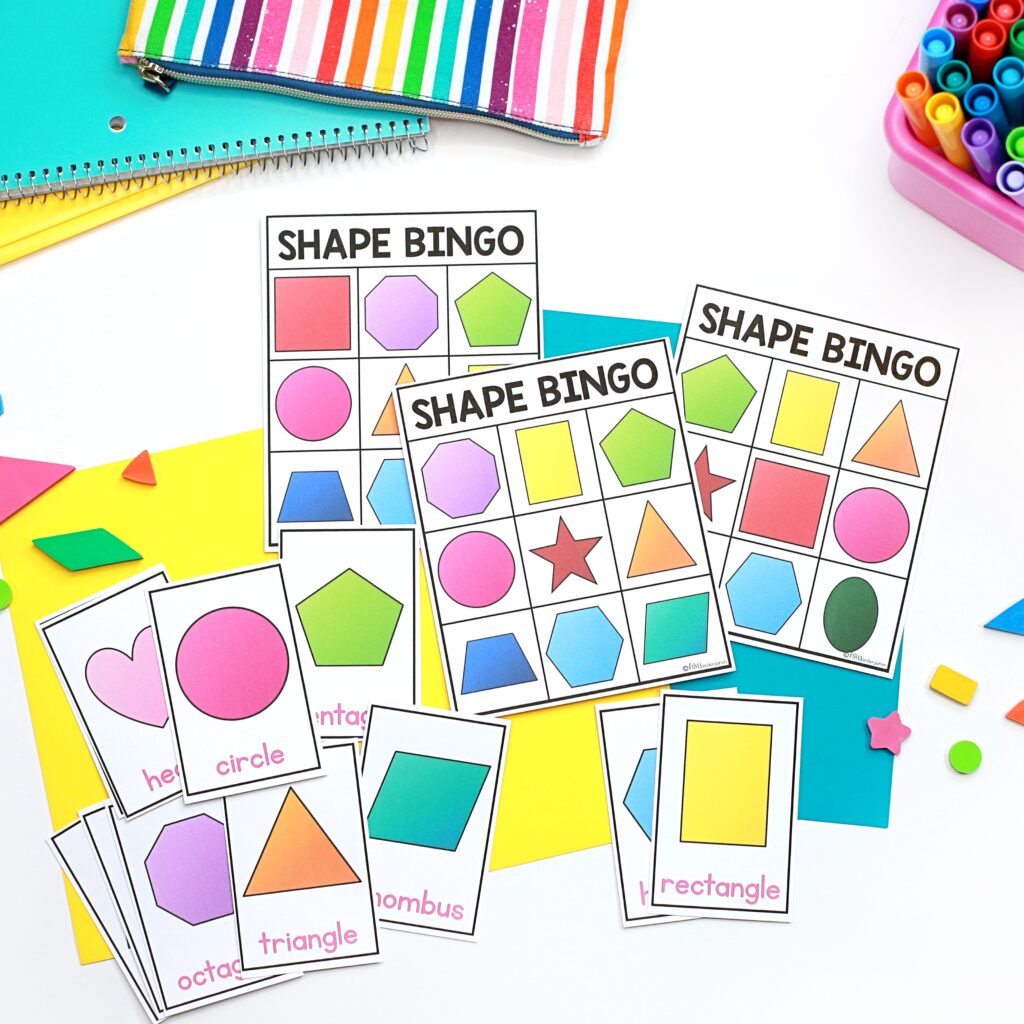 Play Shape Bingo: Call out a shape name (or describe the attributes only) and have students find the shape on their bingo cards.
Shape Hunt: Attach paper shapes to the bottom of a small box or activity tub, cover with salt, then have students use a paintbrush to hunt for shapes, naming each shape as they find it.
Mystery Shapes: Draw a variety of shapes on white paper using white crayon. Have students paint their paper using watercolor paint, then name the shapes they see.
Shape Mini Books: Have students practice writing shape names and describing attributes with printable shape books. They love to take these home to share with their families!
Shape Poems: Use these shape poems to help students remember shape names and attributes.  These catchy rhymes are always a hit in preschool classrooms!
Shape Activities for Preschool
Are you looking for hands-on shape activities that are ready to print and use in your preschool classroom? I have some resources that you'll love!
The first is a bundle of morning work tub activities for preschool. This resource is full of engaging activities that are perfect for morning work! Plus, these activities are grouped as beginning, middle, and end of year tasks that grow with your students. In this bundle, you'll find a variety of shape practice activities for your students, as well as literacy and math activities for preschool! You can find this resource in my shop.
Are your students ready for more of a challenge as they approach kindergarten age? If so, you'll love this 2D Shape Centers and Activities bundle for young learners. These hands-on centers are perfect for young learners who are ready for more of a challenge as they prepare for kindergarten. Students will be able to practice identifying, building, and writing 2D shapes in a variety of ways. This resource is also available in my shop.
Save These Shape Activities for Preschool
If you'd like to refer back to this list of shape activity ideas for preschool, be sure to save this post! Just add this pin to your favorite preschool board on Pinterest so you can quickly find this post whenever you need it.