If you're new to teaching kindergarten…welcome! I'm so glad you're here!
Thinking about how to even teach kindergarten can feel extremely overwhelming. I get it! I was absolutely terrified when I found out I was going to teach kindergarten. But let me tell you something: I feel head-over-heels in love with it. Learning is truly magical in kindergarten. It's exhausting yet rewarding and absolutely uh-may-zing! And if you were able to decode that – you are well on your way! 😉
Every single day is a new adventure filled with curiosity, learning, new experiences, and joy! I'm excited to share my ideas and hopefully help you prepare for your new teaching assignment in kindergarten. Let's talk about the 5 things you can do to teach kindergarten like a pro!
1. Start With an Overview
As you move into your new position, one of the best places to start is with an overview of what your kindergarten students will be learning. Take some time to dig into your state standards and wrap your head around the big picture for the year.
If you have the opportunity to chat with a current kindergarten teacher, do that! Let them know that you want all the details . . . eventually. But for now, just get those big picture ideas.
Here are some goals that most kindergarteners strive to meet by the end of the school year:
Recognizing and writing their name
Identifying letter names and sounds
Identifying numbers to 20
Counting up to 100
Adding within 10
Blending sounds to read 3 letter words
Reading and writing sight words
Writing letters, words, and then simple sentences
It's always easier to plan once you know where you are going. Start with the big picture!
2. Get Procedures in Place
One of the best things about kindergarten is that you have a class of students that are so eager to learn! Some kindergartners have never been to school before, so they are a blank slate when it comes to what school looks like. And . . . one of the scariest things about teaching kindergarten is that you have a class of students that are essentially blank slates when it comes to what school looks like! Yep – best and scariest all wrapped up into one!
This is where procedures come into place. If you do nothing else this summer – spend your time thinking about and setting in place your classroom procedures. Classroom procedures include everything your students will do and how you'd like them to be done. Think about everything from when they arrive in the morning, to when they pack up and go home – and everything in between. Here are some things you will definitely want to think about a procedure for:
Morning Arrival
How to Make Lunch Choice / Take Attendance
Morning Work Activities
Moving Around the Classroom
Lining Up
Going to the Restroom
Locating Supplies
Needing New Supplies

Voice Levels

Packing Up and Dismissal
There's no right or wrong way to create a procedure. It's just important that you have one! Think about what will work for you and make your classroom feel organized and remember, you are allowed to change a procedure if it ends up not going as you had originally planned.
In the first weeks of the school year, learning and practicing classroom procedures is going to be one of your main goals. There will be so many firsts that happen. For each first, build in time to the day to learn about the activity, the procedure and to practice it. Then for the next few weeks, review those procedures and practice them again and again…and again ;).
3. Classroom Organization
There are a lot of supplies in kindergarten, so starting with an organized classroom from the beginning of the year will be super helpful. Try to give everything an assigned space. As you organize your supplies in the classroom, think about how they will be used.
If they are for teacher use only, consider putting them in a cabinet or on a shelf that students do not access. This is great for extra school supplies, construction paper, craft supplies, and even special read alouds or teaching books. It's also great for copying and organizing everything you need for the week ahead.
If the supplies are something students will use, then consider putting them in a place where students can easily access them on their own. A dedicated space for students' book boxes, math manipulatives, center supplies, and personal school supplies is important. And for those things students will access on their own, make sure to create a procedure for how that will be done.
Check out this post for more classroom organization ideas!
4. A Classroom Management Plan
Classroom management is huge! Remember that list of common kindergarten academic skills? Well, you could probably teach those with your eyes closed and a good classroom management plan will help that happen! Classroom management is a really broad category that covers everything from classroom procedures, to a behavior plan, to parent communication.
A good classroom management plan sets you up for a successful day of learning. It adds structure to your day and helps your students know the expectations. There are tons of management tips and tricks you can use in your classroom but here are a few of my favorites.
$32.00
This beginning of the year bundle includes many of my best-selling, back-to-school activities at a significant discount. Tons of resources to help keep you organized and keep your students engaged throughout the school year!
Shop Now
5. Teaching Kindergarten Must-Haves
While teaching kindergarten is definitely possible without these things, they truly make your job easier. If you have the opportunity to set these up in your classroom, here are my suggestions:
Carpet Area
A lot of your whole class learning will happen on the carpet. It is much easier to keep these young students engaged when they are all sitting together and within fairly close proximity to you. Having a whole class teaching area is a must-have as you set up your classroom.
This space does not have to be large. In fact, a nice cozy rug with room for everyone is just perfect. Make sure that you have easy access to a whiteboard or magnetic board, your calendar area, and a comfortable chair or stool in this well-used space. You will spend time each day at this special learning place. Don't forget to teach and practice all of the "carpet time" procedures each and every day!
Small Group Centers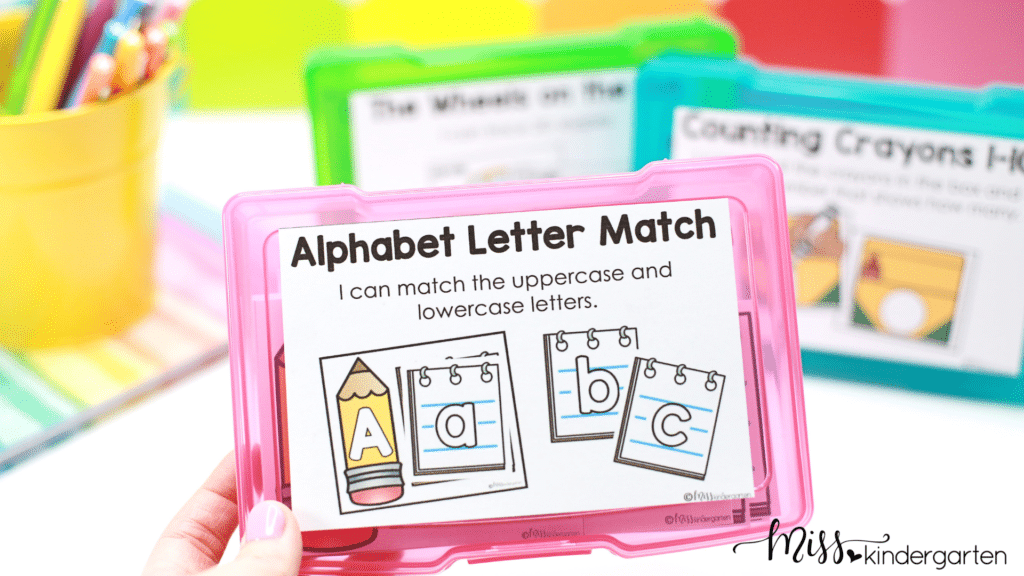 A lot of student learning and practice will happen through small groups. Students need lots of opportunities to practice new skills in order to reach mastery. Much of this practice will happen through center activities. Plus, you will be able to help a smaller group of students while the rest of your class is working and engaged.
If you're interested in learning more about how to set up classroom centers in kindergarten, you can sign up for my FREE 3-part series, and I'll share all about setting up, organizing, and managing centers. Learn more about setting up and organizing centers here!
Small Group Teaching Table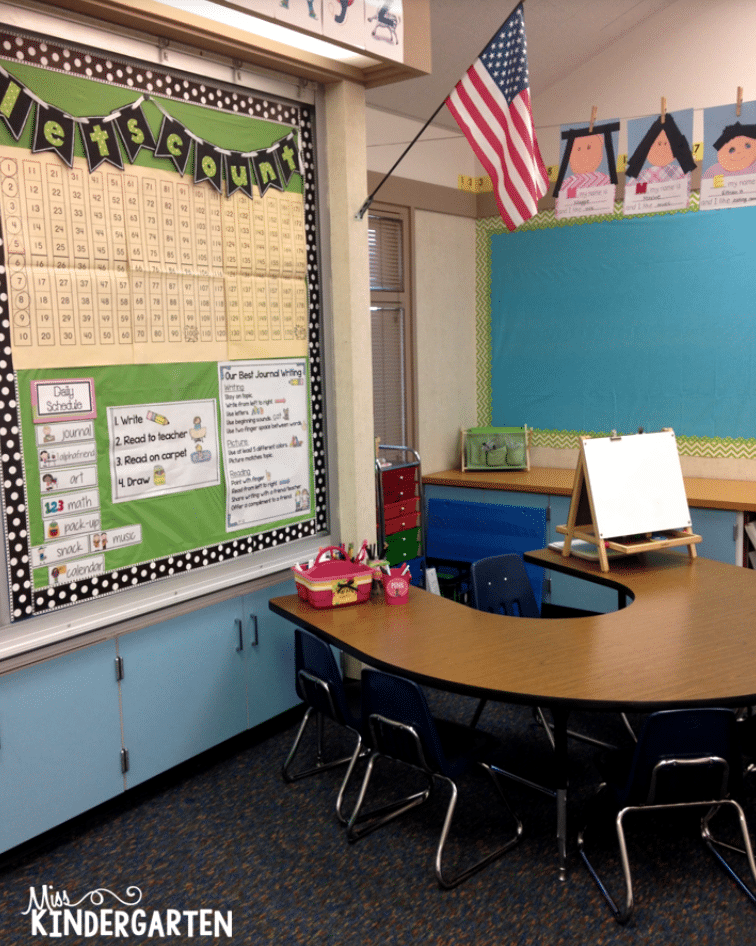 A teaching table or space for small group instruction is another must-have in your kindergarten classroom. While every grade has students at a variety of levels, there is often a wide academic range in kindergarten. Small group instruction allows you to teach your students at just the right level. This differentiation is an important part of helping them be successful.
Choose a small table or teaching area where you can work with 3-7 students at a time. I like to have a small whiteboard, a notepad for keeping notes, our emergent readers, some manipulatives, and dry erase markers nearby.
Having everything within an arms reach will make it easy to transition activities or groups without losing a lot of time. I love using the rainbow storage drawers behind the teaching table to organize all of our small group activities.
Learning Crafts
If the thought of arts and crafts in kindergarten scares you, you are not alone! A room full of kindergartners with scissors, glue, and glitter (#thehorror!) can sound downright terrifying to most people! But crafts play SUCH an important part in kindergarten learning. Not only are they exciting and engaging to your students, but they also help reinforce their learning. Crafts also provide students with lots of opportunities to strengthen their fine motor skills!
Crafts also encourage thinking and listening skills. Students learn how to follow step-by-step directions and be patient while they wait for more instructions. Just be sure to continue teaching and re-teaching classroom procedures so you don't end up with a mess on your hands…literally.
Here is a super simple way I keep all of our learning crafts for the year organized.
You've Got This!
So there you have it: Five of the most important things you need to get started teaching kindergarten. Remember, teaching your kinders HOW to learn is actually more important than WHAT they learn in the first few weeks of school. Focus on these things and I promise you will have a very solid foundation for your year.
I also have a bundle of Back to School Activities for Kindergarten that has everything you need to take these important first steps in the kindergarten school year! It includes all of the activities I shared about in this post, plus:
Organization Labels
Picture Direction Cards
Classroom Management Songs
Back to School Crafts
Alphabet Practice Activities
Number Sense Printables
With this resource, you can walk into your first day of school feeling confident and prepared to teach kindergarten. You and your class will be ready for a successful year of learning!
$32.00
This beginning of the year bundle includes many of my best-selling, back-to-school activities at a significant discount. Tons of resources to help keep you organized and keep your students engaged throughout the school year!
Shop Now
Save These Ideas for Teaching Kindergarten
Between now and the first weeks of school there is a lot to do. Pin this to your favorite classroom Pinterest board so you can come back for a reminder or for more teaching tips and ideas for kindergarten!