I love incorporating fun ways to practice reading in our classroom. We love using themed centers throughout the year and my students are always so engaged. Here are some of our favorite CVC word games to practice with plastic eggs!
Word Games with Plastic Eggs
There are so many different games and activities you can play in your classroom with these plastic eggs. The best part is, they are low-prep, cost-effective, and can be used year after year! #winwinwin
Just be sure to go over how to handle the plastic eggs with your students so they don't break and you don't lose pieces. The centers are hard to use with a basket full of mismatched and cracked eggs!
Rhyming Words Game
Rhyming eggs is one of our favorite CVC word games to play! For this game, you will write two words that rhyme, one word on the top half of the egg and one word on the bottom half. Take the eggs apart, mix them up, and have students read the words to find the ones that rhyme.
This game works best with only a few colors of eggs, that way the students don't just match the colors.
Spring Word Families
The next word game is one I learned from my mom, who is also a teacher. I guess you can say the apple doesn't fall far from the tree in our family! To play this game, simply use a sharpie marker to write word family words on the plastic eggs. You will write different beginning sounds all around one half of the egg with one word family on the other half.
The students will then twist half of the egg so that the beginning sound moves. They will read all of the word families on each egg. This helps them work on decoding, rhyming, and fluency skills, all in one activity! After reading all of the word family words, you can have them record the words in each word family on a recording sheet.
To save on paper, I made 4 copies of the recording sheet and slid them into sheet protectors so the kids can write on them with dry-erase markers, erase, and reuse. This makes it even more fun for them, easy to sanitize and clean, and takes up less copies…YAY!
You can grab a FREE, editable version of this Spring Word Families center by clicking on the image below! You can type in whichever word families you would like to work on.
Teacher tip: make a few different versions up front and rotate through them. You can also use this to differentiate and help students with certain vowel sounds. One page can be all short a words, another short e, and so on. You can also make this game more challenging by writing beginning blends on the side of the egg.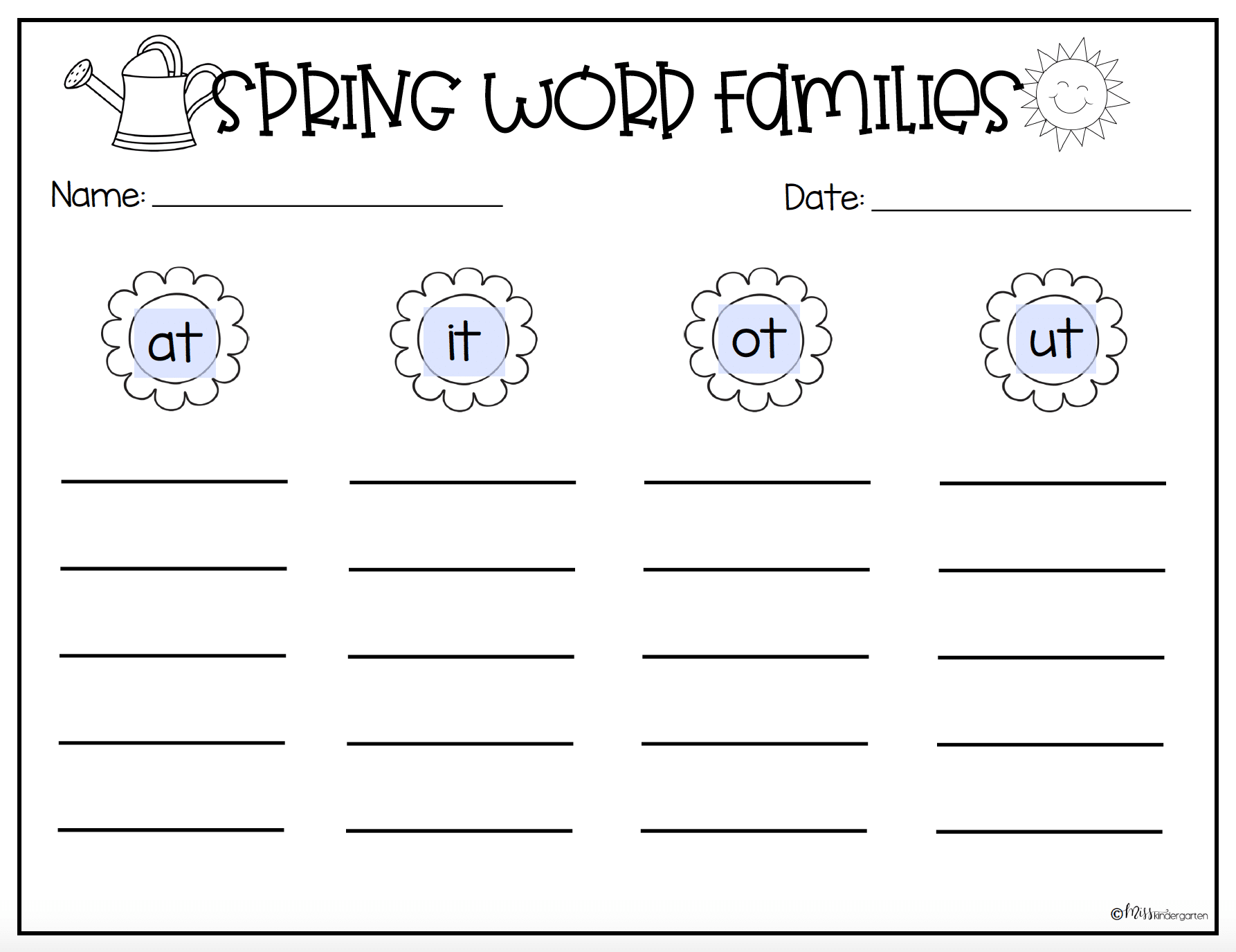 CVC Egg Hunt Game
The last word game idea I'll share with you today is called CVC Egg Hunt. To play this game, write one word on each egg, using several word families altogether. Hide the eggs around the room. Place baskets or other containers around the room with word family labels.
When you say GO, the students will search and find the eggs, sound out the word, and find the matching word family basket to drop the egg in. Keep playing until all of the eggs are found!
I hope your students love these CVC word games as much as mine do. They make for a lot of easy, DIY learning fun in the spring! For more spring learning activity ideas, check out this blog post!