Learning how to solve word problems is an essential skill for first graders!  It's also one of the more challenging math concepts that our young learners practice in first grade.  In this post, I want to share some helpful tips for teaching word problems in 1st grade.  With these tips and resources, you'll be able to keep your students engaged in Word Problem Practice all year long!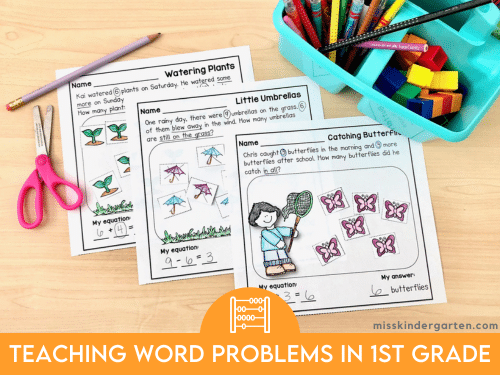 Teaching Word Problems: 1st Grade Classroom
Understanding and solving word problems can help your students see that math is all around them every day.  Plus, there are many other skills that your first graders can practice as they solve story problems.
Reading Skills:  First graders are growing in their reading skills by leaps and bounds all year!  Word problems are an excellent way to add some reading practice to other pockets of your daily routine. Not only are students putting their decoding skills to work, but they are also stretching those reading comprehension muscles!
Fine Motor Practice:  While your young students have come very far in their fine motor skills since entering kindergarten, they likely need continued practice in this area.  Using manipulatives to model and solve story problems can be a great way for students to practice their hand-eye coordination, pincer grasp, and more!
Math Strategies:  Students learn many addition and subtraction strategies in kindergarten!  However, if they don't continue to use those strategies in first grade, they might forget about them!  Word problem practice is a great time to remind students to try different math strategies.
Tips for Teaching Word Problems in 1st Grade
As teachers, we can see the importance of word problem practice for our young learners. However, they might not be as excited about them! Here are some tips for teaching word problems in a way that keeps your students engaged in this important practice.
1. Dissect Word Problems Together
Since first graders are still developing their reading comprehension skills, they might draw a total blank after reading a math word problem on their own.  Instead, be sure to practice dissecting word problems together as a class!  Highlighters, crayons, or even see-through colored math counters can mark the important information in the problem.  You could also teach students hand signals to hold up when they hear important information in a word problem that's being read as a whole class.  There are many ways that you can make the process of dissecting word problems more engaging and memorable for your students!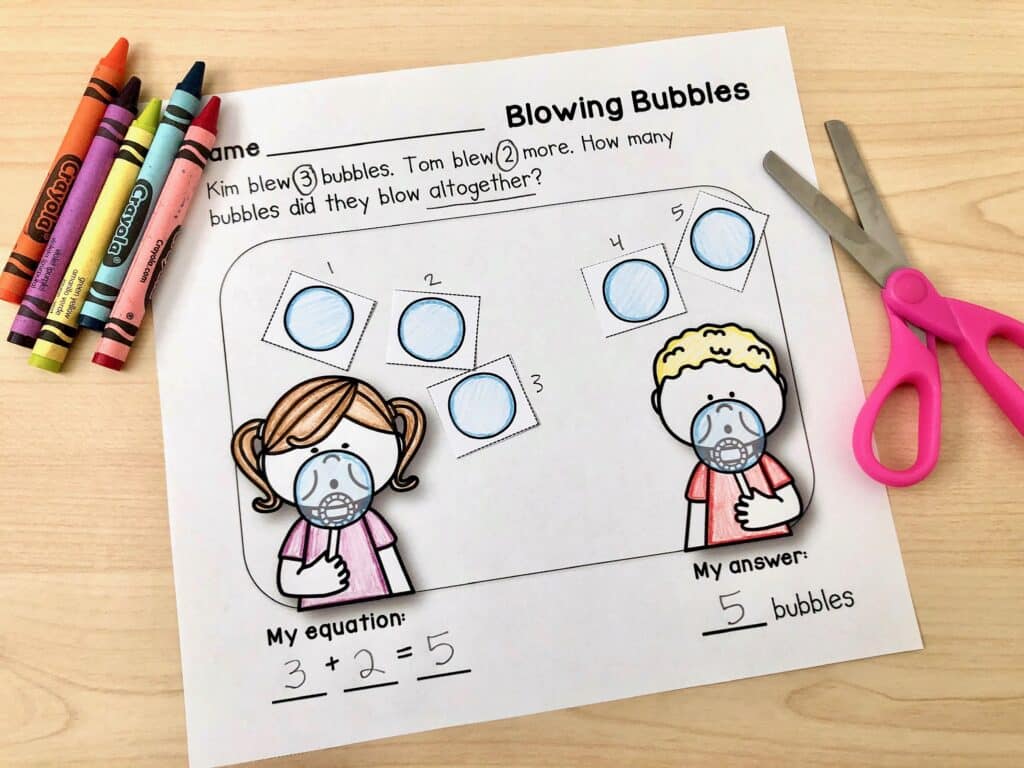 2. Spread It Out
A great way to bring variety to your word problem practice is to incorporate math story problems throughout your daily routine! You could have a story problem written on the whiteboard for your morning meeting. You can also incorporate story problem practice into your math rotations! When you find yourself with extra time before your next transition, you could read and dissect a story problem together as a class. You might even see an opportunity to do a quick math story problem from a book you're reading out loud to your students!
3. Incorporate Movement
Story problems can also be used for meaningful movement breaks in the classroom. You could display a word problem and have students take turns playing the part of the objects. Students love to be seashells, bubbles, and butterflies!
4. Have Students Write Their Own Word Problems
As your first graders become more familiar with the structure of story problems, they'll be ready to write their own!  You can use a template with sentence frames for students who need that level of support.  As students grow and develop their writing skills, they might want to try their hand at writing and illustrating their own word problems.  
No matter which method you use to have students write their own word problems, be sure to use the final product in some way. You could put the papers in a pile and choose a few at a time to discuss as a class. Depending on your students, you could also recirculate the completed papers and have each student solve a word problem written by a classmate. You could even put together a class book of student-generated word problems! Just put the pages in sheet protectors (or laminate) and have students use dry-erase markers to solve the problem on each page.
5. Use Seasonal Story Problems
One of my favorite ways to keep students engaged in story problem practice is to use seasonal problems.  Not only do students find these problems more interesting, but they also support comprehension!  When students are currently experiencing a season, it is easier for them to visualize and understand what the story problem is talking about.
Another fun reason to use seasonal story problems is that you can pull out all of those holiday mini-erasers and other seasonal manipulatives that you have on hand! This is also a great way to help students channel their excitement about upcoming holidays into a meaningful learning activity.
Seasonal Word Problems for 1st Grade
If you could like to use seasonal word problems in your first grade classroom, I have the perfect solution for you!  I have put together a resource with over 150 seasonal story problems that you can use all year long! Each page comes with coordinating manipulatives that students can cut out to help them model the word problem.  This is great for fine motor practice, as well! 
Since everything you need for each word problem is included on the page, this is a no-prep resource that you can use to supplement your math practice.  These story problem worksheets are perfect for small group intervention, whole group instruction, centers, morning work, or even for homework!  If you'd like to take a closer look at this resource, you can find it in my shop.
$10.00
Story problems are a problem no more! Addition and subtraction story problems are a great way to help your students integrate math facts into real-world problems.
Shop Now
Save These Tips for Teaching Word Problems in First Grade
I hope that this post has given you some inspiration for teaching word problems in first grade!  If you'd like to come back to this post later, just add the pin below to your favorite teaching board on Pinterest.  You'll be able to quickly find these tips and resources whenever you need them!