At the start of every month (or as close to, let's get real 🤣), I like to change out our math and literacy center activities. Practicing the same skills, but in a different way helps to make the learning new and exciting each month. I love incorporating center activities into our small group learning so my students can practice important skills and I can work with small groups on more targeted practice. These low prep centers are super easy to prep and pull out for each month!
Hands-on learning centers are so important in kindergarten and anytime I can save on planning and prepping is always a win!
These Low prep October centers are loaded with fun, hands-on learning for math and literacy AND will save you time and energy. They fit easily into 5×7 photo cases that you can find on Amazon, Walmart or Michaels. Each center also includes an "I Can" card that can be attached to the center box so your students remember what to do at each center. I laminate each card for durability and easy clean-up when we're done with centers. Then I throw all the center manipulatives and pieces into the photo case and centers are prepped and ready to go! You can see all of my favorite center manipulatives here.
Let's take a look at the October Centers for Math and Language Arts!
Math Centers for October
By the time you reach October, you have probably already introduced a few different math skills and concepts. But as you know, we can't just stop with our lesson. Incorporating the new math skills into our centers gives our students opportunities to work with numbers, try new skills, and build their confidence in math.
These October centers will help your students work on the following math skills:
Counting to 10 and one-to-one correspondence
Ordering numbers to 10
Building numbers to 10 using a ten frame
Reviewing 2D shapes
Counting Pumpkins will have your students working on counting, one-to-one correspondence and number identification as they count the pumpkins on the back of the truck. Then they clip the correct number with a clothespin (hello fine motor practice!) or cover it with a tiny manipulative. You can also make this center self-correcting by putting a sticker or dot on the back of the card to show the correct number
Spin-a-Ten-Frame is another great number activity that will have your students engaged in building numbers with ten frames. Students will spin a number and then show the number of a ten frame with any type of counter, or even play dough, to build the numbers.
While learning to count to 10 is an important skill our students must learn, it is also important that they can count starting with a number other than 1. This Fall Leaf missing numbers center is a great way practice this. Each task card includes a series of three numbers with one number missing. Students will practice counting with different starting numbers and filling in the missing number. A great activity to help those counting and number writing skills.
Finally, we work on identifying and matching 2D shapes with this fun center. Your students will look at the 2D Shape Webs, then clip or cover the spider with the matching shape. It's a fun and spooky center 🕸
Literacy Centers for October
These low prep October centers also include activities for language arts. Like the math centers, these language arts centers are designed to give students opportunities to practice important beginning of the year skills and concepts.
Students will work on uppercase and lowercase letters, tracing simple sight words, syllables, and beginning sounds.
I love that all these low prep centers can be used with supplies I already have in my classroom which cuts down on so much prep time!
Since they can be stored in a small container that means they are super easy for students to grab and go.
Let's look at the letter tracing cards first. There are multiple ways your students can use these cards. First, they can trace the uppercase letter in the pumpkin and then write it again on the line. To take it a step further, they can trace the uppercase letter and write the corresponding lowercase letter on the line. An easy way to differentiate for your students is to add in some magnetic letters or letters tiles to match the uppercase and lowercase letters.
We also practice reading and writing our sight words throughout the year. These Sight Word Task Cards help us with reading, tracing, writing and spelling our sight words. My students also love to hunt for the words on the word wall or around the classroom.
We also work a lot on counting and clapping syllables. This helps to build important phonemic awareness concepts as we learn to listen to sounds in words.
As students learn letters and sounds, we then connect those to real words. We start with beginning sounds since developmentally, it is easiest for them to hear. Students identify and name the picture on the pumpkin, then clip or cover the beginning sound they hear in the word.
October Low Prep Centers
You can find all of these math and literacy Low Prep October Centers in my shop! After you print the activities, just store in a small box, tub or zip-lock bag. Then add in the needed supplies from things you already have on hand. That's it!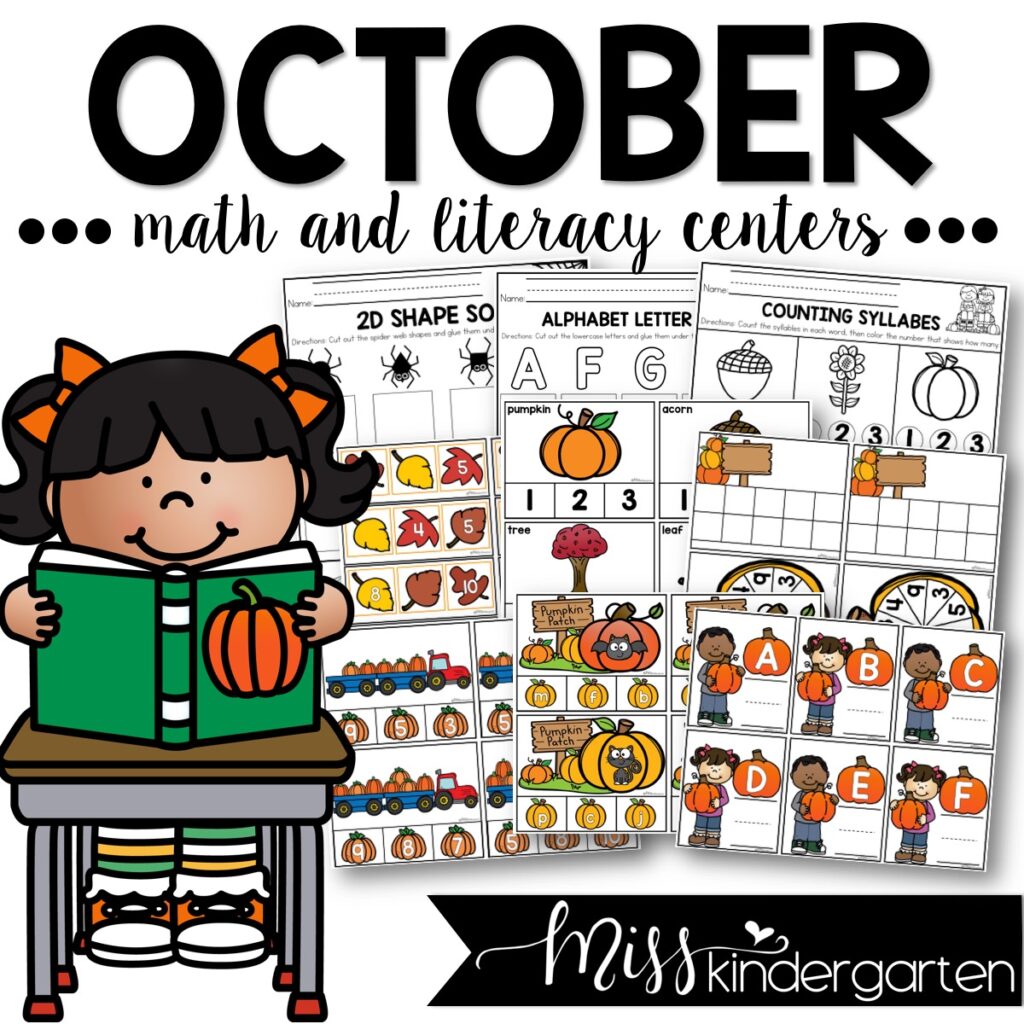 Already in love with these Low Prep Centers? You can find low prep centers for the entire school year in my discounted Low Prep Center Bundle!
$60.00
Get your math and literacy centers for the entire year planned and ready to go! These LOW PREP centers are full of HIGH ENGAGEMENT! Allow your students to practice important kindergarten skills all year long with these fun, hands-on centers, and watch their confidence grow!
Shop Now
Save These Center Activities for Later
Be sure to save these October low prep centers to your favorite classroom Pinterest boards. Then you can quickly and easily come back to them any time you need fresh monthly center ideas!