November is always a jam-packed month in the kindergarten classroom! Sometimes it feels like you've just gotten into the rhythm of the school year and it's already time for Thanksgiving, followed closely by winter break. This is when it helps to have some activities that will help students review what they've been learning so their skills can stay sharp during the longer breaks from school. In this post, I'm sharing some of my favorite Kindergarten Activities for November.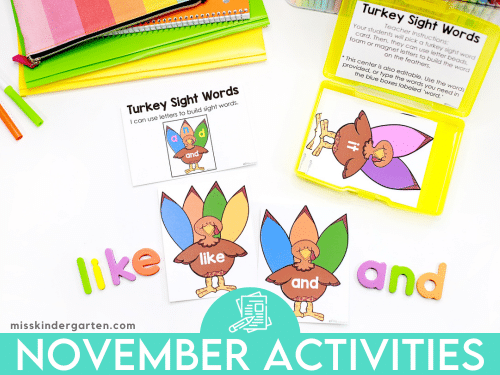 Kindergarten Activities for November
November is a month when all of your work to build learning routines at the beginning of the year will pay dividends. You'll be able to keep learning on track during this busy month and ensure that students are ready for the upcoming school breaks. These hands-on activities will help your students review important math and literacy skills in an engaging way throughout the daily routine. You might notice some resources that you already have on hand or discover something that you'd like to add to your teacher toolbox for November.
November Morning Work
If you're looking for a time during your daily routine to incorporate more skill review, look no further than arrival time! Morning work printables are a great way to help students review math and literacy skills they've learned up to this point of the year.
Since the format of the activities is similar each day and students are practicing concepts they've already learned, they'll be able to get right to work! These simple but engaging seasonal worksheets can help students ease into a day of learning.
Literacy Centers for November
Your centers routine is another part of the day that's great for skill review. Plus, you can incorporate some seasonal fun into the activities to keep students engaged and motivated.
This pumpkin-themed literacy activity helps students listen for the beginning sounds in words. Students will choose a task card, identify the picture, and then listen for the sound that they hear at the beginning of that word. Once they have figured out the beginning sound, they can write the letter on the first pumpkin to finish the word.
Since it's turkey season, you can use these task cards to make sight word practice even more fun! Students will choose a turkey task card with a sight word for them to build. Students can use letter beads, magnet letters, or even dry erase markers to build the sight word on the feathers of the turkey.
Math Centers for November
The turkey fun doesn't have to stop with literacy practice!
Students can practice counting and comparing numbers with these fun turkey task cards. After counting the feathers on each turkey and writing down each number, students will identify which turkey has more feathers. Students can use a clothespin to identify the turkey with more feathers.
This fall roll and cover game mat is another fun math center for November! Students will roll two dice, count the total number of dots, and then cover the correct number on the mat. This game is great for math centers since it's open-ended. Once students cover up all of the numbers on the mat, they can clear it off and play again!
Turkey Name Craft
Your students can review the spelling of their first names as they create this fun turkey craft! These turkeys make a simple (but adorable) bulletin board for November. Students are always so excited to find their turkey on the wall. This is great name identification practice!
This template can also be used to practice other skills if your students don't need to review name spelling. They could write or draw things that they are thankful for on each feather. They could also write the color words on the corresponding feathers. No matter how you use this craft, your students will be strengthening their fine motor skills as they cut and assemble this turkey craft.
CVC Word Practice
Use this CVC word practice activity to help your students sharpen their phonics skills! Students will identify the picture on each task card and then build the word in the blank spaces on the task card. Students can use letter magnets, tiles, or dry-erase markers to build the word on each card.
You can also target specific phonics skills by pre-filling in some of the boxes for your students. For example, if your students need more practice with vowel sounds, you could write the first and last letters on the task cards when prepping the activity. Then, students would just be listening for the medial vowel sound on each card.
Print and Go Printables for November
Whether you're going to be gone for a few days or you have a parent requesting work for their child's absence, it's always nice to have a few no-prep activities in your teacher toolbox for November.
These seasonal activities are an engaging way for students to review important math and literacy skills that they've learned so far this year. Plus, some of these printables incorporate cutting and gluing, which helps students practice fine motor skills as they complete the activities.
You could create a packet or booklet with these printables for students to keep in their desks or cubbies. When you find yourself with a few extra minutes due to a schedule change, these printables definitely come in handy. No last-minute scrambling to the printer or copy machine!
Printable Activities for November
To save you some time, I've put together a bundle of Kindergarten Activities for November that includes all of the activities pictured above. This resource will help your students sharpen up their skills before your fall and winter breaks. If you'd like to take a closer look at everything included in this bundle of November activities, just click below to find it in my shop.
Save These November Kindergarten Activities
Be sure to save this post so you can easily find it later. Just add the pin below to your favorite teaching board on Pinterest. You'll be able to quickly find these activity ideas when you're putting together your November lesson plans.