As kindergarten teachers, we know that hands-on practice is a top priority when it comes to helping our students master new skills.  That's why we focus on using task cards, manipulatives, and other hands-on learning activities throughout the day. In your effort to create meaningful learning experiences for your students, don't overlook the power of printables!  In this post, I'm going to share Engaging Worksheets for Kindergarten that you can use to create meaningful learning experiences for your students.
Literacy Worksheets for Kindergarten
Kindergarten literacy worksheets are a great way to bring extra skill practice to your classroom. Low-prep worksheets don't have to be boring! Here are a few of my favorite worksheets to help young kindergarten students practice a variety of literacy skills.
Alphabet Practice Worksheets
Sometimes the simple addition of a dry-erase marker and a reusable paper sleeve can make a worksheet more exciting for students.
These alphabet writing worksheets are perfect for this!  Students can practice identifying and writing letters as they complete these worksheets multiple times.
Word Family Worksheets
You can also use worksheets for word family practice!  Spin-and-write worksheets are a fun way for students to practice creating short vowel word families. 
As they build short vowel words using the spinners, students can sort the words by family as they write them down.
CVC Worksheets
Worksheets can also provide some extra fine motor practice!  These CVC word printables have students cut and glue words to match the correct picture.  
If you want to give your students more opportunities to work on handwriting, you can use CVC word writing practice worksheets!  This activity gives students the chance to write CVC words in isolation and within simple sentences. 
Sight Word Worksheets
Worksheets can also help you target specific skills that you'd like your students to practice. This is especially helpful for sight words!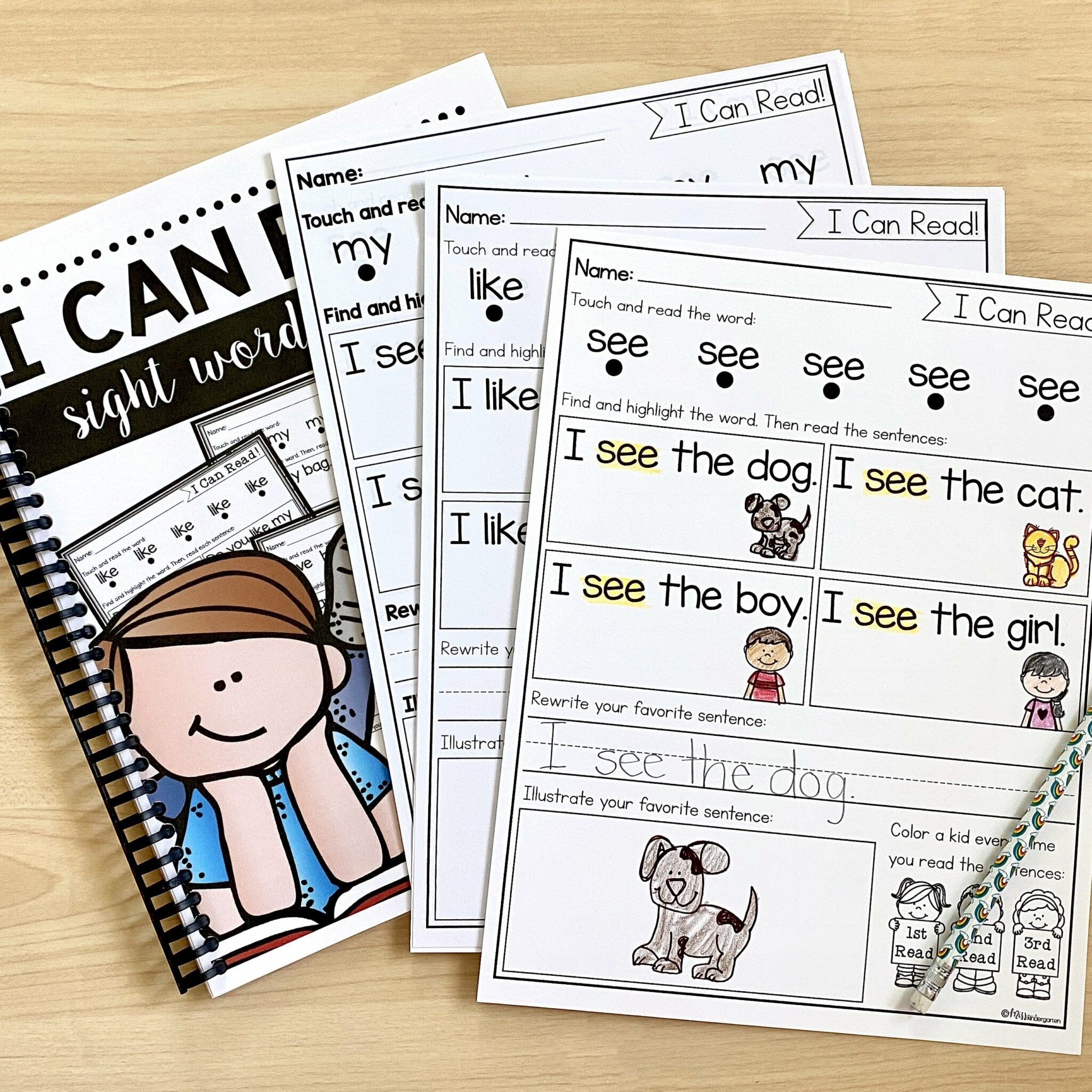 If you have students who need more targeted practice with individual high frequency words, they can complete these "I Can Read" sight word worksheets. After practicing the words in isolation, students can also read them within simple sentences.
Reading Fluency Worksheets
Once students have been able to practice their phonics skills within words and simple sentences, it's time to use worksheets to increase fluency within passages! 
These decodable reading passages are perfect for fluency practice!  Each passage also provides additional phonics and comprehension practice. These passages can be handed out individually or stapled together into reading fluency booklets.
Math Worksheets for Kindergarten
Math is a content area that uses a lot of hands-on, concrete activities to help students build a strong foundation. Engaging worksheets can help students bridge the gap between concrete practice and the more abstract paper-pencil math tasks.
Number Sense Worksheets
Worksheets can help students practice several number sense concepts in one activity!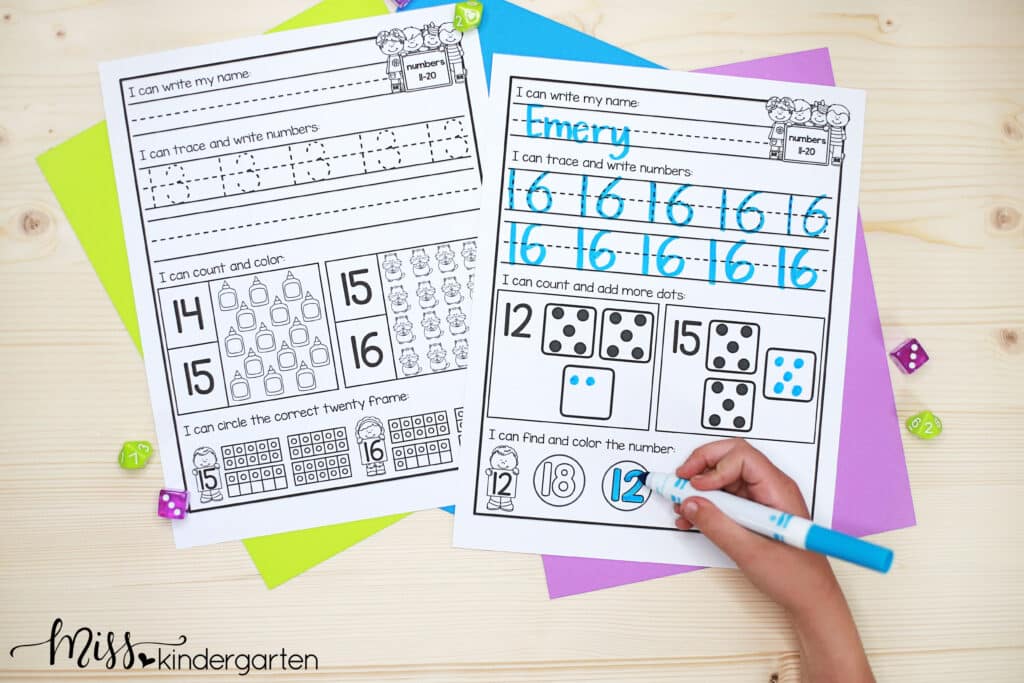 These number sense worksheets give students the chance to identify and write numbers, count quantities, and explore relationships between numbers. 
Addition and Subtraction
Kindergarten students are just beginning to understand the concept of addition and subtraction during the school year.  Worksheets can help students transition from concrete math practice to more abstract equations.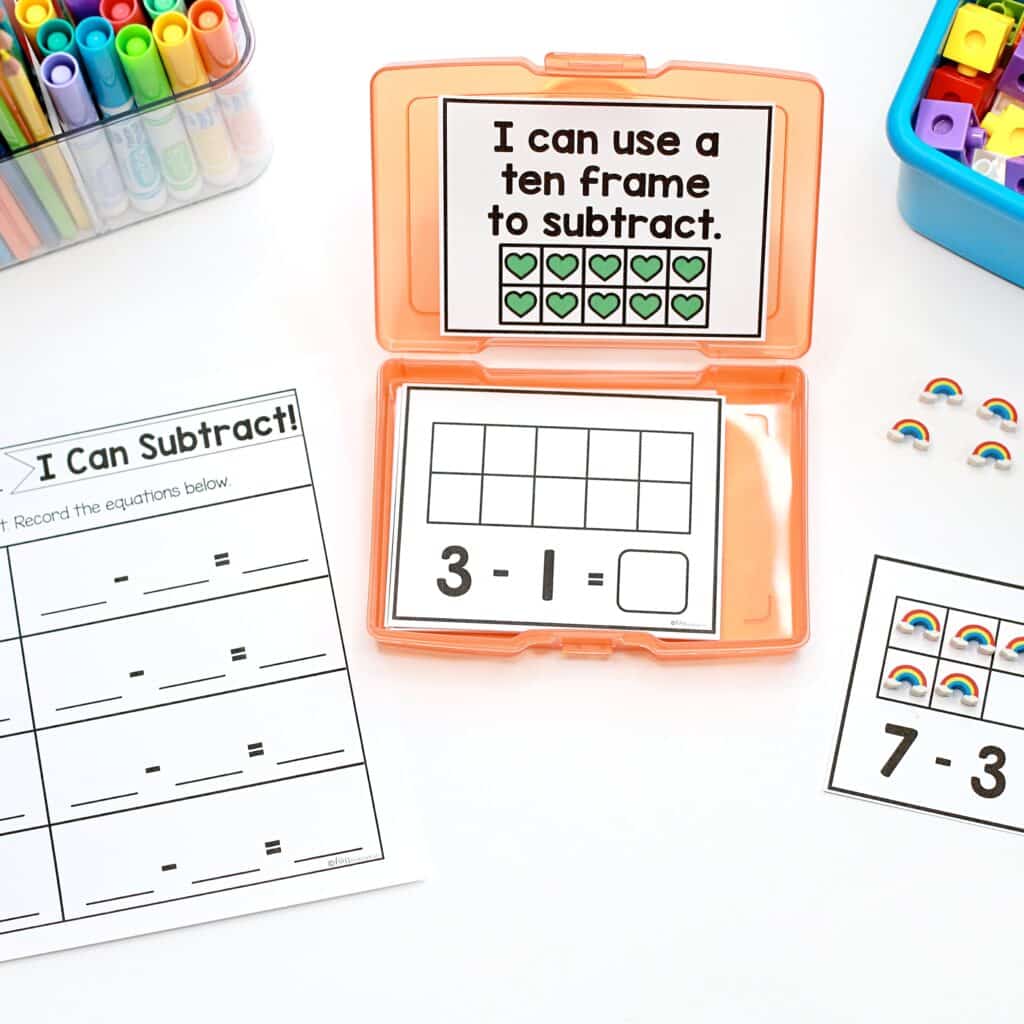 For example, recording worksheets paired with task cards can help students practice modeling addition and subtraction with equations. Plus, these recording sheets increase student accountability during centers!
Word Problem Worksheets
When your students are ready for math word problems, engaging worksheets can come in handy!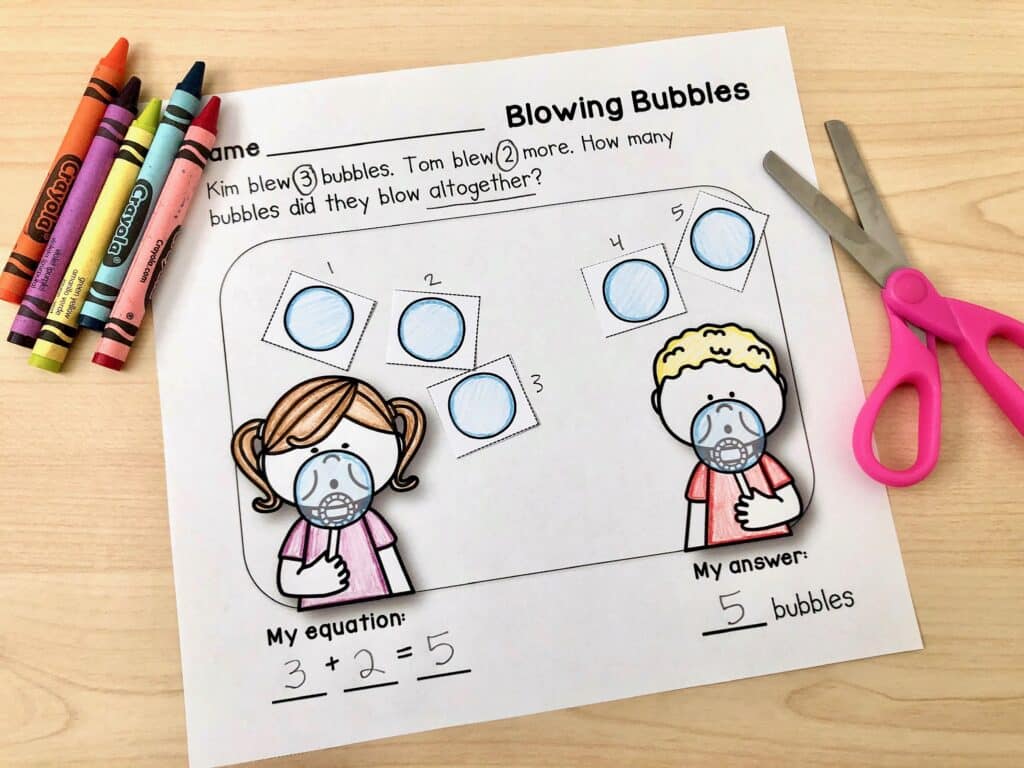 These math story problem worksheets include themed manipulatives that students can use to model the math problem.  It's also great fine motor practice for students to cut out these small pieces!
Engaging Worksheets for the Daily Routine
Worksheets can also be a helpful part of your daily routine.  The familiar format of routine printables can be especially helpful for young students.  When students already know what they need to do for the activity, they can focus more on the skills being practiced.
Kindergarten Homework Printables
Kindergarten homework can be a hot topic!  It can be difficult to find the right balance between too much and too little.  Plus, it's important for the homework to be both engaging and meaningful. Sending home simple worksheets for daily homework can be a great option!  
When you can send home the same worksheet format each day, it becomes a familiar routine for families. Students are able to get right to work with minimal assistance, making it less of a burden on parents and guardians. Plus, you can use homework with a spiral review element to help students keep their skills sharp by practicing at home.
Printable Morning Work
A morning work routine can help your students ease into a day of learning.  Worksheets are a great option for this part of your daily routine. 
You can print and assemble morning work journals to minimize daily paper shuffling and reduce prep time! The best part is that your students can start their day independently with important skill practice and review.
Calendar
You can make your calendar routine more meaningful with a binder of calendar worksheets! By giving each student an individual calendar notebook, they can stay engaged during this part of your daily routine.  
Students can improve many different calendar and math skills by graphing the weather, writing the date, tallying the days of school, and more! By using worksheets during calendar time, your students no longer have to wait for their turn to be calendar helper in order to be engaged in this part of the school day.
No-Prep Kindergarten Worksheets for the Entire Year
I wanted to make it easy for you to add meaningful worksheets to your daily routine. That is why I have created a set of No-Prep Kindergarten Printables that you can use for engaging literacy and math practice all year long. 
These seasonal kindergarten worksheets follow a typical learning sequence of the kindergarten year. These engaging worksheets can be used for homework, morning work time, early finishers, or any time your students could use some extra skill practice.
$24.00
We know how important hands-on learning is in kindergarten. It is tricky enough to figure out how to best utilize center time, especially if our students aren't able to share manipulatives and supplies, or if your students are not currently in the classroom.
Shop Now
Save These Kindergarten Worksheets
Be sure to save this post so you can find it later!  Just add the pin below to your favorite teaching board on Pinterest.  You'll be able to quickly find these kindergarten printables when you're looking for engaging worksheets for your classroom.