How do you set up homework in kindergarten that is appropriate, fun, and meaningful? This seems to be the million dollar question among many kindergarten teachers. It is hard to know what is too much or too little and on top of that, make sure it is engaging!
Some districts require homework in kindergarten and others don't. I think there are two boats when it comes to homework in kindergarten. You either like it, or you don't!
I am a true believer in kids learning through play, and sometimes I think giving them the opportunity to play after school is MUCH more important than sitting down to do homework.
However, if you are required to send something home with your kinders or you DO like the idea of homework in kindergarten, let's look at the positives!
Benefits Of Homework In Kindergarten
I used to dread sending home homework and struggled with how to make it work. I learned over the years that there are some amazing benefits to having homework in kindergarten.
Homework can help teach your students responsibility.
Homework isn't all about academics, it's also about responsibility and life skills. Teaching your students how to "be in charge" of something and take pride in it is an important life skill. They begin to learn that it feels good to do a good job and get work done on time!
I like to talk with my students about what it means to be responsible when doing homework. It means that you:
Put your name on your paper first
Complete all of the work
Do neat work
Work the whole time
Check your work
Turn it into the appropriate place on time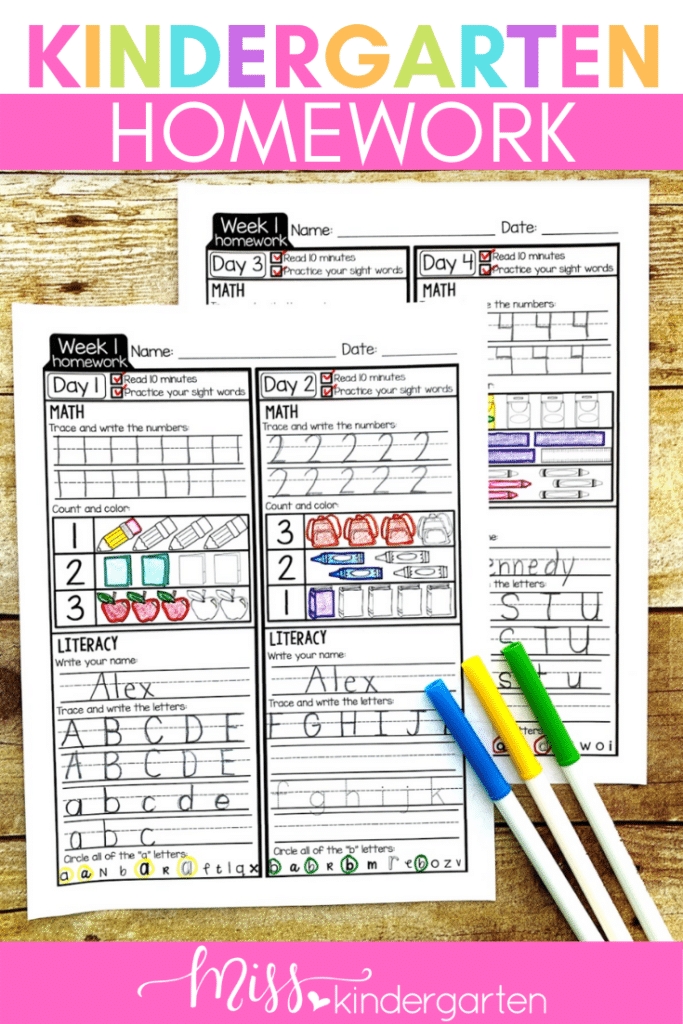 It allows them to practice being problem-solvers at home as they work independently and blast through challenges.
We all know those students that come running at the sight or sound of any problem. As teachers, it is our instinct to help them, but allowing them to be challenged is a GOOD THING! Homework in kindergarten encourages your students to problem-solve, whether they are at school or at home. Modeling problem-solving strategies is a great way to help your kinders learn HOW to problem-solve. Some ideas to model are:
Reading or listening to the directions again
Looking at similar problems
Using anchor charts or posters around the room
Using manipulatives
Drawing a picture
It can provide a foundation for structure and routine as they progress through school.
By starting homework early on in their school years, you are helping set your students up for success in the future. Having homework in kindergarten allows them to start learning and using those problem-solving strategies right away. It is important to know your students, their abilities, and their families when assigning homework in kindergarten.
Make Homework Work In Kindergarten
Now that we know the benefits of homework in kindergarten, I am going to share my 3 musts for making homework actually WORK in kindergarten.
Homework Must Be EASY TO ASSEMBLE!
This first must is all about you, teacher friend! No kindergarten teacher has time to prep, print, laminate, and hole punch homework! Just the thought of it makes me cringe. ? Keep homework prep simple. My Kindergarten Homework Weekly Bundle can be printed for the entire week on 1 page, front and back. Check it out here to get your homework for the entire year covered.
Homework Must Be FUN FOR STUDENTS!
Homework tends to have a bad reputation for being boring and hard. It doesn't have to be, though! Homework that is fun for your students will engage them in the learning, thus becoming more purposeful for them and you. Make it kid-friendly, allow them to use different coloring tools, let them sit around the room, etc.
Homework Must Be CORRELATED TO STANDARDS!
If you give your students random homework assignments, it just feels like busywork. Make sure that it correlates with the standards and skills you are teaching. My weekly homework covers reading and math standards and is also editable to meet students' needs every year.
You can check out my year-long homework bundle that includes 32 weeks of weekly homework practice.
Do you need to send home work that is…
♥ CORRELATED TO THE STANDARDS?
Your students will enjoy working on their weekly practice!
Grab the Bundle!