Centers are one of my favorite ways to keep students engaged in literacy and math practice. With so many fun activities to choose from, it can be hard to find the right set of activities for your students. This is especially true if you're looking for centers that don't take hours to prep each week. Keep reading for some Free Kindergarten Centers that will get your students excited to practice literacy and math skills!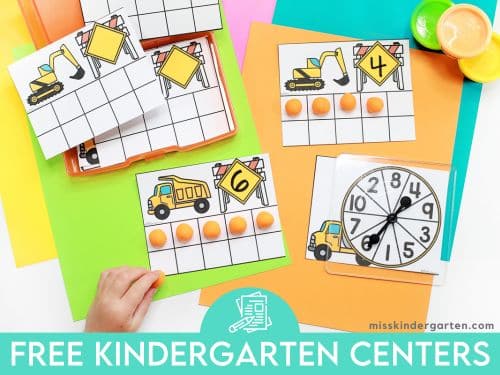 Benefits of Kindergarten Centers
If you've visited my blog before, you'll know that I am a major fan of using centers in the kindergarten classroom! They are a great way to supplement instruction with hands-on and engaging activities. There are other benefits, as well, like:
Improve Fine Motor Skills – The hands-on nature of center activities can bring additional fine motor practice to your classroom. Students can improve their hand strength, pencil grip, and coordination through a wide variety of activities.
Differentiate Learning – Centers can help you provide the support each student needs to succeed. You can easily adjust rotations and activities to target specific learning goals for individual students.
Provide Low-Prep Engagement – Many of the higher engagement activities we use in the classroom often require more prep time. This doesn't have to be the case with centers! These activities have a great prep-to-engagement ratio. You're able to get students excited about literacy and math practice without spending all of your prep time getting ready!
Free Low-Prep Centers for Kindergarten
Are you ready to try out some low-prep centers in your own classroom?  Here are four free centers to get started!  These activities are so easy to prep that you could print them now and have them ready to go for class tomorrow. Just print, laminate for durability, and then add any manipulatives that you might need.  
Free Centers
Engaging, hands-on centers that help your students practice important kindergarten skills while building fine motor strength! Start your year off planned and prepped with these free centers!
These centers are designed to fit in plastic photo cases, so everything you need for each activity can be easily put away and stored for the next use. (If you don't have these cases, you can also use a tub or basket.)
Alphabet Letter Match
In addition to the benefits mentioned above, another reason to love centers is that they can be used in many different ways! For example, this alphabet letter match center can incorporate letter identification, matching, and writing practice depending on how you use it.
For each pencil card with an uppercase letter, students will find a matching lowercase letter card. These cards can also be used for other alphabet practice activities, such as putting them in alphabetical order. Partners could also take turns quizzing each other on letter names by using the cards as alphabet flashcards.
Since the uppercase letter cards have a blank notepad, students can practice writing letters on these cards. For some students, this might mean tracing the uppercase letter and then trying to write it independently. Other students might write the corresponding lowercase letter on the notepad instead. There are so many ways that you can differentiate and extend this activity!
Building CVC Words
This center is another great example of an activity that can be modified to target specific skills. This word-building activity is perfect for students who are ready to apply their phonics knowledge to spelling CVC words. Students will choose a card with a picture that represents a three-letter short vowel word. They will then use letter tiles or dry-erase markers to spell the corresponding word.
If your students aren't quite ready to build words, you can modify this activity to focus on letter sounds. They can practice naming the picture on each card, then orally segment the word into its three sounds by using bingo chips, playdough balls, or counting cubes.
Spin and Build Ten Frames
You can also use low-prep centers to help students practice number sense and math skills in different ways. This spin and build ten frame center gives students a chance to practice number identification, number formation, and counting all in one activity.
Students start by using the spinner to choose a number between one and ten. After spinning the number, students will use a dry-erase marker to write the number on the task card. Then it's time to practice one-to-one correspondence! Students will count and add the correct number of small manipulatives to the ten frame to match the number.
For additional fine motor practice, you could provide manipulatives that students can place on the ten frame using tweezers. Another great option is play dough! Students can roll out the correct number of balls using play dough, then squash each ball as they count to check their work!
Adding to Make a 5
The number frame practice can continue with this low-prep math center! Students can use play dough, mini erasers, or snap cubes to finish filling in an incomplete five frame. Then students will write the number of objects that they added to the frame. This activity helps students see that there are many different ways to make five!
Just like any center, you can use this activity for months! In order to keep it engaging for students, you can swap out the manipulatives for different seasons. Mini erasers are perfect for this! Students are always excited to see the fun holiday and seasonal manipulatives, which encourages them to dive right into math practice.
Grab These Free Kindergarten Centers
The FREE kindergarten centers pictured above can be found in one easy-to-download resource.  You can have these printed and prepped to use in your classroom tomorrow with what you already have on hand!
Free Centers
Engaging, hands-on centers that help your students practice important kindergarten skills while building fine motor strength! Start your year off planned and prepped with these free centers!
These learning activities are designed to be used independently or in small groups of two to three students. They are the perfect addition to your literacy and math rotations! Be sure to grab your copy of these Free Centers for Kindergarten.
Save These Free Centers for Kindergarten
If you're short on time, you can save this post for later! Add the pin below to your favorite teaching board on Pinterest. You'll be able to quickly find this post when you're looking for low-prep (and free!) center activities to use in your classroom.