September is such a fun month in kindergarten!  We get to watch our brand-new kindergarteners grow in confidence as they become familiar with the daily learning routine. In this post, I wanted to share some of my favorite Kindergarten Activities for September that will keep students engaged in this new routine!
Kindergarten Activities for September
A well-stocked teacher toolbox of activities can come in handy all month long! You might find yourself with a few extra minutes before a transition, need a last-minute sub, or discover that some of your students could use some additional practice. No matter what the reason, these resources will help you keep your students engaged in skill practice throughout the month of September. In fact, you might even recognize some activities you already have on hand! 
September Morning Work
Morning work can be such a helpful daily routine for your students. They can independently start the day because they know what is expected of them when they walk in the door. This gives them time to get settled and ease into a day of learning with a short learning task. Plus, it gives you the flexibility to welcome your students and answer any questions that come your way first thing in the morning.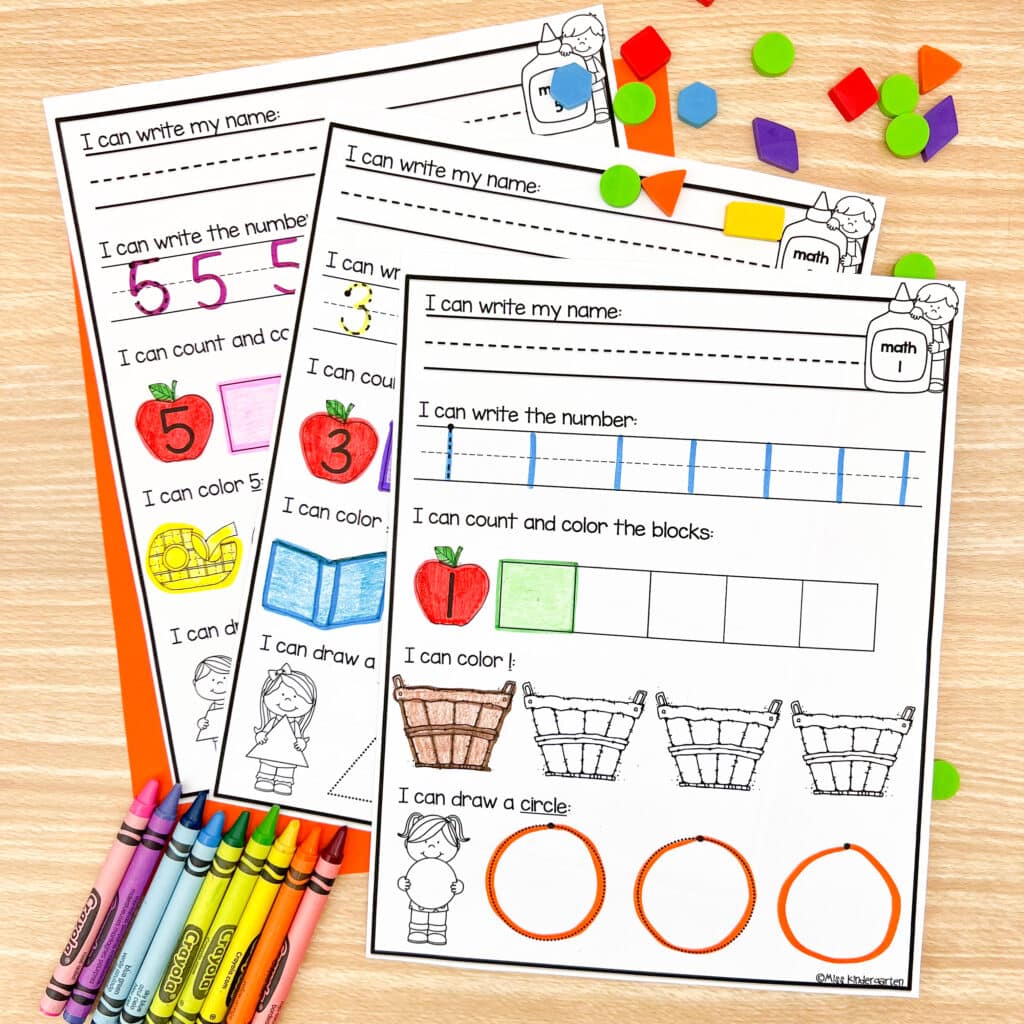 Since the literacy and math activities focus on skills that students have already been learning, students can complete them with minimal assistance from you. This also helps students grow into more confident learners! The morning work activities follow a similar format, so students can easily navigate the activities independently. They are able to focus more on the concepts they're reviewing and less on navigating the task itself.
Literacy Centers for September
As students work hard to master the alphabet, they need plenty of repetition with letter identification tasks. Centers are an excellent way to add this repetition! 
For example, this alphabet letter match activity gives students another opportunity to identify uppercase and lowercase letters. The clothespins add an element of fine motor practice that will help students improve their hand strength! You can also add a sticker to the back of the card behind the correct letter.  This makes it a self-checking activity to help students become more independent learners.
Students can also use their letter identification skills to find the correct apple cards in this activity! They will choose a high frequency word to build on the apple tree. This is an engaging way for students to get more repetition with both letter and word recognition!
Math Centers for September
Centers can also be used for additional math practice! The task cards for my low-prep centers are designed to fit into photo storage boxes, along with any other materials you might need. This is especially helpful for math activities that use manipulatives!  These organized task card boxes make it so easy to set up the centers and for students to help with clean-up.
These counting task cards help students practice one-to-one correspondence by placing the correct number of apples on the tree. You can use small erasers, counting tokens, pom poms, or any other small manipulative you have on hand!
Your students can also become more familiar with ten frames with this center! Students can roll small balls of playdough or use small manipulatives to fill in a ten frame to match the chosen number card.
Apple Basket Counting Craft
Kindergarten crafts are such a helpful learning tool in the classroom all year long.  Students are able to practice following directions as they complete the assembly of the craft in the correct order. Crafts also help students improve their hand strength and coordination in a fun way. They don't even realize they're hard at work!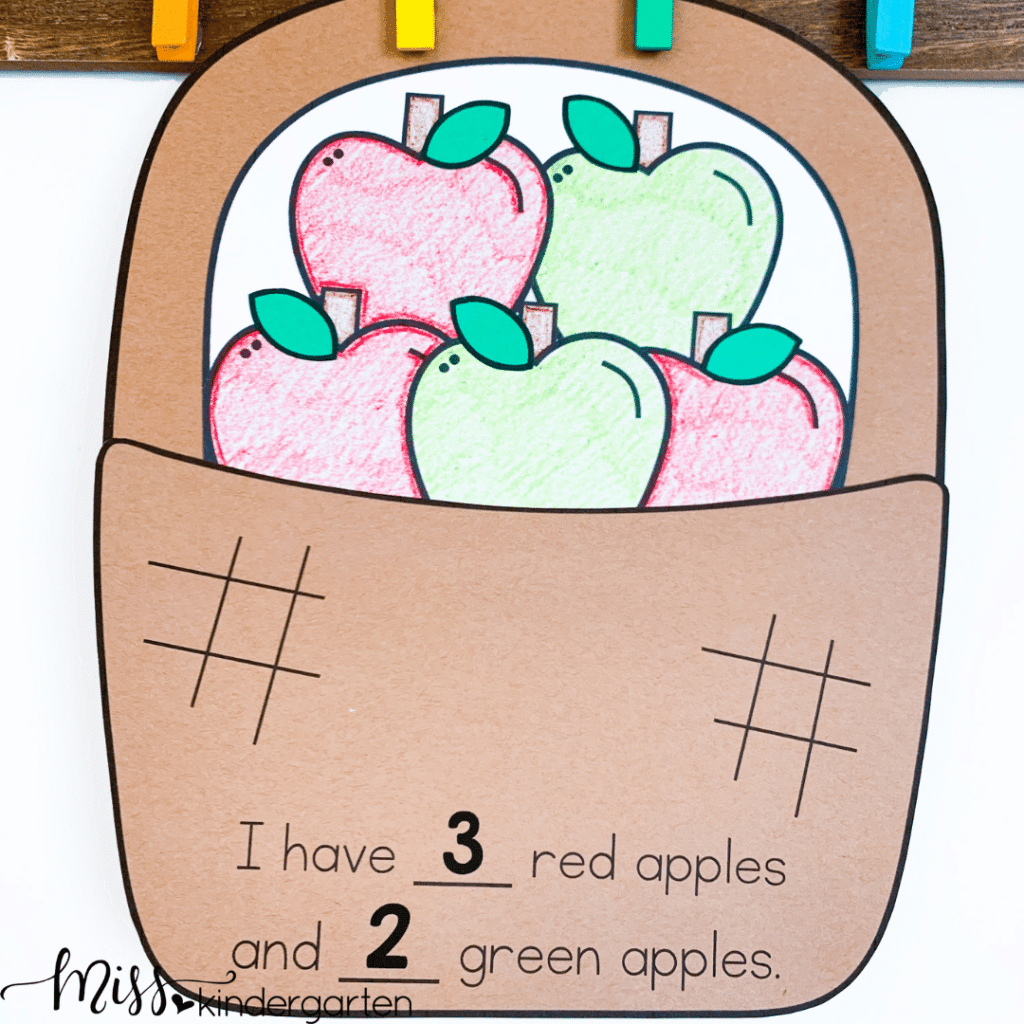 This apple craft for September has the additional benefit of helping students practice sorting and counting. Students can choose to color some of their apples red and some green. They will add the apples to the basket they create and then write the number of apples they have for each color.  It's so fun to see the different apple baskets hanging on a fall bulletin board! Your students will be excited to see which of their classmates have the same combination of red and green apples.
Fall STEM Challenges
If you are looking to add more STEM activities to your lesson plans this year, consider using some seasonal challenges. 
For example, your students can build a fall item using building blocks.  You can begin by brainstorming possible fall items as a class and then let them flex their creative muscles to build the items.  One student might build a two-dimensional pumpkin while another student might build a three-dimensional turkey!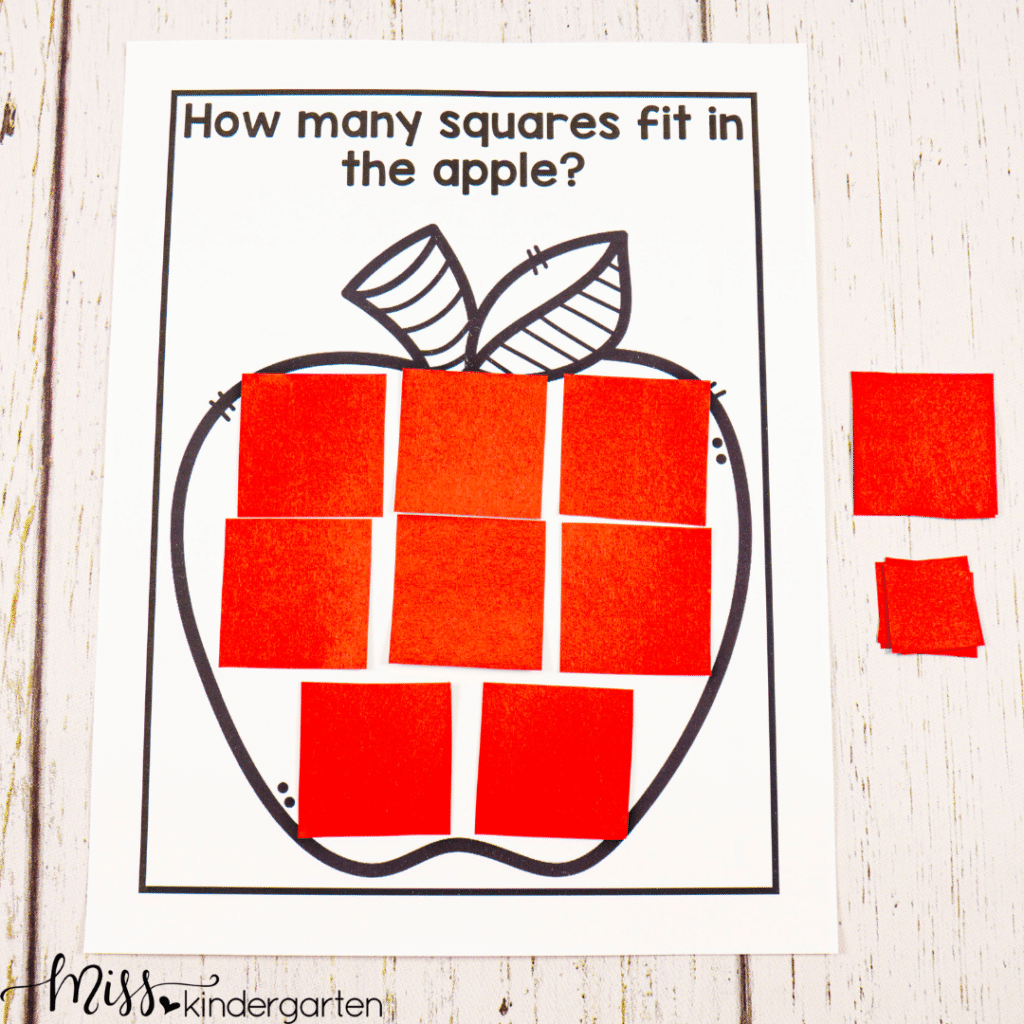 Another fun fall STEM challenge is to have students predict how many squares of paper will fit in an apple. After they have made their predictions, students will use their fine motor skills to fill in the apple with paper. Once they have the final count, students can reflect on their predictions. This is such a fun way to help students think like scientists!
No Prep Printables for September
We all know how busy the beginning of the year can be in kindergarten! It's always a good idea to have some print-and-go activities in your toolbox for September. Worksheets can be a helpful way to supplement your learning activities with additional literacy and math practice. Plus, paper-pencil tasks can help students continue to improve their pincer grasp and handwriting. 
These no-prep printables can be a helpful addition to small group instruction, kindergarten homework, or early finisher choices. They're also great to have on hand for students who need just a little bit of extra practice with a concept.
September Activities Bundle
To save you some precious time at the beginning of the year, I wanted to save you some time by compiling a set of September activities into one easy-to-download resource.  The September Activity Bundle includes morning work, low-prep centers, digital task cards, fall STEM challenges, no-prep printables, and a fun math craft.  These activities will come in handy as you continue to establish the daily learning routine in your classroom.
Save These September Activities for Kindergarten
Be sure to save this post to your favorite teaching board on Pinterest!  It will make it easier for you to find these September activities when you're planning out your month.