Moms and Dads, and others that fill these roles, play a very important part in the lives of our students. So what better opportunity than Mother's Day and Father's Day to honor them for all they do. Sometimes this can get a little tricky in the classroom because mother figures and father figures aren't always Mom and Dad. It's important that we give our students the opportunity to celebrate all the important people in their life. These Mother's Day and Father's Day gift ideas are perfect for doing just that! And . . . they are easy to use from moms, dads, grandmas, grandpas, aunts, uncles and other special people!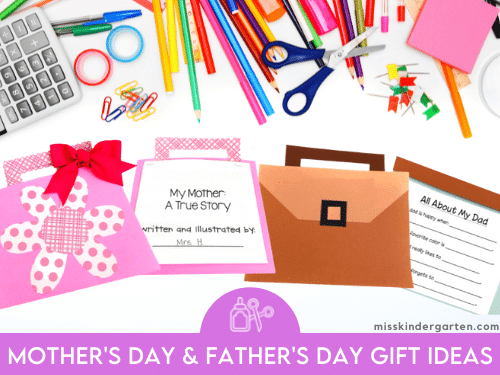 Mother's Day Gift Ideas
Mother's help to make the world go round. They deserve to be honored each and every day. Although we can never thank them enough for all of their hard work and sacrifices, we can have our students create cute and meaningful crafts for them to treasure. There are tons of different ways to have your class honor the moms and/or special people in their life. These are just a few of my favorite Mother's Day gift ideas.
Mother's Day Handprint Flowers
This is an easy and meaningful activity you can create in your classroom. It is great to complete in an afternoon, or even make it part of your art center for the week. If you have an instructional aide or even a parent volunteer you can knock these out in no time!
Handprint art is always a great gift at this age because it's not only cute but it serves as a reminder of how little the kids art. These are some of the childhood treasures that are saved for years. To create this special picture or card, simply create a colorful flower for mom using your students handprints as the flowers. If you are doing a smaller item, like a card, fingerprints work well too!
You can make this project as simple or as detailed as you would like. Everything can be done directly on a piece of construction paper, or you can make it 3-D. For the 3-D option you would need to cut out each handprint and glue down only the palm of the hand. Then students can use their finger or a pencil to curl in the fingers for a beautiful 3D flower. You can also use pipe cleaners, ribbon, textured paper, or anything really to make flower stems. Either way, moms are sure to love seeing those sweet little handprints for years to come!
All About My Mom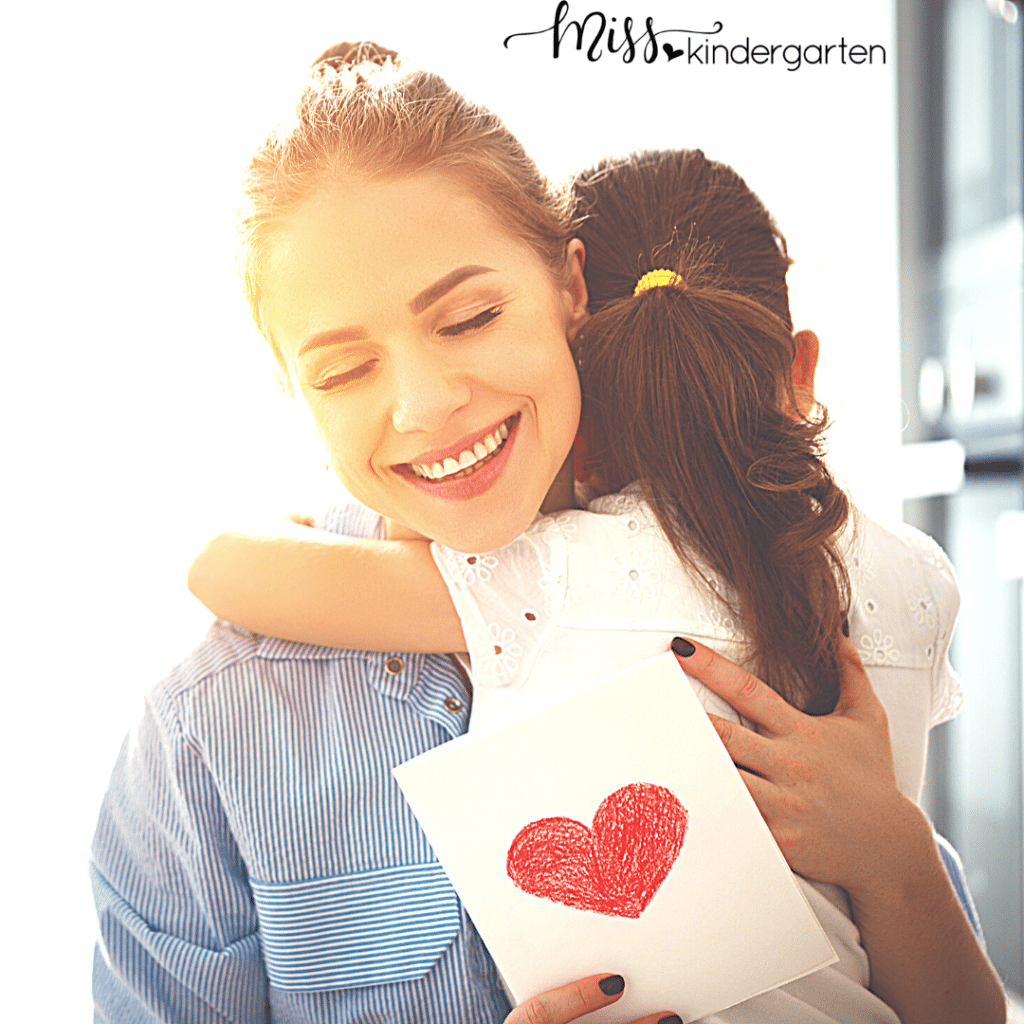 Kids say the darndest things . . . and that is why this seems to be a crowd favorite among all of the moms out there. For this cute and sometimes really honest activity, provide students with a variety of sentence stems they can use to write about their mom. I suggest adding one sentence to the board so students can copy it down and answer. A great activity for working on a variety of skills in addition to this special gift. Here's some sentences you might want to include:
My mom's name is . . .
My mom is ________ years old.
My mom's favorite food is . . .
My mom works as a ________.
My mom is really good at . . .
My mom often says . . .
My mom's favorite thing to do is . . .
My mom loves being a mom because . . .
I love my mom because . . .
If your students are too young to fill out the page themselves, just ask them the questions orally and fill it out for them. They can decorate the page to add their own special touch. Mom's sure going to love this activity!
Mother's Day Purse Craft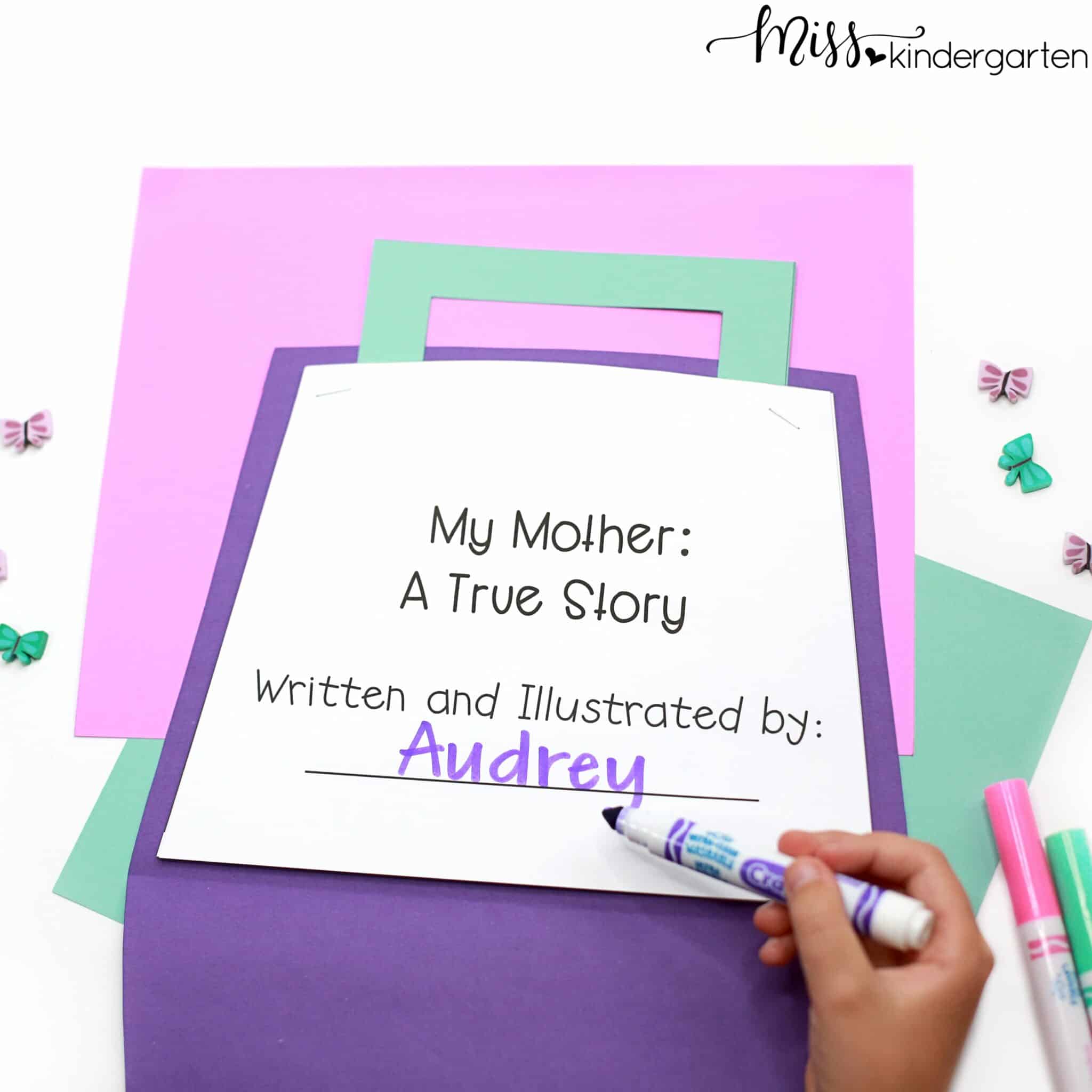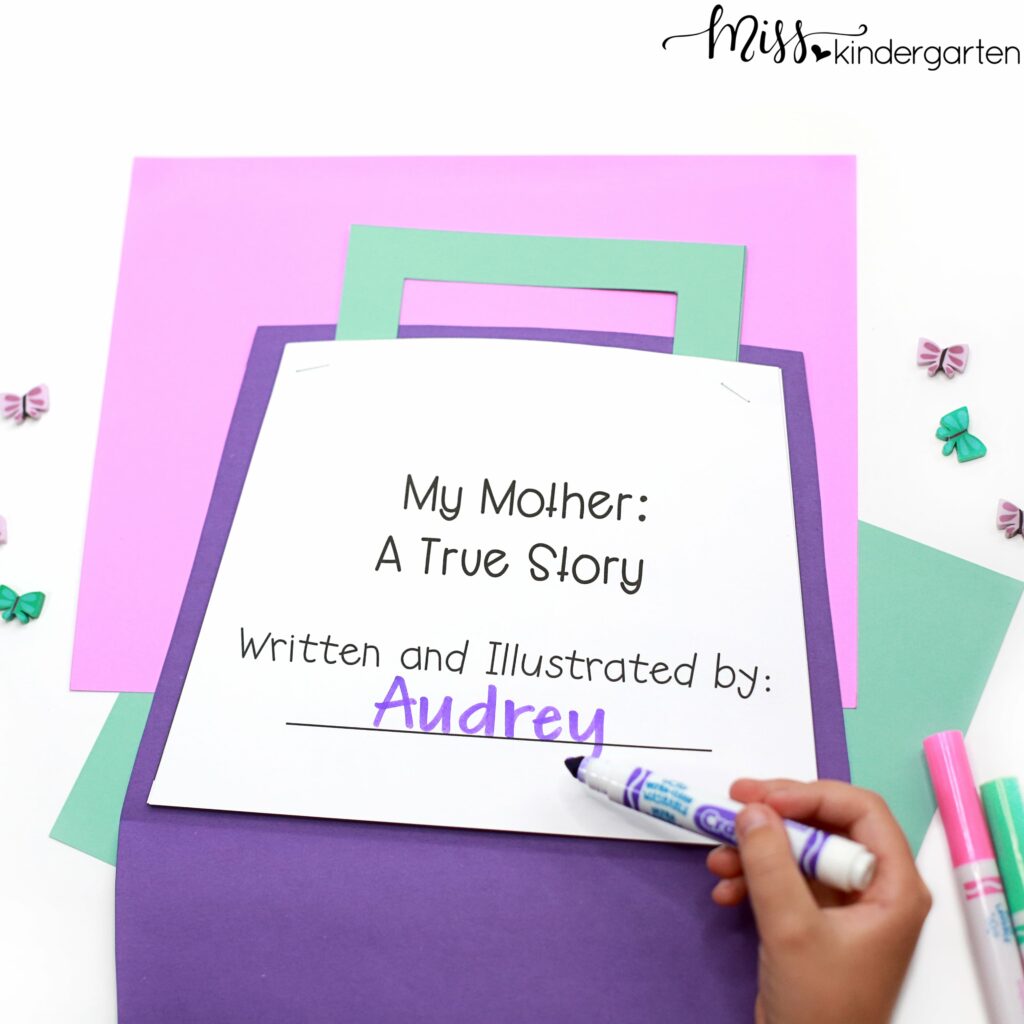 This is one of my all time favorite activities for Mother's Day. This adorable project takes the "All About My Mom" activity to another level. Students will answer questions in order to write "My Mother: A True Story." It can be completed throughout the week, or if you are short on time you can pick and choose the pages and complete it in less time.
Your students will once again answer sweet questions about their mom, or special mother figure in their life. Then they will create a purse to hold their writing! The students love to decorate the purses with scrap paper, stickers, and ribbon.
Their favorite part will be gifting this one of a kind purse to their mom, and the moms will absolutely adore it! I put everything together for you, so you can grab it here!
Just look at all the fun your students will have creating this!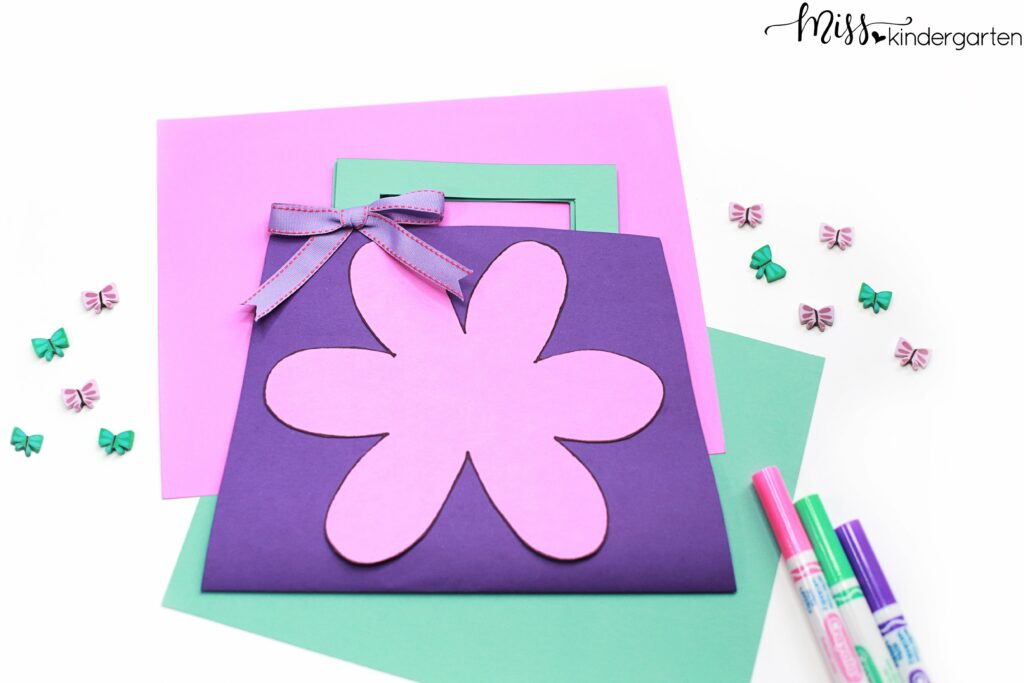 You can find everything you need to create your own Mother's Day Purse gift in the Miss Kindergarten store.
Father's Day Gift Ideas
We can't forget about all of the dads out there that work so hard to provide for and protect their families. Even though most of us are already out of school when Father's Day rolls around, we can have our sweet kiddos complete a special gift for them before the school year ends. That last week of school is the perfect time to complete one of these activities when you need fillers to keep your students busy. Here are some fun Father's Day gift ideas for your class.
Dad's Briefcase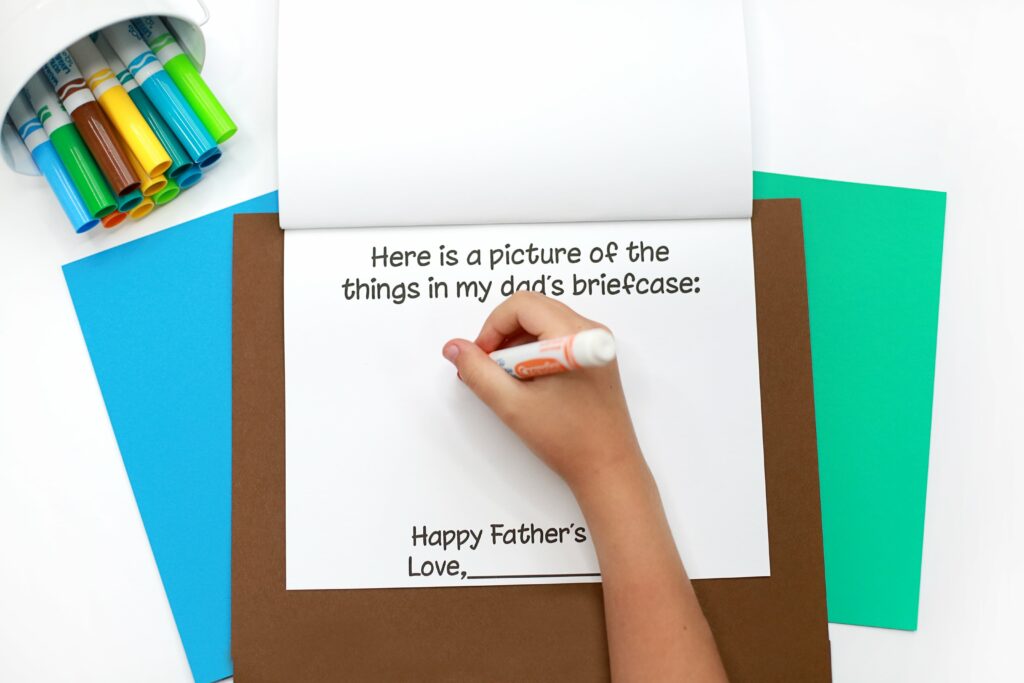 Similar to the cute Mother's Day purse, your students can create a Father's Day Briefcase and write all about their Dad or another important father figure in their life.
Depending on the age of your students, they can write or dictate their answers for this great card and keepsake. Then, they can cut and paste the pieces to create their very own briefcase.
It's such a cute activity that is easy for students to do but also provides a gift Dads will love.
You can find everything you need for this Father's Day Briefcase activity in the Miss Kindergarten store.
And . . . if you love both the Mother's Day and Father's Day activities you can grab them together in this bundle!
Tie Craftivity
Every dad owns a good tie or two. Why not have your student's create a special one just for their dad? The easiest way to complete this activity is just to run off a simple tie image on card stock. Then let your students design and decorate it with anything that they think their dad will like. You can put out glitter, rhinestones, feathers and other craft supplies. Or, have students draw pictures to represent things their dad or father figure likes. You can also use the back to have students write a poem or reasons they love their Dad. This activity is sure to melt the hearts of the fathers.
It might not be a tie that can be worn to the office, but it is sure to be a special gift that your students will love sharing on Father's Day.
Dino-mite Dad
Nothing says I love you quite like a cute dinosaur! This simple activity is easy to complete, but packs a big punch. Find a simple dinosaur picture that you can copy onto cardstock. You can decorate with whatever materials you'd like, but I love to have students tear construction paper into little pieces and glue it on the dinosaur to fill it in. It gives the dinosaur scale-like texture! Googly eyes and little foam triangles can add to the dino decor. "Daddy, You are Dino-Mite" is a cute addition to add at the top of the craft.Your kids will be roaring with excitement about this activity.
Use it as the front of a card or as a large picture that could be framed. Dad's will love it knowing the work and thought their child put into it!
I hope these Mother's Day and Father's Day gift ideas will help you provide your students with an opportunity to celebrate their loved ones in a fun and unique way.
Save these Mother's Day and Father's Day Gift Ideas
Pin this to your favorite classroom Pinterest board so you can quickly come back when you need Mother's Day and Father's Day gifts or other teaching ideas for your primary classroom.