December is a short month that's full of fun in the kindergarten classroom! In this post, I wanted to share some low-prep and festive kindergarten activities for December that you and your students will love! These tried-and-true activities are a great way to bring some seasonal cheer to your classroom while still working on important kindergarten skills.
Kindergarten Crafts for December
Let's start with crafts, since you all know how much I love using crafts in kindergarten. They are perfect for adding some fine motor practice into the day, plus they double as festive classroom decorations! I have an entire blog post about winter crafts for kindergarten, but here are some other favorites.
Candy Cane Craft
These candy canes are great fine motor practice for your students! They will tear up red construction paper and glue the pieces onto the candy cane for the stripes. This candy cane craft will look adorable hanging up in your classroom!
Christmas Tree Name Craft
These holiday name trees are always a hit with students! They are a great way to review shapes as well as name spelling. Just give your students green triangles to build their name, a brown triangle for the trunk, and a yellow star to add to the top!
Santa Craft
I love, love, love this Santa craft! He is so adorable and easy to put together! Your students can also write about what they would like to get for Christmas.
December Centers and Morning Work
Young learners thrive on routine, so December can be a tricky month with so many extra activities and schedule interruptions. You can still bring some extra festivity to your classroom without completely switching up your routine. Just add a fun holiday twist to the learning activities you are already doing!
Low-Prep Centers for December
December is a month when low-prep literacy and math centers can shine! Add some fun seasonal mini-erasers or other holiday manipulatives and these task cards are ready to go! They truly require very little time to prepare, set up, and put away each day. (We all know how important it is to save time in December!) Plus, the added festive touch to these December literacy and math centers will help your students channel their holiday excitement into meaningful learning activities.
Roll, Add, and Cover
Roll, add, and cover activities are the perfect addition to your centers, morning work, or small group practice. The game-like format of this activity means that students will want to play again and again! This is a great way to work in some extra repetition with counting and addition.
These festive mats are perfect for December, but the free download also includes seasonal roll and cover addition practice for the entire year!
December Morning Tubs
December can be a busy month for our students, both inside the classroom and out! Simple and engaging morning tubs give students a chance to slow down after arriving at school. This really helps them ease into a day of learning!
You can add some seasonal manipulatives to your morning work bins, like these winter mini erasers, without completely switching out the activities. This helps to maintain the morning work routine while still helping your students enjoy some holiday cheer.
December Morning Work
If you use printable morning work, you can add some themed literacy and math practice to the rotation! My Kindergarten Morning Work Year Long Bundle has plenty of festive activities you can use! Take a look at some of the skills students can work on in December.
December Writing and Fine Motor Practice
In addition to crafts, there are many other ways that you can incorporate fine motor practice into the school day. These festive ideas will keep your students engaged as they practice writing, pencil grip, and more!
Winter Writing Center
Do you have a pocket chart set up to use as a writing center in your classroom? Add some winter word cards for your students to practice writing sight word sentences and stories! They can even use the pictures on the word cards to help them illustrate their writing. My Writing Center Words Cards for the Year bundle includes plenty of word cards to use during the winter months!
Winter Fine Motor Centers
Help your students practice their fine motor skills with these engaging winter-themed centers! Students can practice a variety of grade-level skills as they improve their hand strength. These fun activities are so engaging that students won't even realize they're hard at work! These activities can easily be added to your literacy and math stations or included in morning tubs.
December Sensory Bins for Kindergarten
Sensory bins can be another fun addition to your centers rotations or morning work time. Just add task cards to a bin of festive sensory material! Your students can practice a variety of math and literacy skills with these fun holiday-themed activities. To encourage students to use more fine motor skills, you can bury the task cards in the sensory material.
Holidays Around the World
There are many holidays celebrated in the month of December! You can increase representation for all of your students by incorporating these holidays into some of your learning activities. I have created a set of literacy and math centers that have engaging activities for Christmas, Hanukkah, Kwanzaa, and Diwali.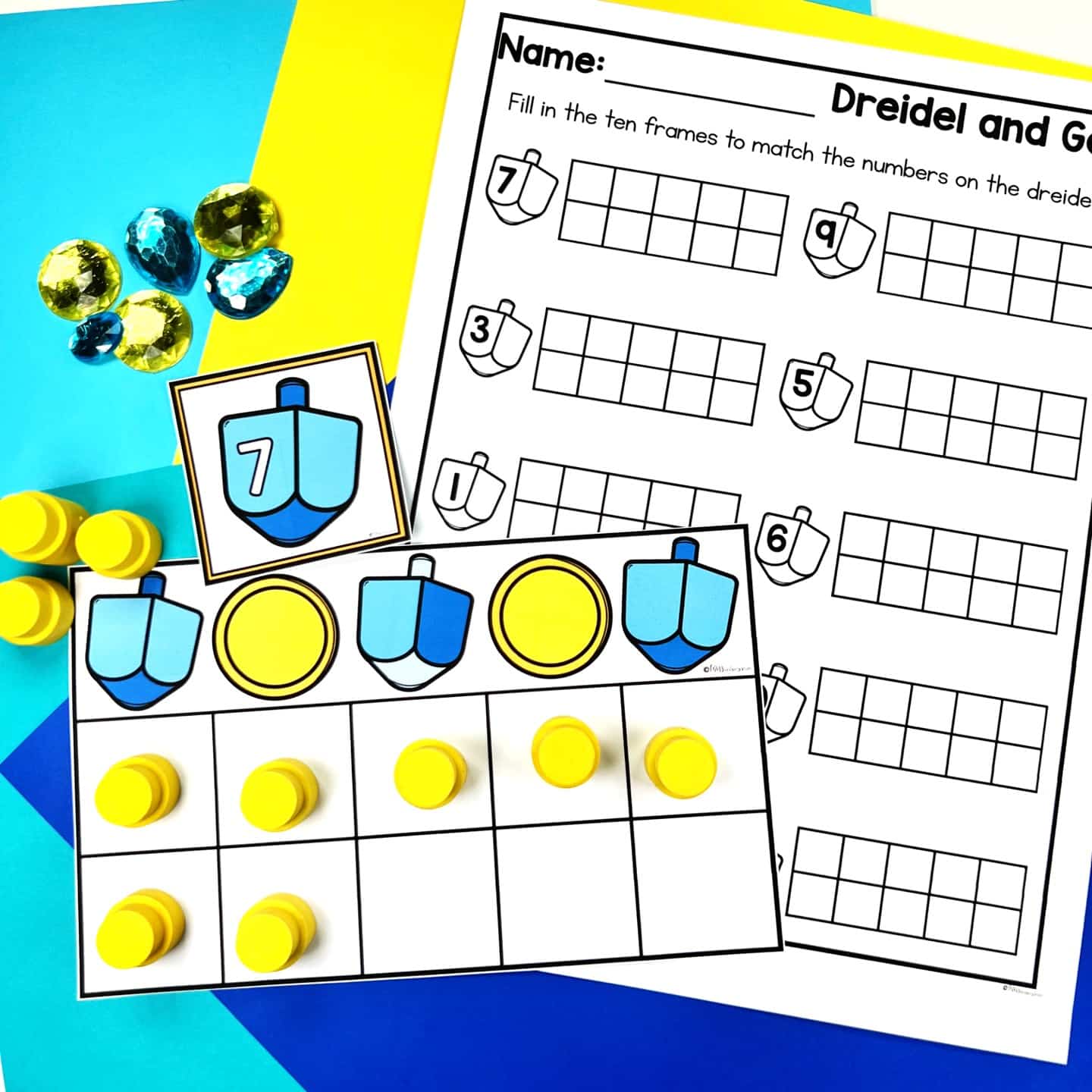 These activities can be used during literacy and math stations, morning work, small group instruction, or even as part of your classroom party!
Save These Kindergarten Activities for December
I hope that this post has given you some inspiration for fun activities to use in your classroom this December! If you'd like to easily find this post later, be sure to save the pin below to your favorite teaching board on Pinterest.