Are you looking for an easy way to help your students improve their problem-solving skills this fall? STEM challenges are a great option! In this post, I'm going to share my favorite Fall STEM Activities for Kindergarten along with tips for finding the time for these activities during this busy time of the year!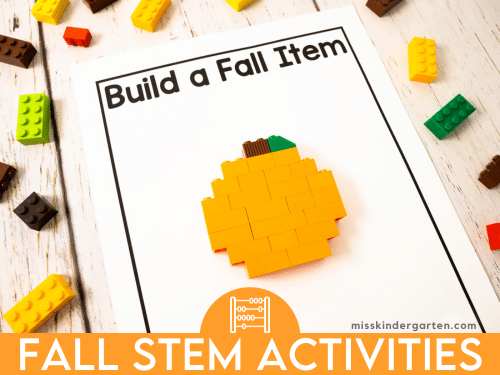 3 Ways to Use STEM Challenges in the Fall
With everything going on during the first few months of the school year, it can be tricky to find time for STEM challenges in the kindergarten classroom. Here are just three ways that you could add fall STEM activities to your lesson planning.
Family Project
A great way to build relationships with families at the beginning of the year is to get them involved in learning activities! STEM challenges can be a fun project that students can work on at home. In particular, the third fall activity shared below would be a great family project!
Holiday Party
Are you looking for a way to bring some holiday fun to your classroom without having to put learning on the back burner? Try using STEM challenges for a fun classroom party for Halloween or before Thanksgiving break! Just set up the challenges as different stations and your students can rotate through the activities during your class party.
Fine Motor Practice
Do you have time set aside for fine motor centers or other hand-strengthening activities? You can use STEM challenges to bring some additional engagement to fine motor practice! As you'll see in the activities below, students will use many fine motor skills as they complete these fun, hands-on learning activities.
4 Fall STEM Activities for Kindergarten
These STEM challenges for fall can grab your students' attention as they practice many different important skills. These simple but engaging activities will be a fun addition to your lesson plans this fall season!
STEM Challenge #1: Build a Fall Item
In this STEM challenge, students will be tasked with building a fall item of their choice with small blocks (like LEGO). Before starting the challenge, be sure to brainstorm a variety of different items that are commonly associated with fall. This is great vocabulary practice for young kindergarten students!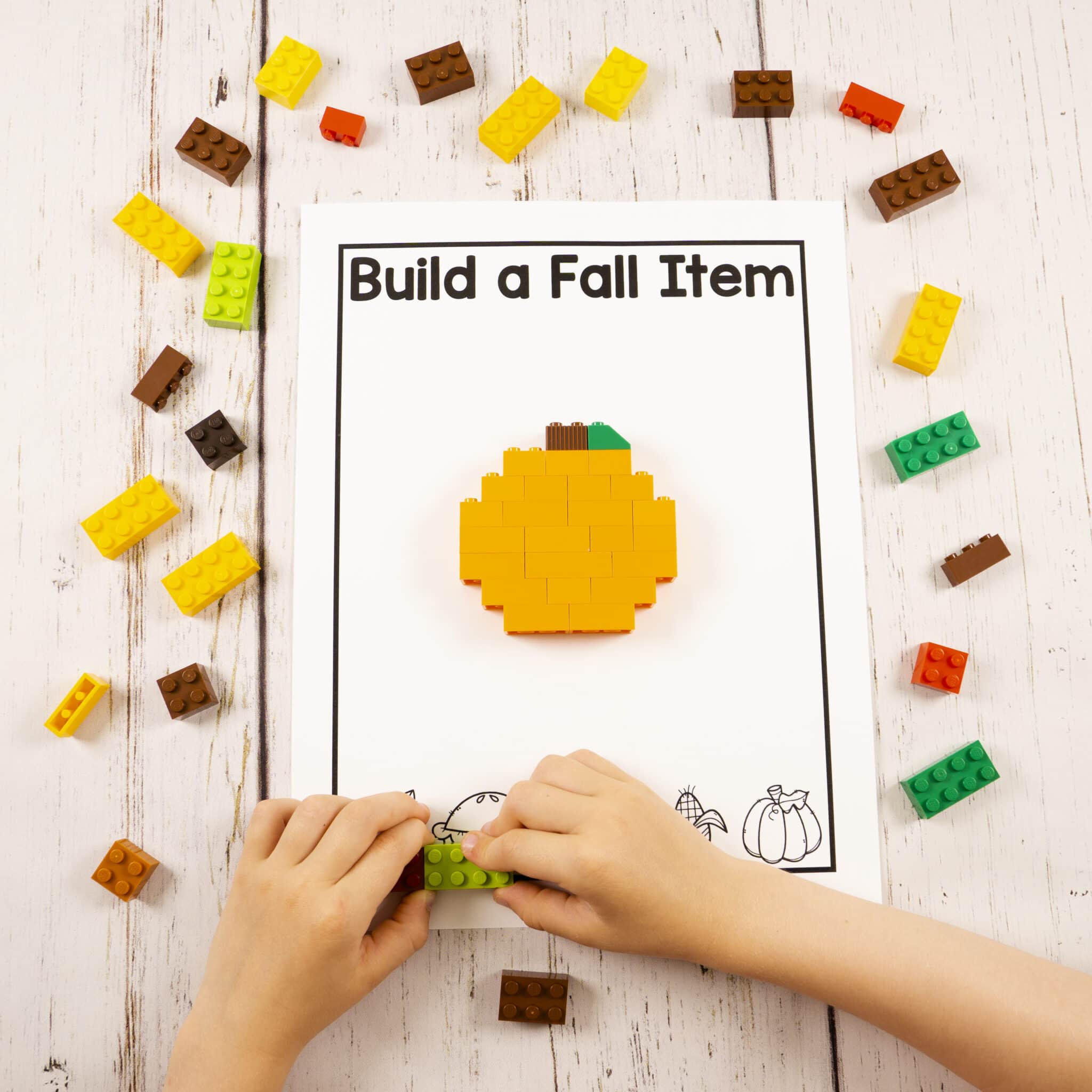 After brainstorming different items, students will get to work building their own version of a fall item with blocks. Some of your students might build a two-dimensional object flat on the mat, while other students might experiment with building a three-dimensional object that can stand on the mat. That's the fun part of this STEM challenge: Students are able to explore their creativity as they construct their fall items.
STEM Challenge #2: Painting Fall Leaves
Autumn is a time of year that's full of beautiful color combinations, so this is the perfect time for students to explore color mixing. In this STEM challenge, students will use ice cubes to paint their own fall leaves!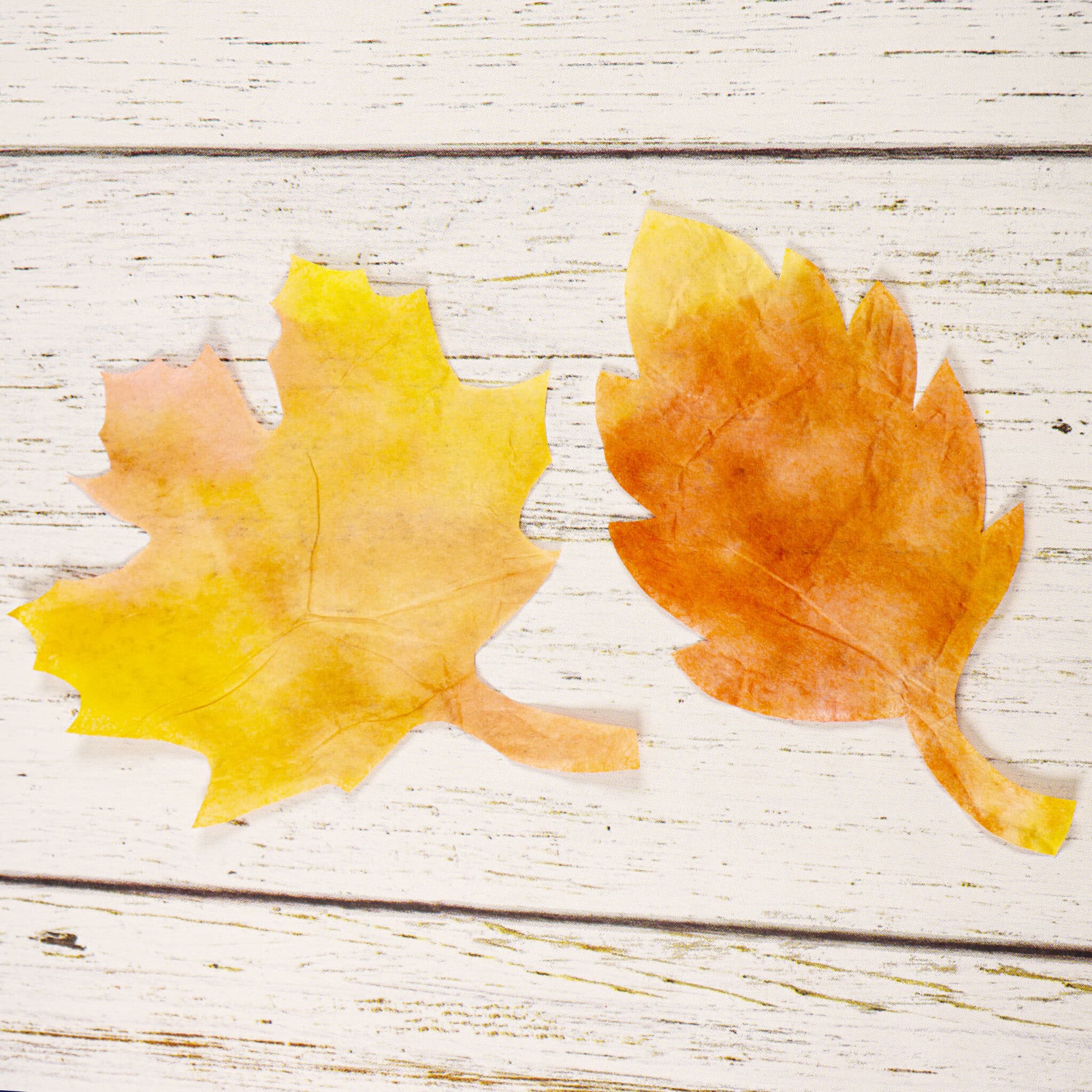 In preparation for this challenge, you'll add a few drops of food coloring to ice cube trays to create blue, red, and yellow ice cubes. When it's time to paint, give each student one of each colored ice cubes along with a leaf cut from a coffee filter. Students can then watch the colors blend and as they paint their coffee filter leaves with the ice cubes.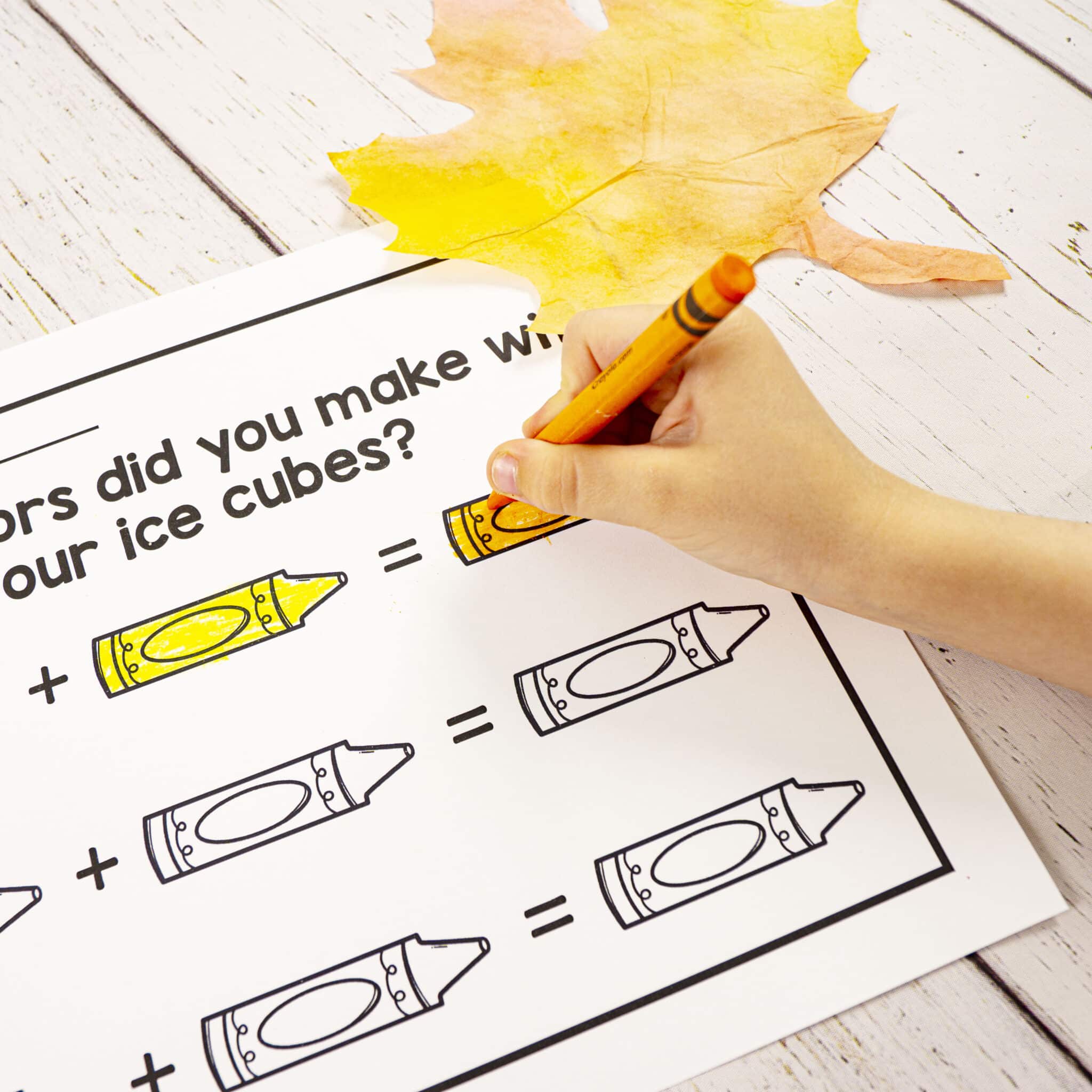 After they have painted their fall leaves, students can then complete a reflection page to document the colors that they were able to create by mixing the primary colors. The finished leaves look great on a fall bulletin board and your students will be so excited to see them on display!
STEM Challenge #3: Fill an Apple
For this activity, students will try to see how many paper squares they can fit inside an apple. Print off two different sizes of squares onto red paper. Students will then use a combination of paper squares to fill in the outline of an apple. They can wait to glue down their squares until they have experimented with different combinations and arrangements.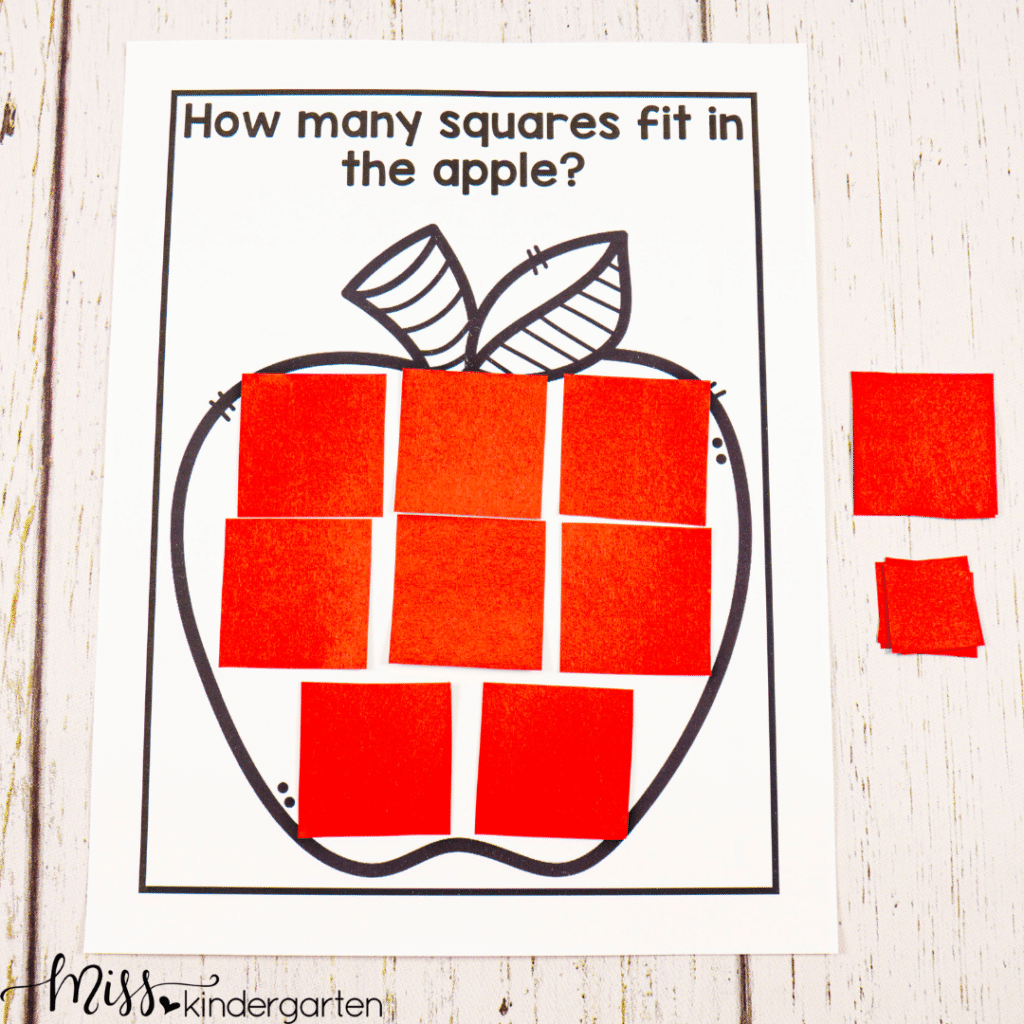 After students feel like they have fit as many squares into their apple as possible, they can complete a recording sheet. Students will fill in a ten frame to show how many squares they used. It's important for students to be comfortable with a ten frame for future math instruction, so this is a great chance to practice!
As I shared above, this could be a good activity to send home for a family project. Just add the paper squares to a small bag or envelope along with the apple template. Students can work with their families to fill in the apple and then bring the completed apple back to school.
STEM Challenge #4: Build an Apple Tower
This STEM challenge is always a hit with students! They will try to build the tallest tower possible by using just apples and play dough. Students can use their critical thinking skills to figure out the best way to assemble their tower so that it is sturdy enough to stack as many apples as possible.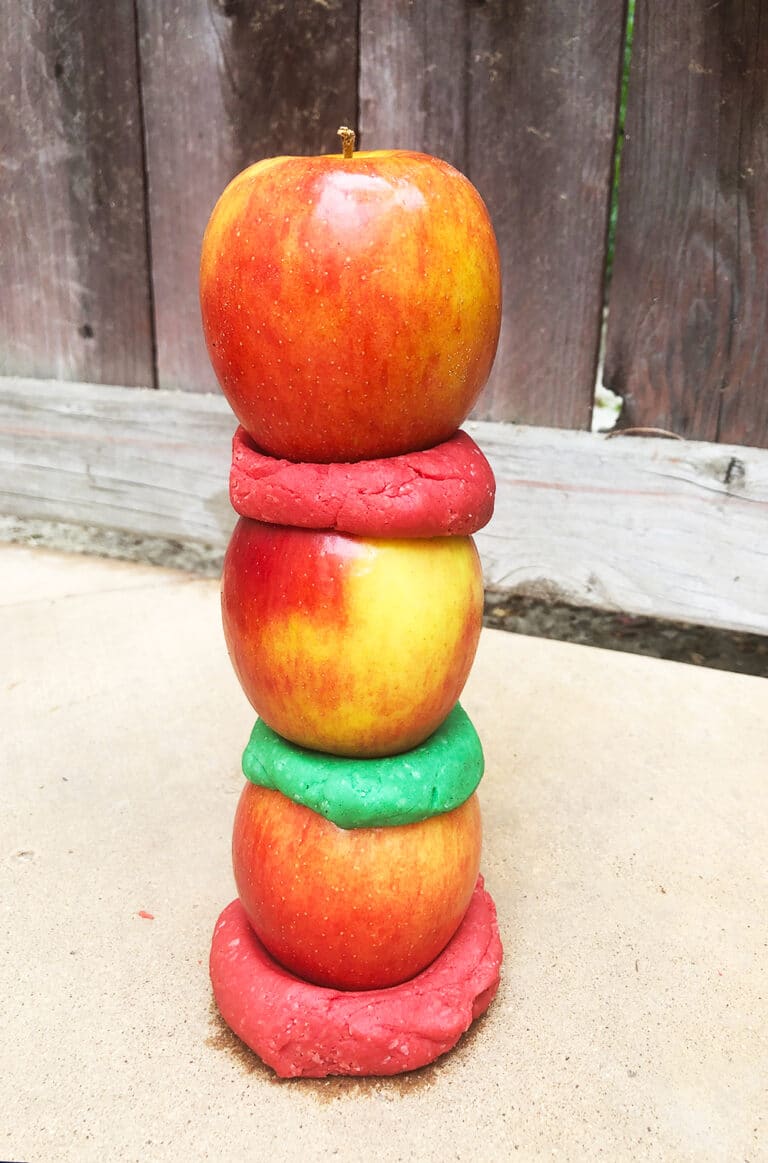 After students are finished with the challenge, they can draw a picture of their finished apple tower. You can use a reflection paper with or without writing lines to differentiate for all students.
Kindergarten STEM Challenges for Fall
All of the fall STEM activities pictured above can be found in one easy-to-download resource! I have compiled all of the directions and recording sheets that you need for these challenges, including a parent letter that you can use to request material donations if needed. All you need to do is print, add the materials, and go! These STEM challenges require minimal prep time and are easy to do with your kindergarteners.
If you'd like to take a closer look at everything included in this resource, you can find the Fall STEM Challenges in my shop.
Save These Fall STEM Activities for Kindergarten
Be sure to save this post if you'd like to come back to it later! Just add the pin below to your favorite teaching board on Pinterest. You'll be able to quickly find this post when you're looking for STEM challenge ideas for fall.