Planning for the first month of kindergarten can be so tough, but it doesn't have to be! I put together some of my favorite First Day of School activities and tools to make your transition back to school just a little bit easier! I love using these resources because they help me feel organized, prepared, and ready to take on a new year!
FIRST DAY OF SCHOOL ULTIMATE START-UP KIT
The ULTIMATE resource for all the First Day of School tips and activities you need! Everything you need to start up a new school year in one easy download! This resource includes classroom organization labels, classroom management ideas, fun back to school crafts and printables!
CLASSROOM LABELS
Create a print-rich environment in your classroom with this set of classroom labels! Hang the cards around your room to help your students learn to read. The black and white background can be used with any classroom theme. You can also back the labels onto colored paper to match your classroom!
Here's a great way to let visitors know where you are when they walk into an empty classroom! Hang the "where are we" sign on or near your door (there are 4 font options to choose from). When you leave your classroom, hang the card to show where you are.
CLASSROOM MANAGEMENT TOOLS
One of my BEST classroom management tools are these picture direction cards. It helps my students visually see their instructions and prompts them to keep going when they aren't sure what to do next. I put up the direction cards as I explain the instructions so students know exactly what to do and it's the perfect visual reminder.
And of course, my all-time favorite management tool, Songs in the Classroom! These are songs and chants that I use in my classroom to help with classroom management, calendar time, learning sight words, colors words and more! Music is included so you can easily learn how to sing each song!
FIRST DAY OF SCHOOL ACTIVITIES
I LOVE doing a fun craft with my students that I can have on display during Back to School Night or Open House. These fun back-to-school crafts will have students engaged on their first day of school!  They also make a thoughtful keepsake book of their first day or first week at school that parents & students will love for years to come.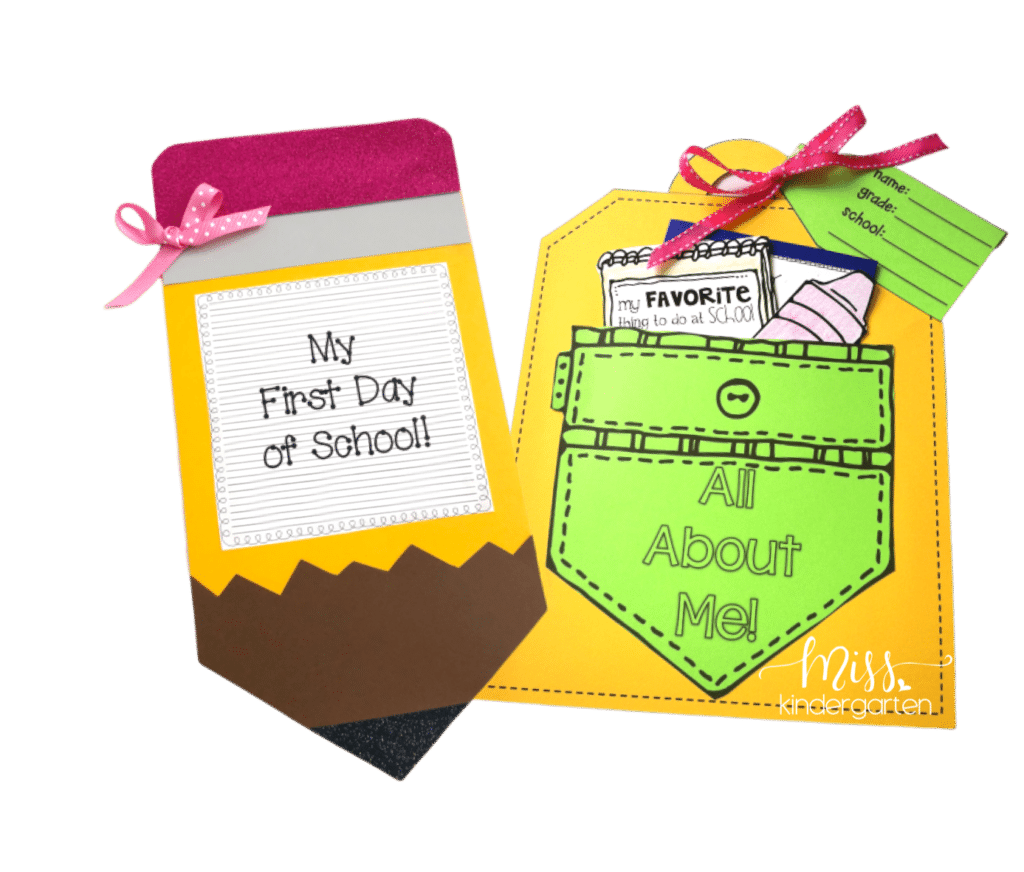 ALPHABET PRACTICE PAGES
Your students will have fun practicing the alphabet with these printable alphabet practice pages! Each page focuses on one letter. They will practice writing the uppercase and lowercase letter, identifying the letter, and work on beginning sounds. These are perfect for word work during literacy centers, morning work, or even sent home as extra alphabet homework.
NUMBER PRACTICE PAGES
And finally, some fun number practice pages! They can be used as a fun way to incorporate teaching numbers 0-20 in your classroom. These printables combine learning and fine motor skills in a fun and engaging way!
Are you ready to try some of these Kindergarten Back to School Activities? Click on the picture below to check these out in my store:
PLAN FOR THE FIRST DAY!
Need more ideas to plan for the first day or week of school? Check out my First Day of Kindergarten for even more ideas!